Samba Gadjigo
Helen Day Gould Professor of French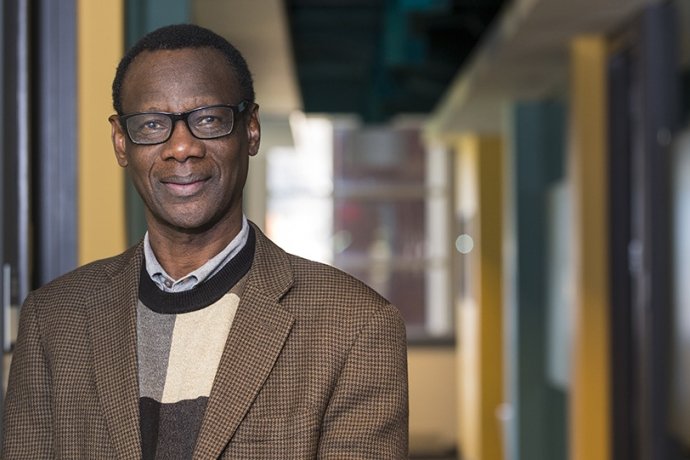 Samba Gadjigo's research focuses on French-speaking Africa, particularly the work of filmmaker Ousmane Sembene. Gadjigo's 2015 documentary, Sembene!, co-directed by Jason Silverman, is a biopic focusing on Sembene's life and work, exploring the themes developed in the biography through interviews and extensive footage from Senegal, Burkina Faso, and France. In 2001, Gadjigo was instrumental in bringing the Senegalese filmmaker to MHC for screenings and discussions of his work.
Sembene! was a finalist for the Camera d'Or in the 2015 Cannes Film Festival, winner of the Jury Prize at the 2016 Luxor Film Festival, winner of the Prix de la Jeuness at the 2017 Escales Documentaires de Libreville, winner of the Paul Robeson Prize at the 2016 Newark Black Film Festival, and recipient of the Prize for Best Documentary at the Emerge Film Festival. In 2017, Gadjigo and Silverman obtained funding through the Ford Foundation, Sundance Institute, and a Kickstarter campaign to hold 130 public screenings of the film in over 38 countries between June 9-11, 2017 for their Sembene Across Africa project.
In 2016, Gadjigo received the Faculty Award for Scholarship in recognition of his "international, multi-disciplinary career—a career throughout which his own story-telling has merged with that of Sembene's, interweaving African literature, film, history, politics, and indeed these with language and with life itself." 
Gadjigo's writing has appeared in African Cinema and Human Rights, Research in African Literatures, and Contributions in Black Studies. In an article in African Journal on "Trends in African Cinema," Gadjigo argues that the future of African cinema is still unclear. "There are very talented individual filmmakers, and some of the works are very sound artistic contributions to world cinema, and yet our screens are still colonialized and one ought to wonder what the future of African cinema will be in the context of a 'globalized' world."
In addition to his course offerings in the French department, Gadjigo is a member of the Africana Studies program faculty.
Areas of Expertise
French-speaking Africa; African cinema
Education
Ph.D., University of Illinois
M.A., B.A., Université de Dakar, Senegal