2015 MHC commencement week activities set.
2015 MHC commencement week activities set.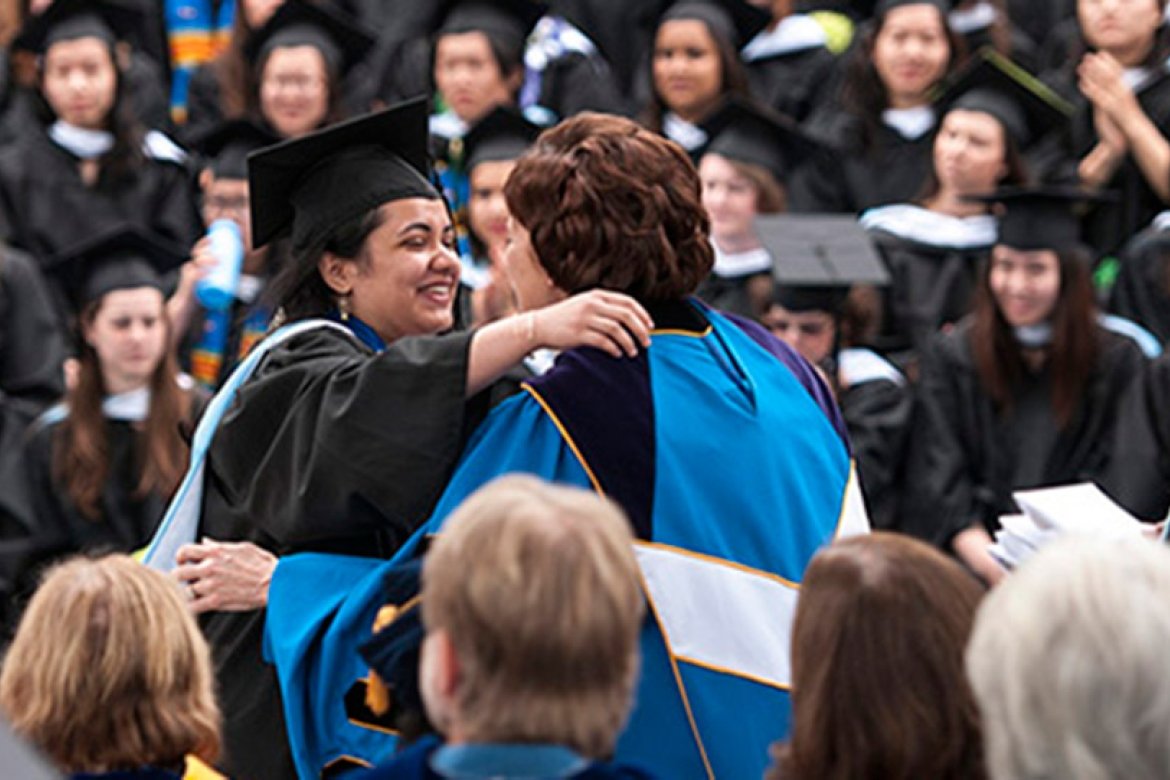 Mount Holyoke College will award some 600 bachelor's degrees, confer honorary doctoral degrees, and celebrate its new graduates during commencement week.
By Emily Harrison Weir
More than 600 seniors are expected to receive bachelor's degrees at Mount Holyoke College's 178th commencement this year.  The event starts at 10:30 am Sunday, May 17, in Gettell Amphitheater.
The College expects to confer master's degrees on some 20 students, and will also recognize those who have completed a postbaccalaureate program or a semester at MHC as a foreign exchange student or international guest.
National education advocate Carol Geary Schneider '67, president of the Association of American Colleges and Universities (AAC&U), will give the keynote address.
Honorary degrees will be presented to Schneider; Robert Forrester, president and CEO of Newman's Own Foundation; Sheila Lirio Marcelo '93, founder and CEO of Care.com; and vocal artist Meredith J. Monk. Each recipient will address the gathering briefly.
Seniors selected Olivia Janet Papp as this year's student speaker. Her remarks are titled "Carrying the Call to Welcome: Remarks on Leaving and Coming Home." The double major in politics and sociology will begin graduate study this fall at the University of Cambridge, and plans a career in academia and social policy reform.
President Lynn Pasquerella '80 and Mary Graham Davis '65, chair of the board of trustees, also will offer remarks. This will be Davis's last graduation ceremony on the dais, after 19 years as a board member. It will also be the final time Jonathan Lipman, Felicia Gressitt Bock Professor of Asian Studies and professor of history, will read the graduates' names; he is retiring.
Admission to commencement is by ticket only.  For those without tickets, the ceremony will be livestreamed online  and telecast on a large screen near Porter Hall, in Blanchard Campus Center, and in Clapp Hall's Hooker Auditorium. Video of the ceremony will be posted on the Mount Holyoke YouTube channel on May 18.
Baccalaureate
At the baccalaureate ceremony on Saturday, May 16, seniors will hear from classmates and faculty members selected by the graduating class. Kay Heffernan '15 will talk about the sounds of Mount Holyoke and the power of students' voices; Poorna Swami '15 will read an original poem about the sphinx—the seniors' class mascot.
Two professors will speak—Jonathan Lipman and Suparna Roychoudhury, assistant professor of English.
President Pasquerella and Cerri Banks, dean of the College, will also take part, giving seniors a final charge before commencement.
Baccalaureate will be held at 9 pm in Abbey Chapel, and is open only to seniors due to the size of the chapel. Family and friends can view a live telecast online or at Gamble Auditorium in the Art Building, Cleveland Hall rooms L1,2, or 3; and in Clapp Hall's Hooker Auditorium. 
Other commencement weekend activities
Highlights of the weekend's other events include: 
"Blessing and sending" of seniors by the Office of Religious and Spiritual Life. (May 13 at 11:30 am)
Welcome ceremony for new alumnae, at which the Alumnae Association gives seniors scarves in their class color. (May 14 at 3:30 pm, for seniors only)
"The final lecture," at which faculty and staff favorites give humorous and sentimental advice to seniors. (May 14 at 7:30 pm, for seniors only)
Commencement concert (May 15 at 8 pm)
Alumnae parade and laurel chain ceremony. (May 16 at 9 am)
More detailed information is available online about all of Mount Holyoke College's commencement weekend activities.