'Americanah' chosen as 2015 Common Read.
'Americanah' chosen as 2015 Common Read.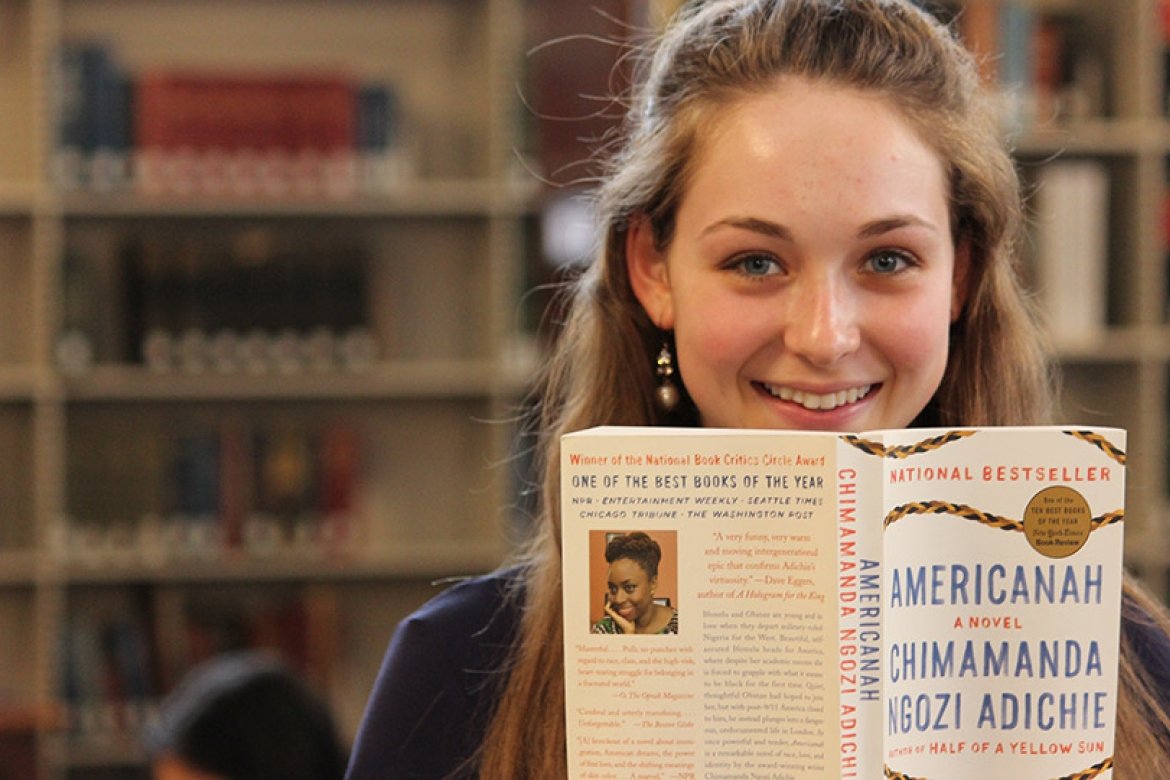 This fall, the entire Mount Holyoke community will read and discuss Americanah, a story of race and identity by prize-winning author Chimamanda Ngozi Adichie.
Each year since 2000, first-year students and others have read and discussed one book as a way to foster dialogue, inquiry, and community. This year, the entire campus community will be invited to read and participate in discussions about Americanah, a powerful and tender story of racial and national identity by prize-winning Nigerian author Chimamanda Ngozi Adichie.
Mount Holyoke College's 2015 Common Read selection continues a line of provocative books including Orange Is the New Black, Nickel and Dimed: On (Not) Getting By in America, and Reading Lolita in Tehran: A Memoir in Books.
"The Common Read is the first intellectual discussion over a shared piece of material that new students encounter at Mount Holyoke College," said Kate Wasserman, coordinator of new student orientation. "It gives them a tiny window into what class discussions will be like."
Iyko Day, assistant professor of English, described the Common Read as "an important way for us to connect as a community and to expose first-year students to college-level dialogue and debate."
A love story and social critique.
Americanah is the story of a Nigerian woman's odyssey in America, her college and graduate-school experiences, and her new encounters with the issue of race. A love story, a social critique, an immigrant tale, and a narrative of self-invention, the novel is also an epic on the challenge of going home again.
The book garnered numerous major awards and was named one of the ten best books of the year by the New York Times. It tackles topics likely to resonate with Mount Holyoke's diverse and international student body, such as immigration, class consciousness, assimilation, racial and national identity, love across difference, and the feeling of straddling two cultures.
"Americanah exposes and sensitizes first-years to the hardships, struggles, and barriers that some of their peers have overcome to be seated next to them in the same classroom," said Olivia Lucas '18. "I see Americanah as a means of getting to know some of your classmates before arriving on campus."
Copies of Americanah are available to the Mount Holyoke College community (including incoming first-year students) at a 20 percent discount when ordered from the Odyssey Bookshop.
A committee of students, faculty, and staff is developing programming related to the Common Read. Discussions begin during new student orientation, and related programming for the entire campus community continues throughout the academic year. Typically the book's author speaks on campus, and a faculty panel shows students how to look at a text through multiple lenses. The book is sometimes integrated into relevant courses, especially first-year seminars.
This is the first time that the campus community selected which book to read, and Americanah was overwhelmingly selected by the 900 faculty, students, and staff who voted, according to Wasserman. The other possibilities were Citizen: An American Lyric by Claudia Rankine, Fun Home: A Family Tragicomic by Alison Bechdel, My Beloved World by Sonia Sotomayor, and The Secret History of Wonder Woman by Jill Lepore.
Casey Accardi '15, a Common Read Committee member, said the Common Read lets new students experience the energy of engaging in a critical, intellectual dialogue even before classes begin.
"I remember my first year coming to the Common Read panel during orientation thinking the book was great and unflawed, and leaving with my view turned completely upside down and complicated by the discussion," said Accardi. "That is what a Mount Holyoke education is all about."