Back on top!
Back on top!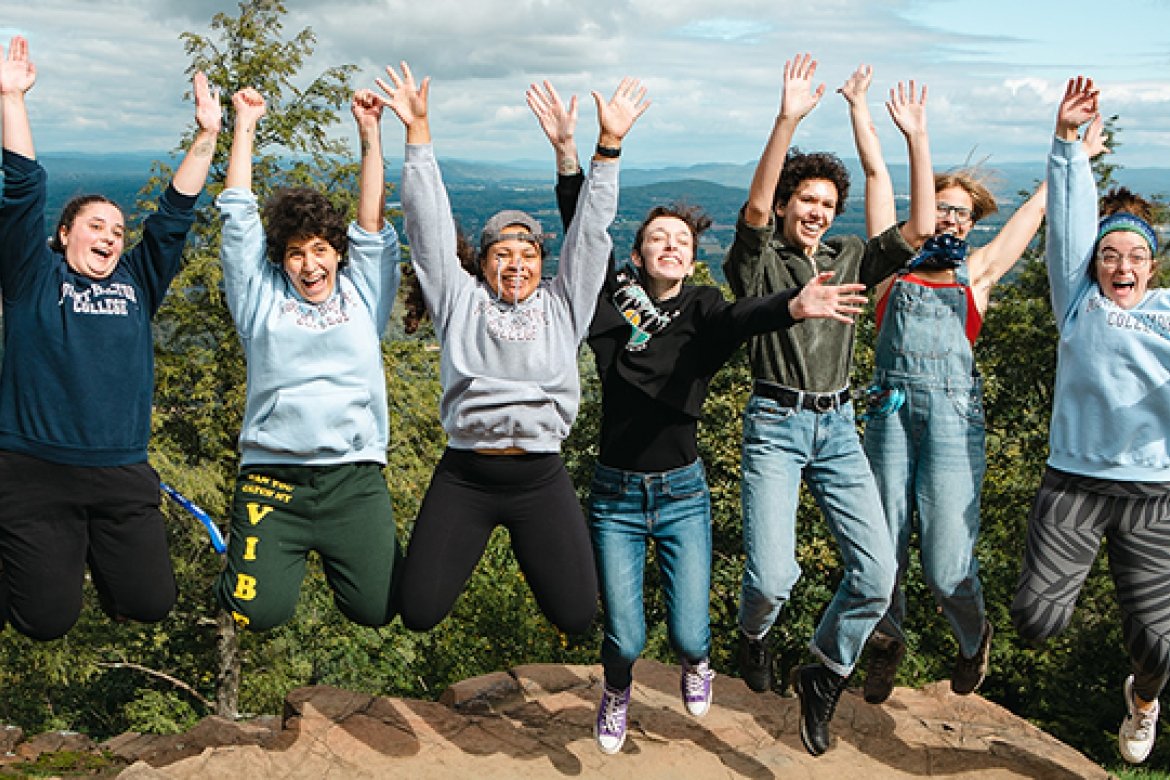 Hundreds of students, staff and faculty flocked to the top of Mt. Holyoke on Mountain Day, a tradition since 1838 when Mary Lyon decreed it so.
By Keely Sexton
Mountain Day 2021 began like any other day, with the clock tower bells ringing on the hour. But at 7 a.m. on Sept. 30, after the seventh clang, there was another, and another … and as the morning sun spread across the sleepy campus, so did the news: today was Mountain Day.
The extended ringing of the bells signified that Mountain Day had finally arrived, a secret day in the fall when classes are cancelled and students, staff, faculty and alums all celebrate together, from both near and far. Each ring of the bell heralds fresh air, sunshine (hopefully) and a day of bonding and community.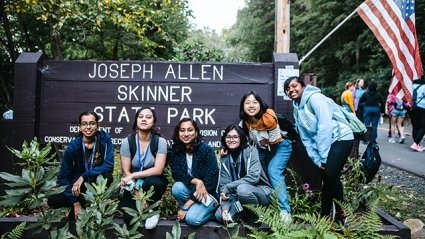 Shortly after the last bell rang, buses and vans lined up to ferry students to Mt. Holyoke, where students could hike or ride to the 942-foot summit, where ice cream, temporary tattoos and friends awaited their arrival. 
Alums were alerted around the world, and local networks hosted satellite meetups to keep the Mount Holyoke Mountain Day magic alive wherever they were.
Locally, the community was thrilled to be back together in person after the virtual Mountain Day for 2021.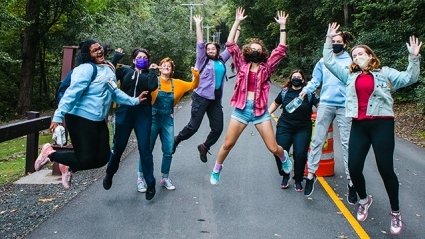 "There is so much communal joy happening, just being here, being in person," said Adeline Ray '22 of Dorchester, Maine. "This is such a nice break. It's a great tradition." 
Ray had celebrated the virtual Mountain Day of 2020 with her classmate Maya Fontanez, a psychology major and gender studies minor from Burlington, Vermont. They went on a hike together to mark the occasion last year, but being back with the whole community brought a new level of joy, she said.
Ray and Fontanez were joined by other friends up the mountain, including exchange student Emma Edwards, who is at Mount Holyoke for the year as a part of her undergraduate studies in England.
"It is so cool," Edwards said. "We don't have anything like this in England."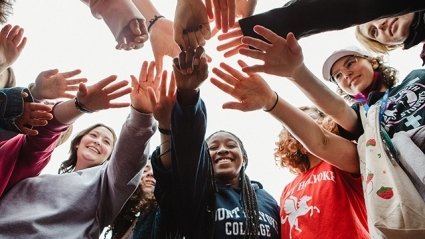 Mountain Day began in 1838 and was intended to be a day for community connection and joy, a break from studies and toil, which at that time in Mount Holyoke's history included domestic labor supplied by the students themselves. 
Mountain Day has retained its original vision as a day for community, even as the particulars change over the decades. A midsemester moment, it releases students from the cares of their academic pursuits and opens the day for nurturing friendships and reconnecting with others. 
This year, the Alumnae Association resumed its annual tradition of handing out "Mount Holyoke Forever" and "Mount Holyoke Always" temporary tattoos in designs chosen for their beauty and lighthearted joy, to reflect the spirit of the day.
In addition, dining services rewarded tired trekkers with ice cream and gelato at the summit, while pies were served on campus to all who wanted them.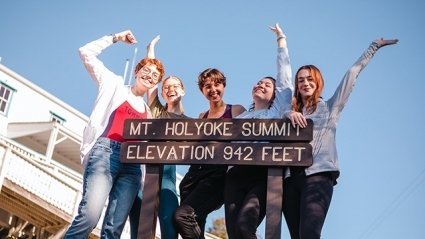 "It was nice to get together with my classmates because we have not had time to connect like this since the beginning of the semester," said Monica Lamberti FP'23 of Lima, Peru. "I saw my classmates at Convocation, but we haven't had a chance to connect like this since then."
President Sonya Stephens arrived on the mountaintop smiling under her mask, having trekked up the path to join students in singing the alma mater at noon. She paused to admire the view, not only of the valley and Oxbow below but of the crowds of students and staff at the top of the mountain.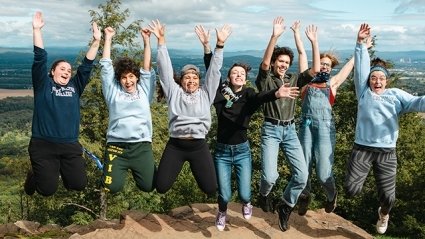 "Isn't it a beautiful day?" she asked. "I don't think I've seen this many students on the mountain before," she said.
Though the day is kept secret, there is always speculation as to when it will be. Students, staff and faculty alike pore over administrative schedules, weather forecasts and religious calendars to try to predict the day in advance.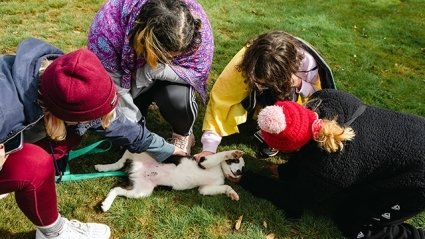 "I knew it was going to be today," said Kim Kindred '24, whose dog, Cleatus, joined a half-dozen or so other Mount Holyoke dogs at the top of the mountain. "I even told him we were going for a hike last night, and he's been waiting at the door since then."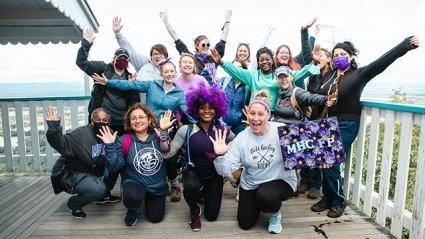 "It was fun," said the psychology major from the Democratic Republic of the Congo, who lives in Northampton. "It's nice to be together in community."