Barron brings African diasporic dance home
Barron brings African diasporic dance home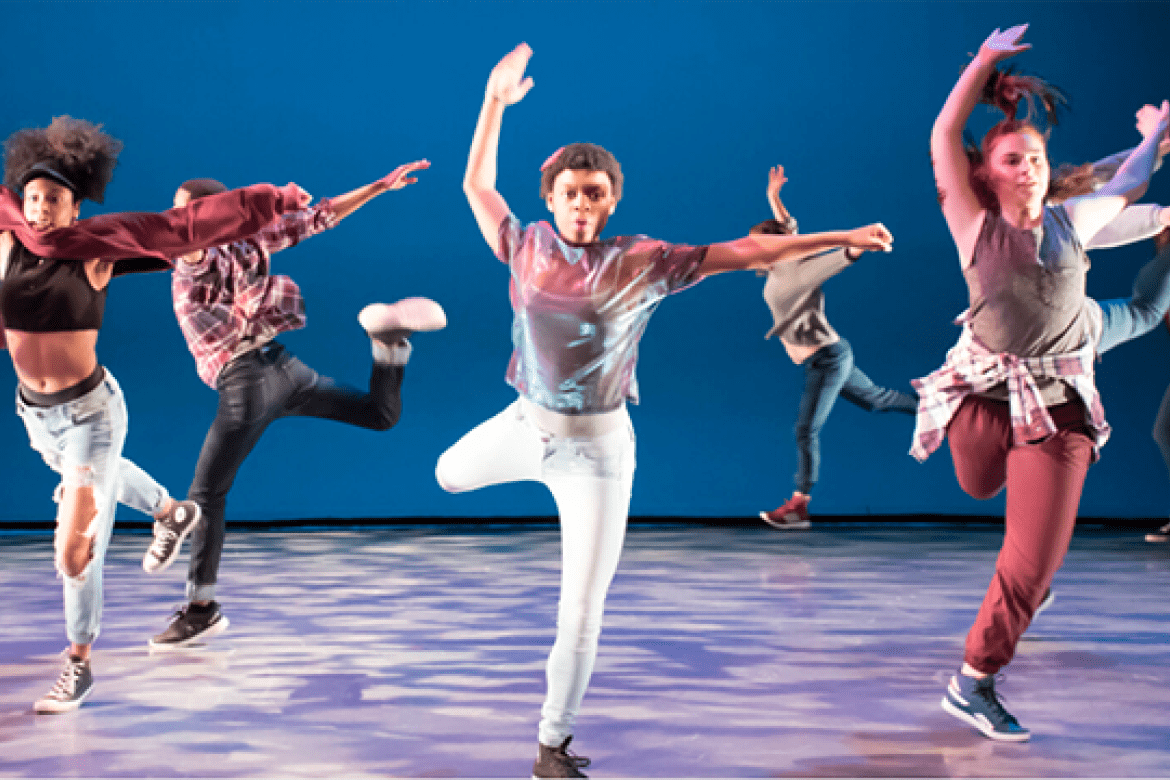 Shakia Barron brings Black dance techniques and style to Mount Holyoke's dance department and puts them center stage.
By Keely Sexton
Shakia Barron, formerly lecturer of dance, has been promoted to assistant professor of dance, a change that will enable her to develop deeper practices with Mount Holyoke students and forge stronger connections.
Barton didn't start formal dance training until she was in 11th grade, but dance had been a part of her life for as long as she could remember. 
"I was just in the streets dancing with my friends and making up stuff on the fly, and it was just part of the community," she recalled. 
Dance was an important part of her social life and helped her connect with her friends in the neighborhood.
"We would just get together after school and go in the driveway and just have our little boom box and start making up dances. One of my friends had a TV with a VCR, and we were able to record Janet and Michael Jackon's dances. We would just rewind them and play them again and again to learn the moves."
In high school, Barron went to the Pioneer Valley Performing Arts school, just down the street from her future employer, though she didn't know it at the time. 
There, she received more formal training in hip hop, modern and ballet dance techniques. The training thrilled her, and she went on to Dean College in Franklin, Massachusetts, for their dance program. But after two years, she decided to go to Temple University for neuroscience, a subject that compelled her because of her mother's mental illnesses.
"I remember thinking I had to fix it, I had to make it right," she said. 
The financial burden of caring for her ill mother while attending university was too great, however, and she soon left Temple to pursue work. Temple's loss was her gain.
"It was a beautiful thing because I got involved in two dance companies," she said. "I traveled all over the world and went to Europe, Russia, all over the United States. I learned hip hop techniques like popping and locking, break, social dances and house dances. That's where my dancing really began to thrive." 
From there, Barron branched out into performing at the Bates and Jacob's Pillow dance festivals.
It was at the Bates Dance Festival that Barron met Peter T. Jones, whose work with Mount Holyoke's dance department has spanned more than 30 years. Jones invited her to do a workshop at Mount Holyoke. That class led to a semester, which paved the way for Barron to work half time at Mount Holyoke college and half time for the Five College Consortium beginning in 2016.
Soon thereafter, Mount Holyoke invited her to become a full-time faculty member to teach African diasporic dance, expanding the scope of the dance department, which she sees not only as an investment in her but also in students who are interested in exploring dance traditions outside of the traditional Eurocentric schools. 
After the COVID-19 pandemic forced the College to close its campus, Barron and fellow dance professors decided that the show must go on and created a virtual performance for their students to showcase their work. Over the summer that followed, Barron developed an online Black Beauty program, which teaches community dances that are not taught in the institutions.
"It sends like a clear message to students that these dances are equally valid to European dance styles, and they need to be included in the dance education," she said. "Students need a leader like myself, who is a Black female dance artist that creates work from the diaspora and based on my personal experiences — I'm a role model."
"If we bring in more dance courses that focus on African diasporic dance, there will be more students who will be interested in pursuing dance as a double major," Barron said. "African diasporic dance is not appreciated as much as European dance styles, but things have been changing a lot and it's looked at differently now," she said. "I'm excited to be the one that continues it here."
The promotion to the tenure track will give Barron the stability she needs to expand and explore her research and teaching.
"Mount Holyoke has really supported me throughout the years," she said. Throughout her experience working with the Five Colleges, she felt that her home was at Mount Holyoke. 
"I felt really close to Mount Holyoke because the majority of my time was spent there," she said. "Not only was I teaching classes but I was creating my own creative work with the students, who think about the process critically and analytically."
Now, as a tenure-track professor, Barron feels she is finally home again. She looks forward to expanding the work she has been doing with students.
"I feel like Mount Holyoke was already my home from the beginning," she said.