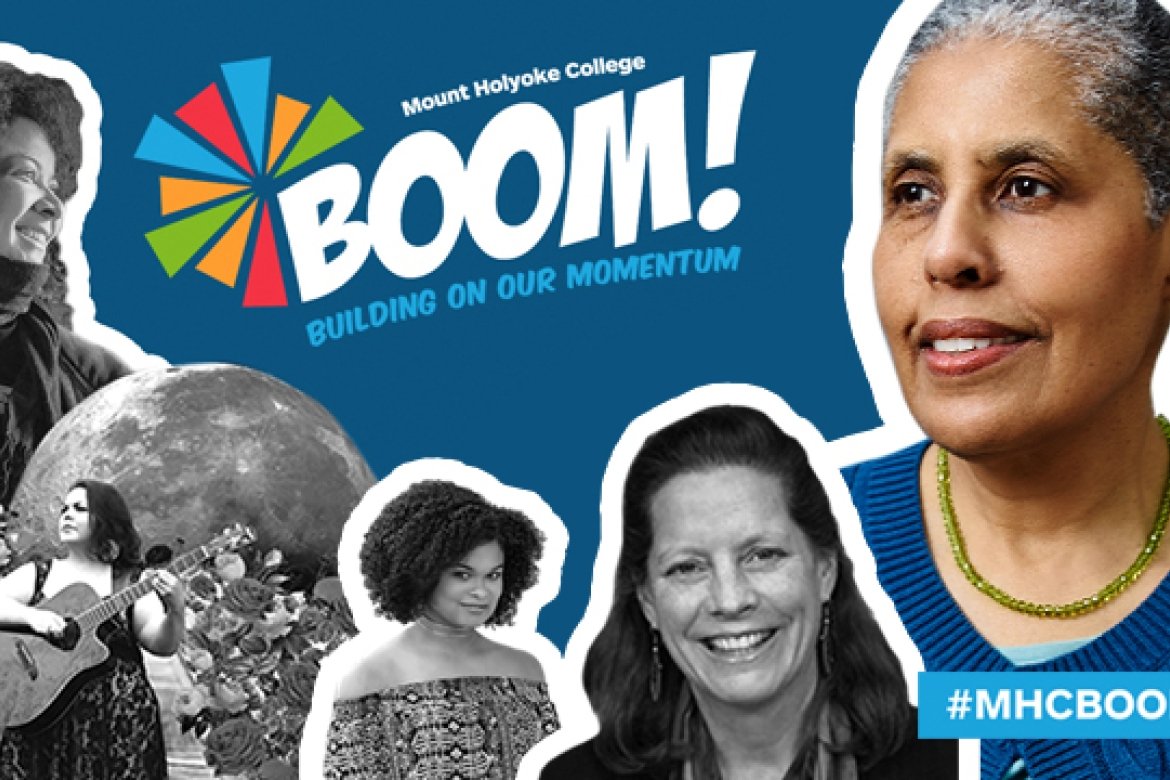 Mount Holyoke's keystone diversity conference is in its third year and going strong.
In the middle of the busy spring semester, Mount Holyoke College is holding its third annual BOOM! Building on Our Momentum Learning Conference, an opportunity to engage in the work of diversity, equity and inclusion in all its manifestations.
BOOM! was born out of The Plan for Mount Holyoke 2021. One of the plan's four core priorities is the shaping and sustaining of the College's increasingly diverse, global and inclusive community into an environment of mutual respect where everyone can thrive and contribute to the flourishing of others.
"The day is an opportunity to confront all forms of oppression, from Islamophobia to racism to gender-based oppression and embrace all types of diversity through music, art, poetry and intellectual discussion," said Kijua Sanders-McMurtry, vice president for equity and inclusion and chief diversity officer.
BOOM! 2019 offers a broad array of dialogues and workshops designed to engage participants in thinking and dialogue about the ways in which systemic inequities affect everyone. Workshops will include topics from grassroots organizing and listening across differences to the neurobiology of trauma, among many more.
"One of the things I'm most excited about BOOM! and one of the things that attracted me to Mount Holyoke in general, is that the entire campus community devotes its energy, time and resources in being focused on addressing all forms of oppression, bias and discrimination," said Sanders-McMurtry. "The conference is when the community can interrogate, problem solve and dialogue with one another, engage across difference and dig deep on the tough issues of diversity, equity and inclusion."
To ensure that the entire community has the opportunity to take part in BOOM!, classes are canceled and food is brought in to campus for what is described as "not a day off, but a day on."
This year's BOOM! will also pay special homage to two anniversaries, the 50th anniversary of the Stonewall Uprising, which is known as the beginning of what became the LGBTQ movement, and the 50th reunion year of keynote speaker Barbara Smith '69. Smith's activism as a black feminist, starting from her early organizing days in South Hadley, has inspired generations in the global women's rights movements.
The keynote event of the BOOM! Conference will be a dialogue between Smith and transgender activist Raquel Willis, executive editor of Out Magazine. Their public conversation about radical inclusion will be moderated by Beverly Guy-Scheftall, Spelman College professor and founding director of the Women's Research and Resource Center. The conversation is slated for April 9 at 4:30 p.m. in Chapin Auditorium.
"From this vantage point in my life, I feel like the work I have done has helped build the foundation for a just society and provide a cultural and intellectual context for the people who were invisible in my era," Smith said. "The work that I have done has laid the groundwork for people to ask questions, examine and fight oppression, and make for a different society and a better world. I have devoted my life to this work with a laser-like focus."
Dig deeper. BOOM! registration and details here.