BOOM! 2019: reflection and connection
BOOM! 2019: reflection and connection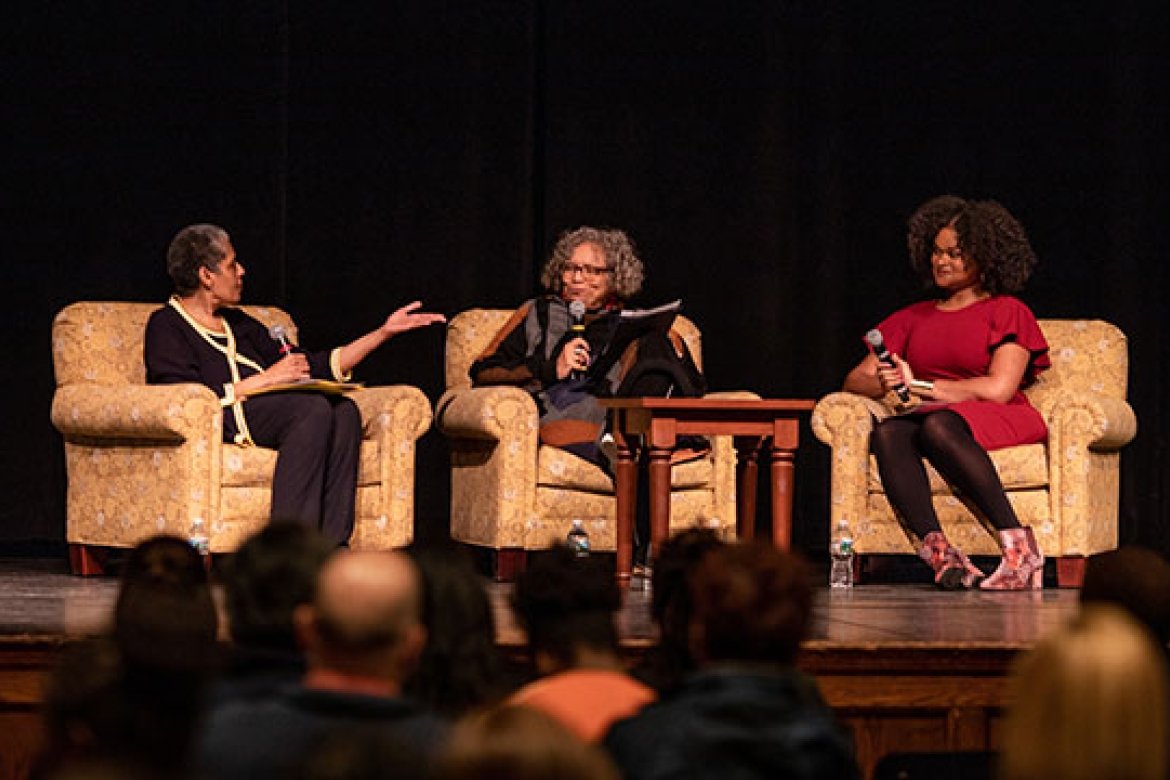 Mount Holyoke College's third annual learning conference on diversity, equity and inclusion draws big crowds and big topics.
Mount Holyoke's third annual BOOM! Building on Our Momentum Learning Conference drew crowds of students, faculty and staff to more than 40 sessions. 
The day was dedicated to unpacking and examining systems that perpetuate inequality: capitalism that stifles creative pursuits, systemic prejudice that stymies personal and professional growth, the subtle violence of erasure, and the overt violence of Islamophobia, racism, xenophobia and gender-based oppression. 
"Mount Holyoke continues to work hard and build on our momentum focusing on becoming a bias-free community," said Kijua Sanders-McMurtry, chief diversity officer and vice president of equity and inclusion. "Sessions that center on the experiences of those who are marginalized and most vulnerable to discrimination are critical to the community-building we need to have happen in order to become what we aspire to. And, this year's BOOM! has been focused on these elements within our sessions." 
The day began in the morning with a cinematic montage that acknowledged the history of the land on which the campus stands, followed by an opening ceremony. This included recitations of poetry in Spanish, French and English, original music from Pamela Means and Diana Alvarez, and a welcome with Sanders-McMurtry and President Sonya Stephens. 
"We know that change is possible," said Sanders-McMurtry in her remarks. "The only thing that will eradicate bias and hate is the personal decision that you and I made today to engage in this work together." 
In order to enable the entire community to participate in the day, food trucks were dispatched to provide meals on Skinner Green. 
The afternoon closed with a keynote conversation between black lesbian feminist trailblazer Barbara Smith '69, black feminist academic Beverly Guy-Scheftall and black transgender feminist and executive editor of Out Magazine, Raquel Willis. They came together in an intergenerational, inspirational conversation about the work that has been done and the work that remains. 
The conversation emphasized the need to embrace the evolution and learning of the movement: When Smith began studying at Mount Holyoke, she stepped into a world where there was no intersection between feminism and civil rights, and before any LGBTQ movement to speak of. 
She recalled the origins of the Combahee River Collective — a group of black feminist scholars that she founded in 1974 — and their first retreat, held at the South Hadley home of Jean Grossholtz, then a politics professor at Mount Holyoke. The joy of being a part of that group was unparalleled, Smith said, though it was formed in part as a reaction to the hostility and ostracism they faced from both white feminists and the male-dominated civil rights movement. 
Similarly, Willis noted that while much progress has been made, the plight of transgender feminists and trans women of color continues to be fraught with difficulty and violence. 
"We have so much further to go in this conversation," said Willis. 
Still, she ended on a hopeful note: "What brings me joy is holding the weight and responsibility of trying to transform the world for better."