Bringing the vaccine home
Bringing the vaccine home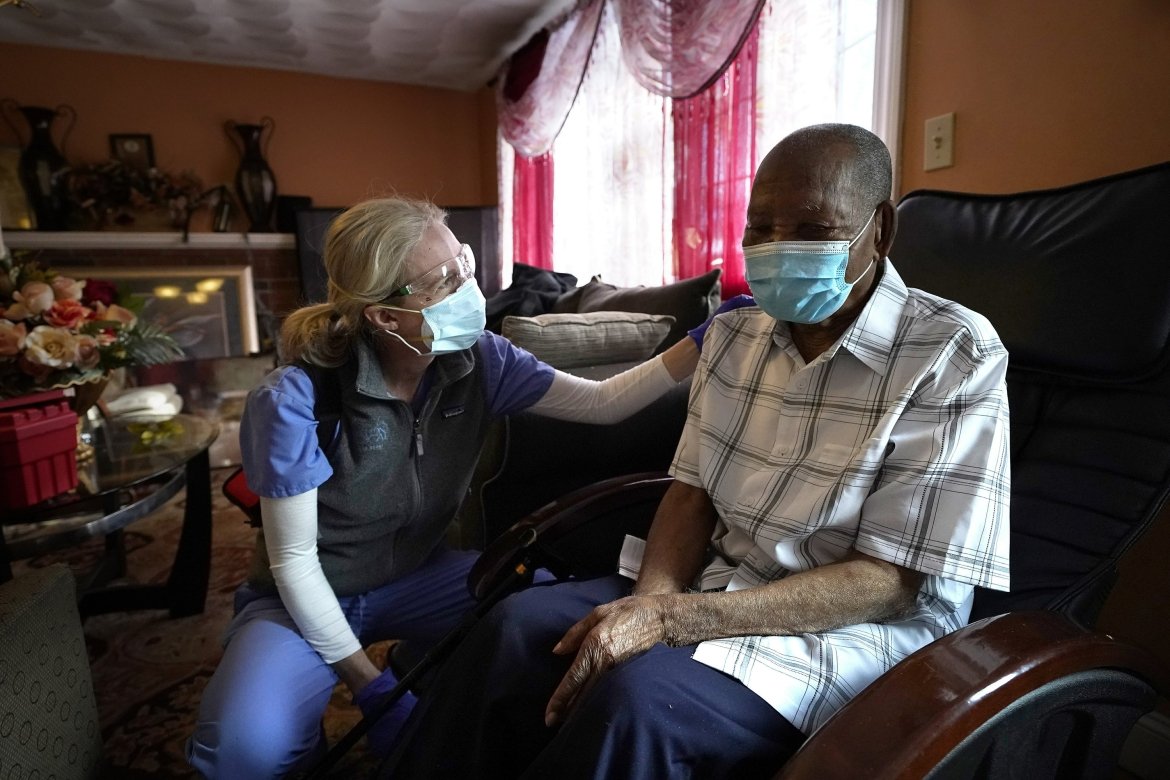 Mount Holyoke alum Dr. Megan Young '99 is a home-based primary care doctor who is bringing the COVID-19 vaccine to homebound elders.
Since last March, getting dressed in full personal protective equipment in the back of her minivan has become the new normal for Dr. Megan Young '99, a geriatrician, assistant professor and assistant dean of student affairs at the Boston University School of Medicine. She folds down the minivan's third row of seats to make room for a "clean" bin and a "dirty" bin, stores her N95 mask in Tupperware so she can reuse it, and carries all her medical equipment in a toolbox that she'll later wipe down with bleach. 
In the last several weeks, Dr. Young has added another aspect to this routine: carrying a COVID-19 vaccine bag in hand as she embarks on her work as a home-based primary care doctor to homebound elders.
Seeing patients in their homes is a kind of care Young was drawn to for reasons she was also drawn to study at Mount Holyoke College. "Part of what made it attractive was the sort of idea that you need to leave the world a better place," she said, noting Mount Holyoke founder Mary Lyon's famous saying: "Go where no one else will go, do what no one else will do." In the same way, Dr. Young is the first to acknowledge that while some people might not find her work glamorous, she loves it.
Born and raised on the University of Chicago campus, where both of her parents were educators, Dr. Young grew up with education in her blood. She was also quite close with her grandparents, including her mother's father, a Unitarian minister who felt passionately about giving back to the world. Spending her childhood summers with family in the woods of New Hampshire — which she adored — inspired Dr. Young to want to find a school that was both beautiful and had a strong mission of service. Mount Holyoke College fit the bill.
A swimmer and a neuroscience and behavior major, Dr. Young spent many hours at the Career Development Center. She couldn't decide whether she ought to pursue a Ph.D. in neuroscience or go to medical school. Upon graduation, she saw a posting on a bulletin board for a job as a research assistant at Framingham Heart Study, the long-term longitudinal cohort study that started in 1948 in Framingham, Massachusetts. The position required someone to drive to the homes and nursing homes of the original study participants, who were around 90 to 100 years old at the time. She got the job.
"I was driving to the home of these study participants and talking with them about their lives and hearing their stories, and they would want me to stay for tea and give me cookies. And I just loved that," Dr. Young said. "I loved the stories. I loved hearing about their lives. I loved meeting their family members."
She credits the experience with pushing her to want to treat older populations. She went on to medical school at the University of Chicago, found a mentor who was a geriatrician, and returned to the east coast for a residency program at Boston Medical Center, which has a strong geriatrics program. She's been there ever since. 
Geriatrics is quite different compared to other primary care specialties, noted Dr. Young. She's never rushed to have to attend to a waiting patient and can take her time with each person, for example, as her appointment times are longer than a typical doctor's office. 
Part of what she does when she goes into the home is treat for what geriatrics calls the Five M's: mind, mobility, medication, multi-complexity and what matters most. "To go through all those things takes time," Dr. Young said, adding that much of her work involves asking her patients to show her their processes — how they're walking, what array of medications they're currently taking, and so on. 
Visiting someone in their home adds a whole new dimension to the treatment. "I do think going into the home is a really intimate experience," she said. "Being a doctor is intimate, but then having a patient allow you come into their home — it makes you feel even closer to them, seeing them in their own environment."
Now that Dr. Young is vaccinating her patients, she realizes the pent-up stress and fear she's been carrying over the past year — not necessarily that she might catch COVID-19, and as a frontline worker, she received the vaccine right away — but that she might inevitably bring the virus home to her husband, three daughters or one of her patients. 
"It's been really hard because we've had a lot of patients die," she said. "We're used to death and dying because it's a part of what we do. End-of-life care is a lot of what we do. But there's something different about COVID."
Now, more than anything, Dr. Young is excited to be able to bring home the vaccine — literally. She tells her medical school students that it's important to have a career that you love. While this may not be the case for everyone, she acknowledged, it's been the key ingredient for her throughout the years. And for Mount Holyoke students a year into a pandemic who may also be reflecting intensely about the future, perhaps this advice can help them too.
"If you love what you do every day, then when you're feeling burnt out, or when you're feeling like your cup is empty and you don't have a lot left to give, and when you feel discouraged — if you're doing something you love, that's what's going to pick you back up again."