On the campaign trail with Sarah Hwang.
On the campaign trail with Sarah Hwang.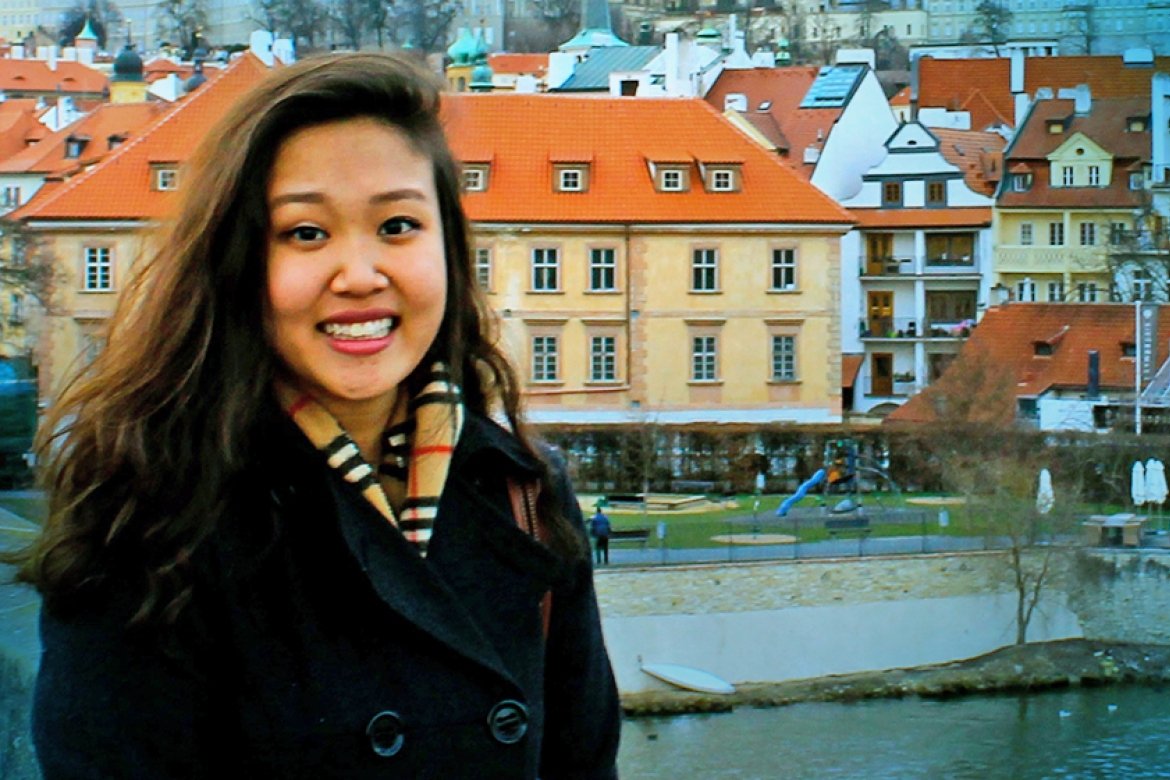 Mount Holyoke College junior Sarah Hwang's endless energy and enthusiasm made her the perfect person to join a presidential campaign in Iowa.
By Sasha Nyary
Knocking on the doors of strangers, making nonstop phone calls, working until midnight every day, and living on pizza might not sound glamorous to everyone. But to Sarah Hwang '17, spending January term campaigning for Hillary Clinton in the Iowa caucus was exhilarating.
"Working on a campaign was thrilling because every day was something new," said Hwang, an art and public policy major at Mount Holyoke College. "You got a natural high from every new supporter you gained and from the people you'd meet. I would love to work on another campaign in the future."
Hwang participated in the campaign as a Caucus Fellow, a competitive program designed to train the next generation of organizers. Working with the local Iowans was one of the best parts of the experience, she said. She slept at the home of a couple she described as "basically like my grandparents," for example. But her favorite moment came when the candidate herself gave her a shout-out on Twitter.
"She tweeted a picture of me canvassing in rural Iowa, which really made my day!" Hwang said of Clinton.
"Social justice superstar"
Friends and mentors describe Hwang, a first-generation Korean American and the first in her family to attend college, as charismatic, passionate, and a natural leader.
Referring to her as a "social-justice superstar," Her Campus selected Hwang as one of their "22 under 22 most inspiring college women." As a sophomore, Hwang saw that there were few Asian American Pacific Islanders in the reproductive-justice movement, so she cofounded the campus chapter of Planned Parenthood Generation Action.
Her drive to start the chapter is emblematic of Hwang's optimism and exuberance, said Kate Wasserman, associate director of new student Orientation and special assistant to the dean of the College. And those qualities are what make her such a good organizer.
"She's been involved with complex issues and she has a way to engage people and make it manageable for them to get involved," Wasserman said, noting that Hwang also had been nominated for a "20 under 20" Glamour magazine award. "She's well on her way to being an effective community organizer."
Now Hwang is taking everything she is learning about politics and combining it with her love of art. This spring, she is enrolled in a program in arts and social change in Prague that is offered by the School for International Training. The research-based program is part course work, part independent study. She is conducting interviews with local artists and activists as she explores how communism affects the arts and how artists respond to the system.
"I'm really interested in how society develops and how you can look at art to see this," Hwang said. "Pussy Riot is an art activist group in Russia, for example. They use their music and their visual art to get their message across."
Hwang worked closely with her advisor, Ruth Lawson Professor of Politics Vincent Ferraro, to help combine these seemingly disparate loves of art and politics to design her own major.
"Sarah is incredibly curious and inquisitive and she is absolutely committed to herself," Ferraro said. "Mount Holyoke gave her the freedom to think about how to connect the dots. It legitimized the idea that she could do something different."
First in her family
Doing something different has been her entire college experience, Hwang said, not only for herself but also for her family.
"Despite the challenges, I'm really proud to identify as a first-generation college student, and as a daughter of immigrant parents," she said.
Hwang's younger sister has followed her to the Seven Sisters and to political activism. She's a student at Smith College and she also worked on the Clinton campaign in January.
"Sarah has an authentic enthusiasm that really bubbles through, and she's up for anything," said Anthony Lee, Idella Plimpton Kendall Professor of Art History, who has taught Hwang in several classes. He noted that she was fearless about the challenges of working on a major political campaign.
Hwang might return to the campaign if Clinton wins the 2016 Democratic presidential nomination. As for life after college, she wants to work in public policy, so she's considering law school or a graduate program—or both. These may seem like big goals for someone who in high school was too shy to make class presentations. But Mount Holyoke helped her overcome that, she said.
"It's a life-changing experience to be here," she said. "It's liberating and empowering. I definitely wouldn't be where I am without Mount Holyoke. I became a totally different person from when I came here—I became more confident."
Find your passion. Learn more.