Campus as classroom
Campus as classroom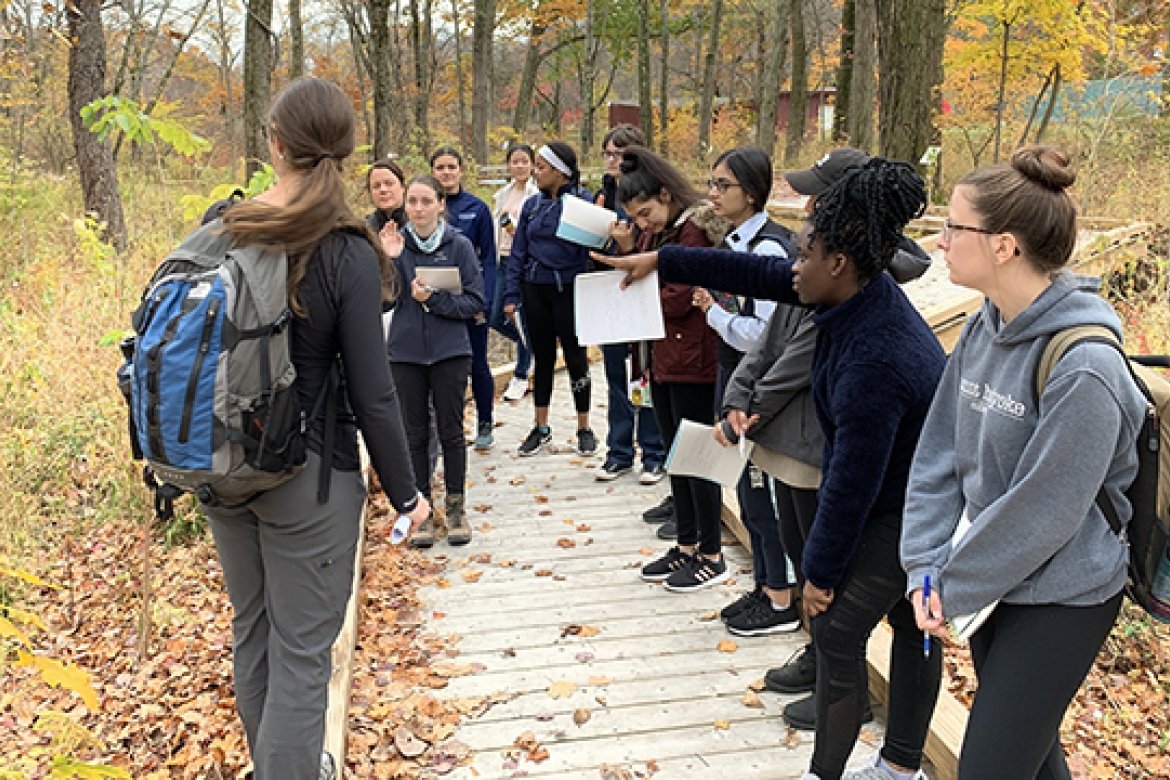 As monitoring stations silently record the heartbeat of the Mount Holyoke College campus, students and faculty develop the means to decode the data.
Among the trees that cover the hills, along the Stony Brook waterway, next to Upper and Lower lakes, and perched atop Gothic rooftops on the Mount Holyoke College campus, wind, weather and water sensors continuously collect data about the climate, air quality, soil and water on campus.
Together, these stations and the information and research opportunities they provide make up the Campus Living Laboratory, a flagship program of the Miller-Worley Center for the Environment. 
While environmental data collection in one form or another has probably occurred from the very inception of Mount Holyoke College, the first formal long-term study that Jenica Allen, Campus Living Lab manager, is aware of dates back to 1991. That was the year that Hurricane Bob devastated New England, with Massachusetts bearing the brunt of the damage, which was estimated to have cost more than $1 billion. A faculty member wanted to track how the forest recovered after the event.
"We started measuring then and we haven't stopped," said Allen. 
In 1999, Alan Werner, professor of geology, installed a sensing station on the roof of the Clapp Laboratory to monitor weather conditions. (The station was subsequently moved to atop the Williston Memorial Library to make space for communications equipment on Clapp.) Over the years, more weather and water sensing stations have been added to monitor and record conditions in different campus environments. 
Now 22 monitoring sites dot the campus, silently notating everything from wind speed and direction to water pollutants. 
The result of all this monitoring is data. Reams and reams of it — some from sensors that sample every two minutes, some from sensors that record every 10 minutes or on the half-hour. Some use one set of units to measure and others use another method. Some go offline, then come back on. And there is the ever-present threat and reality of drift in calibration. 
"When you collect data in the field using automated sensors, it's messy," said Werner. "It's incomplete, discontinuous. Sensors may power down. There are bogus values. It all needs to be interpreted and put into a usable format if it is to be of value to the community."
That is where Valerie Barr, Jean E. Sammet professor of computer science, and her team come in: Barr is a co-principal investigator on the  Data Science Corps' Wrangle, Analyze, Visualize — also known as DSC-WAV project. 
Funded by the National Science Foundation, the grant has multi-institutional partners,  including Smith College and the University of Massachusetts Amherst, and focuses on preparing students for data science work. It gives them experience with industry standard tools and messy real-world data while helping community-based organizations reach their goals. This year Barr's campus team is partnering with theLiving Lab.
"We want to develop structured data sets that are clean and lovely and beautiful so that anyone interested in using it just has to apply analysis to it," said Barr, who is also chair of the computer science department.
In the first semester, the DSC-WAV students teamed up with Barr and Allen to wrap their arms around the data, starting at the very beginning. 
The challenge was daunting, said Emily Robinson '21, a math major from Newington, Connecticut. Not only were different stations measuring in different units, but some had been updated over the years to measure different parameters altogether.
"That first semester we were given 20 years of data," Robinson said. "We had to figure out what we were looking at before we could go about cleaning and organizing it." 
The DSC-WAV team is now working on developing code to automate the process of data cleaning so that cleaned and organized data on campus environmental conditions are available to all, via the Campus Research Center website.
"Ideally we'd like to be able to have this data be used by anyone who is interested, not just those who are directly involved with the Living Lab," said Robinson.  
Maggie Smith '22, of Larkspur, California, has found great value in learning to work with a dynamic team whose goal is the same, but whose individual contributions are different. While the students regularly meet with and receive support from Barr and Allen, they also work independently. Each week the four students working on the project meet to discuss their projects and assess their progress.
Smith, with a mathematics/economics special major and a Nexus concentration in development studies, expects that wherever her career path may lead, she will benefit from her experiences with DSC-WAV and the Campus Living Lab.
"We spend a lot of time talking about what we want to accomplish and how we are going to get it done," she said. "That is a very important skill. I expect that with these kinds of projects in the real world, you're not always going to have someone telling you exactly what to do and how you need to get it done right."
The Campus Living Lab is already in use by numerous faculty and students across different disciplines, from environmental studies to studio art. 
Ultimately, Allen and Barr hope that the students' work and the DSC-WAV project partnership with Campus Living Lab will yield a data dashboard where the cleaned and organized data is collected and archived in a usable format. 
"Eventually, there's going to be an automated process so the data gets collected and — boom, boom, boom, boom, boom! — all the stuff happens magically, the online data set is updated and whoever is interested can go to our super-awesome Shiny dashboard and download," Barr said.