Class of 2021 honorary degree recipients
Class of 2021 honorary degree recipients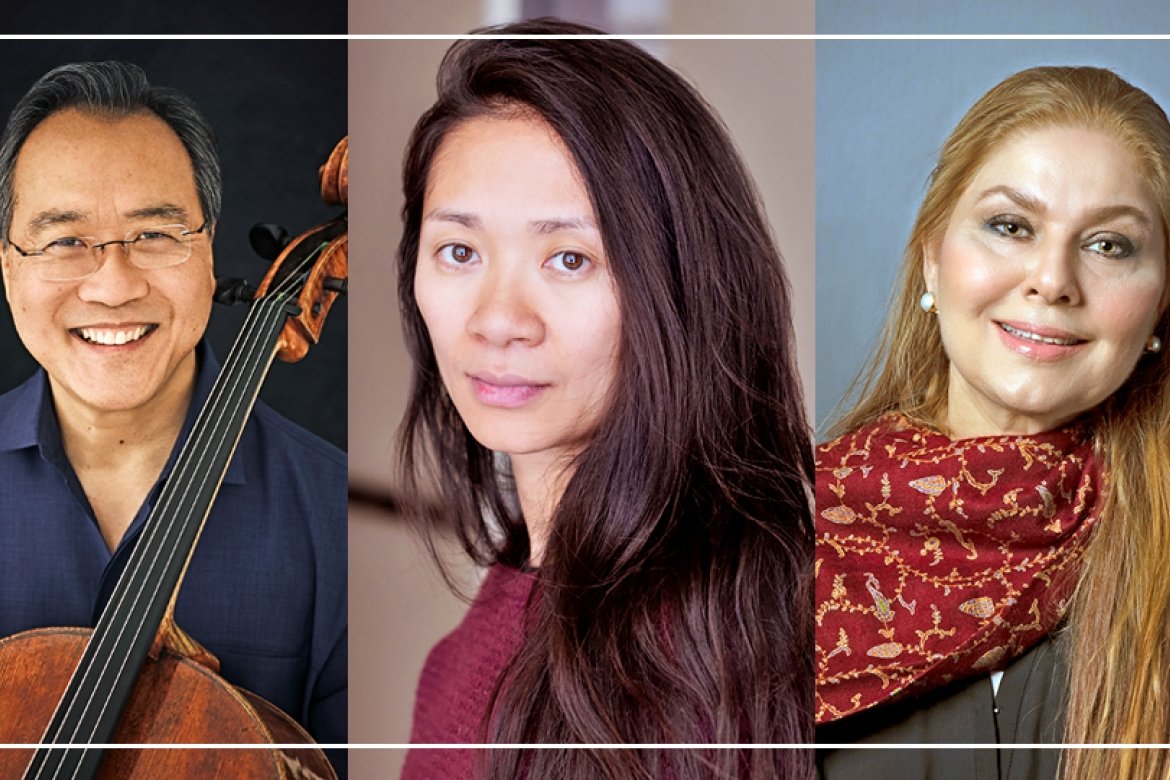 Mount Holyoke College has announced the three trailblazing honorary degree recipients who will join its 2021 Commencement.
Mount Holyoke College has announced the honorary degree recipients who will join the class of 2021 at its 184th Commencement, which will be held virtually for the first time. They are three trailblazing luminaries in the arts and public service. 
Rabiya Javeri-Agha '83, Yo-Yo Ma and Chloé Zhao '05 are reshaping the world and are exemplars of founder Mary Lyon's dictum to "go forward, attempt great things, accomplish great things." The College will confer honorary doctorates of humane letters on all three at the Commencement ceremony on May 23, 2021. 
Rabiya Javeri-Agha '83 is a driving force of change within Pakistan. She has worked for 37 years in public service, making her one of the most senior civil service officers in the government of Pakistan. She was also the first female president of the Pakistan Administrative Service, representing civil service officers across the country. In her executive role as secretary of the Federal Ministry of Human Rights, Javeri-Agha and a team of 1,500 colleagues across the country worked on promoting and protecting the rights of women, children and the most vulnerable. She was instrumental in the drafting and enactment of 18 human rights legislations, including Pakistan's progressive law The Rights of Transgender Persons Act.  
Yo-Yo Ma is one of the world's most renowned cellists. His life and career are testament to his enduring belief in culture's power to generate trust and understanding. Yo-Yo Ma has recorded more than 100 albums, is the winner of 18 Grammy Awards and has performed for nine American presidents, most recently on the occasion of President Biden's inauguration. He has received numerous awards, including the National Medal of the Arts, the Presidential Medal of Freedom, and the Kennedy Center Honors. He has been a United Nations Messenger of Peace since 2006, and was recognized as one of Time magazine's 100 Most Influential People of 2020. He is also a Mount Holyoke spouse, married to alum Jill Hornor '74, whom he met at the Marlboro Music Festival in 1972.
Chloé Zhao '05 is a Chinese writer, director, editor, producer and  two-time Academy Award  winner.  She was born in Beijing, raised there and in Brighton, England.  After moving to the United States, she studied politics at Mount Holyoke College and film production at New York University.  Her feature debut, "Songs My Brothers Taught Me," premiered at the 2015 Sundance Film Festival and was nominated for best first feature at the Independent Spirit Awards.  Her second feature, "The Rider," premiered at the 2017 Directors Fortnight, held in conjunction with the Cannes Film Festival, and was awarded the Art Cinema Award and best feature film at the 2018 Gotham Awards. 
Her most recent film, "Nomadland," premiered at the 2020 Venice Film Festival and was awarded the Golden Lion. The film and Zhao have earned the industry's highest acclaim, including two Golden Globeawards and three Academy Awards: best director, best actress and best picture. Zhao made history as the first woman of color to win many of these awards. She wrote and directed Marvel Studios' "Eternals," which is scheduled for release November 5, 2021.