Ending gender-based violence in Bangladesh
Ending gender-based violence in Bangladesh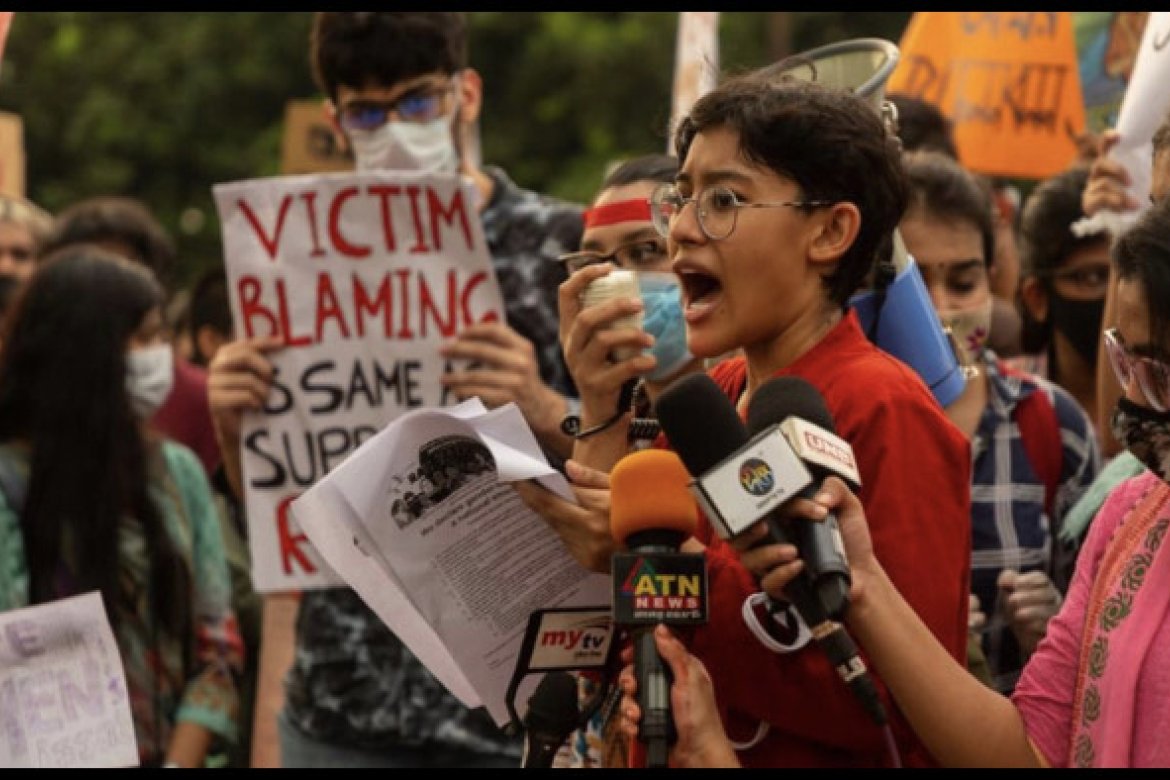 Mount Holyoke alum Umama Zillur '18 is the founder of Kotha, an organization dedicated to ending Bangladesh's culture of gender-based violence.
By Sonia Paul 
It was during the end of high school in her home country of Bangladesh that Umama Zillur '18 found herself questioning the gender norms of her home country.
As she started to engage with the definitions of masculinity and femininity around her, and the ways Bangladeshi society instituted certain roles for men and women and tolerated gender-based violence, frustration started to build up within her. She began to research what was fueling her rage.
"If I'm not the one directly facing it, it's my duty to read about it, and sit with that discomfort and rage," Zillur said.
By the time Zillur was finishing her first year at Mount Holyoke College, where she majored in economics and minored in math, the Clinton Global Initiative came on her radar and she knew exactly what she wanted to do. She saw the initiative as a chance to translate her frustration into action and applied for it in December 2015 with a clear concept in mind: Kotha.
Kotha, the Bangla word for "conversation," was Zillur's way to tackle Bangladesh's culture of gender-based violence through a school curriculum designed specifically to intervene in the country's conservative culture. Rather than staying tacit about sometimes uncomfortable conversations, the program would open up the space for youth to discuss sexuality, rights and consent. 
What began as an idea Zillur seeded during her sophomore year at Mount Holyoke is now a growing Dhaka-based organization embedded in Bangladesh's feminist rights movement working to rid the country of gender-based violence.
Now 25 years old, Zillur credits her time at Mount Holyoke, where she was deeply aware of the College's history of student activism and focus on community, with helping her to shape her ideologies and develop a no-nonsense approach to pursuing her goals.
"It is so powerful to be in an institution that has a community which is rooting for you," she said. "You see people like you thriving and being in positions of leadership."
She collaborated with a fellow student, Ranjini Das '18, as she first developed the concept, and then worked with the Center for Women and Community at the University of Massachusetts  Amherst, to imagine and build what a proper curriculum could look like. By the summer of 2016, Zillur was introducing the pilot project to private schools in Bangladesh.
Knowing there might be resistance, she was strategic about initiating conversations with stakeholders by centering the rights-based approach, as opposed to even using the word "sexuality," which can be interpreted as too charged in a country like Bangladesh.
"A lot of previous studies show that people, even parents, from school communities felt that sex education was poisoning their children's minds, or it would lead them to take part in sexual activities," Zillur said. "And this is just encouraging people to be able to live a life that we don't really accept."
But the students on the receiving end of the program were clearly interested, Zillur said, especially because they didn't have any other channels to talk about these issues.
That initial pilot project is now Kotha's flagship program, Kotha At School, where paid peer educators lead a two-month, six-topic curriculum to help high school students develop skills in self reflection and critical thinking, negotiation and effective communication, conflict resolution and decision making. 
As Zillur continues to research the kind of organizational structure best suited for Kotha's goals — the nonprofit model is not quite right for Kotha because it's typically driven by donor agendas and de-politicizes the work, Zillur said — its current fluid structure is opening up the space to work on other projects.
Among them is a book consolidating the experiences of Kotha's 30 team members from the last couple of years into a sort of training manual that other young people interested in developing similar programs can use as a resource. 
Kotha also has a program called Sisters in Sync, where female-identified people can gather and share stories. Because of the pandemic, recent gatherings have been virtual, but in the past, Kotha had secured studio spaces, sometimes featuring art exhibitions, where people could gather for free, Zillur said.
Zillur is a recipient of a grant from the Social Innovation Initiative, a program of the College's McCulloch Center for Global Initiatives. The experience of being surrounded by other change-makers during her college years continues to fuel her goals.
"Ever since that, I've also created similar communities around myself, of feminists who are connected by rage, by power," Zillur said. "That connection is just something that I crave everywhere I go."