Faculty recognized for research, teaching.
Faculty recognized for research, teaching.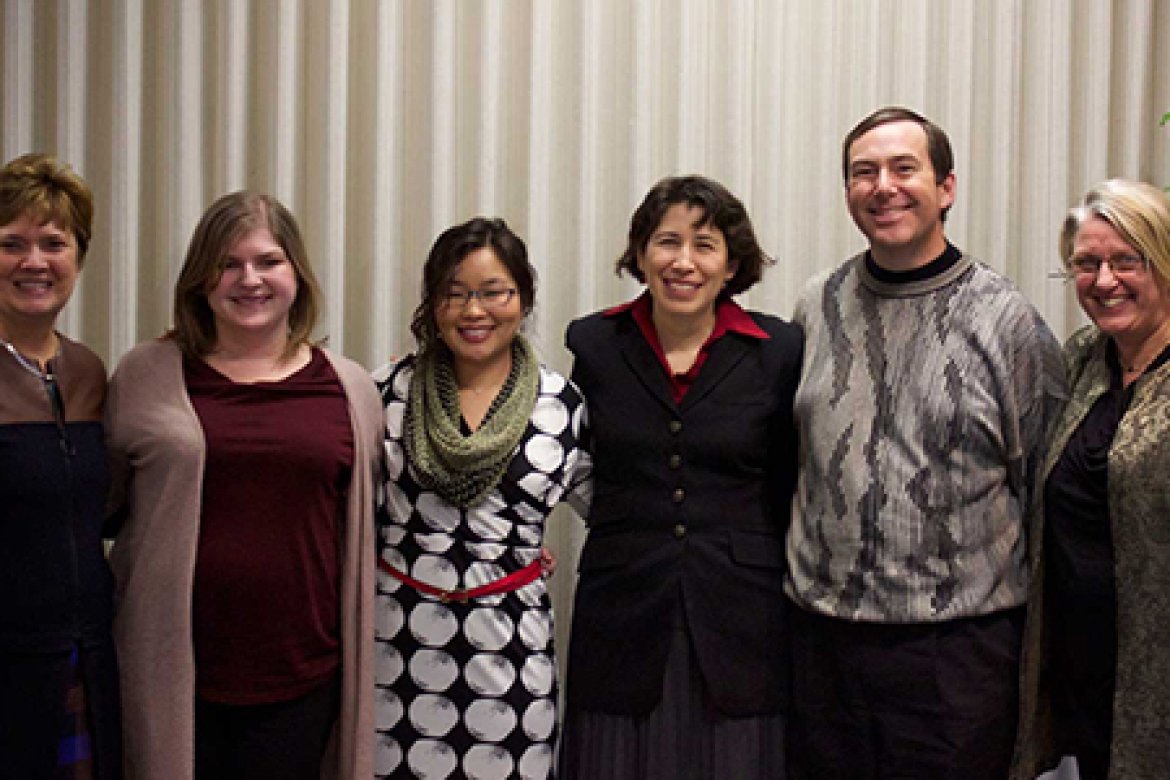 Four outstanding faculty members are honored for their work in teaching and research.
By Keely Savoie
Four Mount Holyoke College faculty members were honored with awards for their contributions to research and teaching at a ceremony on March 3. In February, each received the news—along with roses, champagne, and balloons—from President Lynn Pasquerella, in surprise visits to their classrooms.
"It was absolutely wonderful," said Michael Penn, William R. Kenan Jr. Professor of Religion, who was selected for the Meribeth E. Cameron Faculty Award for Scholarship and was teaching class when Pasquerella came in with the news. "We heard a knock, and there was Lynn with roses and champagne," he said.
Penn's work focuses on understanding the history of Muslim and Christian interactions in areas where the groups coexisted amicably, rather than in regions where the two groups clashed in battle.
"Most current knowledge of early Christian and Muslim interactions derives from Greek and Roman texts," said Penn. "Imagine how our understanding would change if we included texts written in areas where Christians and Muslims lived in relatively peaceable communities."
His work involves discovering and translating those early Aramaic texts and making them available to other scholars in the field.
Across campus, Maria Gomez, professor and chair of chemistry, was also delighted by the visit and award.
"I was so honored," she said. "Especially because Mount Holyoke has such amazing faculty to begin with. To be singled out by the Faculty Awards Committee is a real honor."
Gomez works on reducing petroleum dependency by improving conduction in fuel cells to maximize their efficiency.
Two Mount Holyoke College Faculty Awards for Teaching were given, one to Amy Martin and one to Audrey St. John.
"Receiving the award is so special," said English department chair Amy Martin.
Martin, an associate professor of English, has taught classes in Victorian and Irish literature and culture at Mount Holyoke for 13 years. "Teaching here is one of the greatest joys of my professional life," she said.
"We have amazing students here," she continued. "I am very lucky to get to teach them and am honored to be recognized for that."
Associate Professor of Computer Science Audrey St. John also expressed her deepest admiration for her students, whose accomplishments reflect not only her teaching but also their own creativity and intelligence, she said.
"Our students never cease to amaze and inspire me," she said. "I am constantly wowed by their accomplishments, from a student creating a twinkling dancer's skirt her first semester on campus to an alumna developing an app enabling a touch keyboard for Braille. And, to top it all off, they are down-to-earth, unbelievably motivated, and tons of fun to work with."
Teaching computer science, in particular, lets her not only reach students, but also change the landscape of the traditionally male-dominated field.
"It is extremely rewarding to hear from students, often semesters or years later, about how a class or even a conversation helped them discover their path," she said. "It gives me an opportunity to really make an impact. It's incredible to see my students contribute by establishing programs and events to further diversify the tech sphere."
Learn from our award-winning faculty. Find out how.