February at Mount Holyoke featured Black History Month events, Princeton Review rankings, outstanding student-athletes and of course valentines.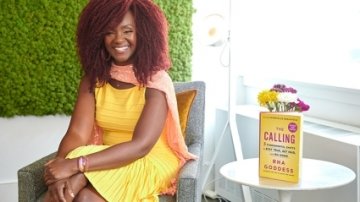 February at Mount Holyoke featured Black History Month events, Princeton Review rankings, outstanding student-athletes and of course valentines.
Rha Goddess on passion, purpose and profit
An interview with Rha Goddess, who spoke at Mount Holyoke as part of the Black History Month celebration.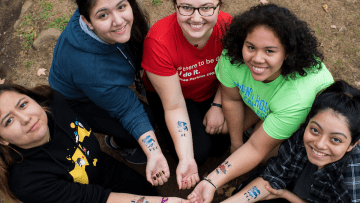 Princeton Review touts Mount Holyoke College
Mount Holyoke scores highly with Princeton Review, with at least two rankings in the nation's top 20, including #11 for "Best Schools for Making an Impact."
The key to STEMtastic robot tutors? Dialogue.
Heather Pon-Barry received the prestigious CAREER award for her work in developing educational — and socially intelligent — robots.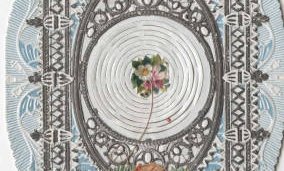 "Cupid's Capitalist"
Esther Howland, class of 1847, was featured in Forbes as the creator of the modern valentine.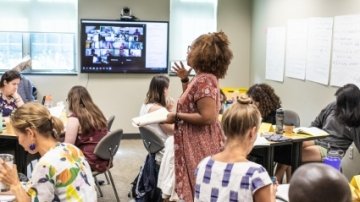 Teaching award brings outstanding students to the graduate teaching program
Francesca Fydenkevez MAT'21 is using her Excellence in Teaching Award from the Harold Grinspoon Foundation to earn a master's of arts in teaching mathematics in the College's Professional and Graduate Education division.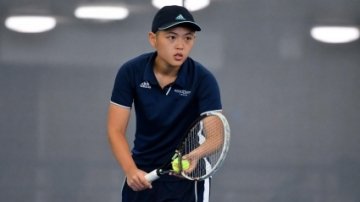 Tennis court triumph
Ching-Ching Huang '20 was named National Player of the Week in division III by the Intercollegiate Tennis Association and Universal Tennis Rating.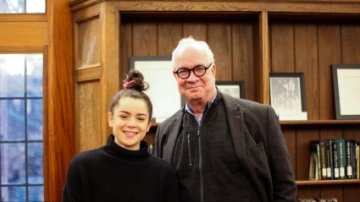 Hold the presses!
Blogger Morgan Turner '20 found career direction and so much more through her Nexus concentration — and classes with journalism professor Todd Brewster.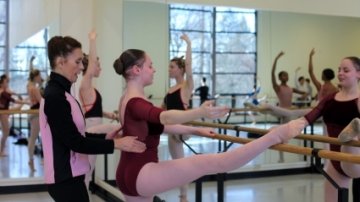 ABT master class on campus
Junior Hannah Nagy got instruction from Karin Averty, the ballet mistress of the American Ballet Theatre Studio Company. ABT made its annual Mount Holyoke visit to present a master class and give three public performances.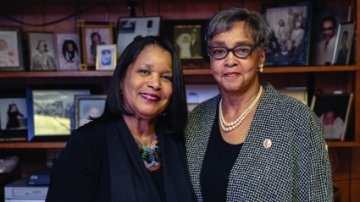 A friendship that changed Mount Holyoke
Cousins Rhynette Northcross Hurd '71 (left) and Deborah Northcross '73 discuss the transformative experiences that informed their time on campus, their childhood in Memphis, and their friendship with Mindy McWilliams Lewis '75.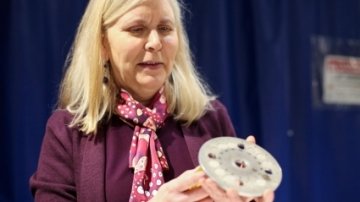 She boldly goes
Astronomy professor Darby Dyar uses real-world tricorders and a growing database of spectroscopic minerals signatures to identify minerals found in space.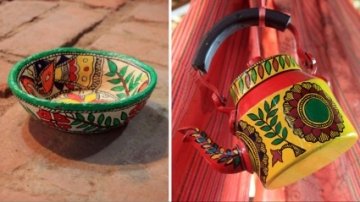 Giving life to a treasured art form
Tishya Khanna '23 blogs about her quest to revive Madhubani art in her home country of India — and the parallels in community she finds at Mount Holyoke.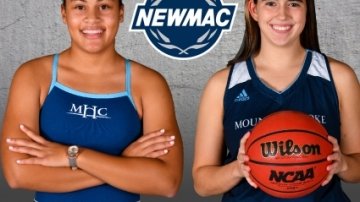 Student-athletes recognized by the NEWMAC Academic All-Conference
Seventeen winter student-athletes have been recognized by the New England Women's and Men's Athletic Conference. From left, Caitlyn Richmond '21 (swimming and diving) and Kelly Lynch '22 (basketball).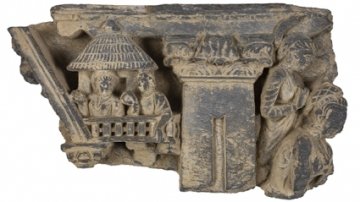 A new gift of ancient objects
A recent donation to Mount Holyoke has prompted a re-envisioning of gallery displays to be more global and provide context to the collection.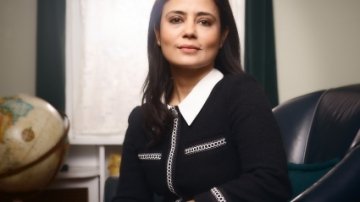 "Be the lion that is leading the rest"
Mahua Moitra '98 talked about her gratitude for Mount Holyoke and how students should be prepared to lead in a time of rising worldwide nationalism.