Getting a leg up in nanotechnology
Getting a leg up in nanotechnology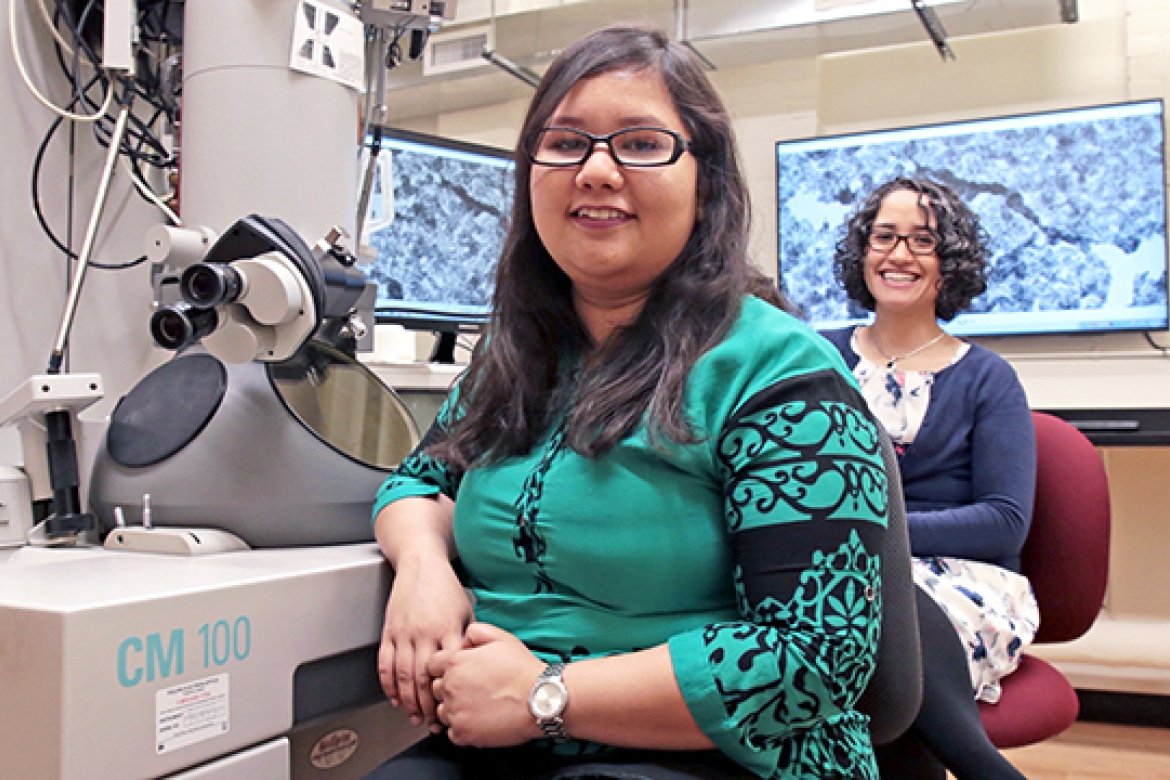 With a major upgrade to Mount Holyoke's transmission electron microscope, now even first-year students can take a class in nanoscience.
By Sasha Nyary 
In a dark room in the basement of Clapp Laboratory, a large computer monitor sits on a table, glowing with a ghostly gray, white and black image that looks vaguely like a map of an imaginary country. Connected to the computer is a tall cylindrical silver microscope that at first glance resembles a submarine's periscope. 
Jennifer Tasneem, a chemistry major from Dhaka, Bangladesh, looks back and forth from the screen to the microscope. As Tasneem hits buttons on the computer console, the focus of the image on the monitor sharpens and reveals a landscape of scattered cubes. 
Tasneem is looking at iron oxide that is 14 nanometers — 14 billionths of a meter — across. A senior at Mount Holyoke College, Tasneem is recording the last 25 images she needs for her senior thesis on the synthesis of iron oxide nanocubes. 
Tasneem was the first student to use the new equipment, which she's been working with since November 2016. She had been capturing images of these nanocubes since last summer, by using older equipment, but her project took off last fall when the College completed an upgrade of its transmission electron microscopy equipment and a renovation of the microscopy lab. 
"The resolution of the images is definitely a lot better," Tasneem said of the new setup. "It's much easier to focus, and much faster. It's also much faster to take pictures of the images. And now I can save the images directly to my Google Drive folder." 
These changes and more, which were funded by a recent grant from the George I. Alden Trust, are due to several microscopy upgrades: a new computer and digital camera for the transmission electron microscope. Because the computer is networked, images from the microscope can be displayed in real time to students in lecture halls throughout the College's science complex.
Two other new devices, which are essential to preparing specimens for this microscope as well as the College's other electron microscope, include a microwave tissue processor and sputter coater/carbon evaporator. The microwave tissue processor prepares organic samples in two to three hours instead of as many as 70 hours. The new sputter coater/carbon evaporator coats both organic and geological samples with thin film deposits to make them readable by the microscope. This used to take 30 minutes to two hours but can now be accomplished in under 15 minutes. Finally, the small lab where the microscope is kept was renovated and expanded so that more students can now observe it and be trained in its use. 
These changes are having a profound effect on students, said Wei Chen, Marilyn Dawson Sarles, M.D. Professor of Chemistry. Once trained, they are able to work much more independently to prepare samples, examine them under the microscope, make observations and draw conclusions. Even more exciting, the upgrades are giving the College's newest students an opportunity to begin learning nanoscience, the professor said. 
"First-year students exposed to a high-tech, expensive instrument like the transmission electron microscope in a classroom setting is unheard of," said Chen. "This has become a reality at Mount Holyoke College because of the new additions and our commitment to high quality undergraduate science education." 
Such exposure is increasingly important as the science and technology behind microscopy broadens and becomes increasingly sophisticated. Ever since the College purchased its first transmission electron microscope in 1968, thousands of students have used the Mount Holyoke electron microscopes. The College also has a scanning electron microscope, which was purchased in 1985. Once intended for studying the life sciences, the College's electron microscopes are now also used in chemistry, physics, astronomy and geology. 
"Mount Holyoke already has the most accessible electron microscopes for teaching undergraduates in the Pioneer Valley," said Blanca Carbajal González '08, director of the Science Center Microscopy Facility. "These enhancements are significantly improving the experiences of students, both in the classroom and in their research." 
Until now, González has been training students in upper-level classes that, as the only such offerings in the Five Colleges, are in such high demand that they are always waitlisted. Because the process of training students to use the microscope independent of her will now be easier and shorter, she will have more time to work on independent research with students. 
González has recently started working with Chen's Chemistry 199: Introduction to Research class as well as the professor's 300-level class in quantum mechanics. The new equipment will also be used in numerous introductory and advanced biology classes. 
"As we bring this equipment online and train students, I am increasingly able to expand my role," González said. "This means that both students and professors will be more productive, the number of research opportunities will expand and there will be more opportunities to publish. Jennifer will have a leg up in grad school because she already knows how to use an electron microscope." 
Tasneem will begin a doctoral program in materials science and engineering at Cornell University in the fall. Knowing how to create, observe and work with nanoparticles — which have many uses including data storage, MRIs and drug-delivery systems — means students like her will have significant training and skills as they move on to graduate programs and careers. 
Tasneem has been building on the research conducted by Venky Feng '16, who is now in a doctoral program in materials science at the University of Oxford. Feng, who started college intending to go to divinity school, attributed the transmission electron microscope to the success of her research and the direction of her career. 
"I could see my nanoparticles under this microscope and that inspired me to go into the field of nanoscience and nanotechnology," she said. "Mount Holyoke is an awesome place that really inspires young women scientists."