Honoring students of color and their mentors
Honoring students of color and their mentors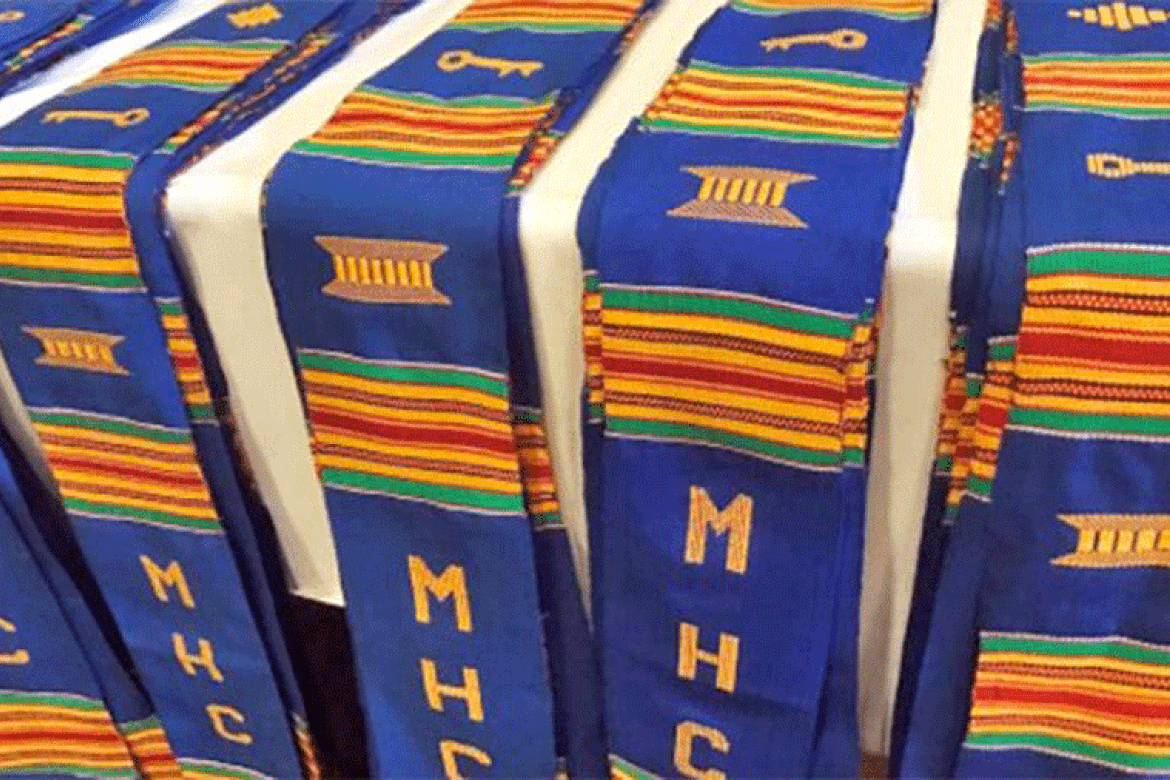 Mount Holyoke's Stoling Ceremony this year was both virtual and in person, the better to honor faculty and staff who support students of color.
Commencement traditions at Mount Holyoke College were re-imagined for a pandemic year, including the Stoling Ceremony, for graduating students of color. 
The College held two ceremonies — one virtual, and one in person a week prior — following social distancing protocols. During both events, a host of seniors thanked particular Mount Holyoke faculty and staff for playing a key role in their education journeys. 
With support from the division of Student Life, the Student Government Association's Students of Color Committee, also known as SOCC, hosted over 100 attendees during the virtual ceremony. 
The event opened with Mount Holyoke leaders and alums who prepared rousing speeches for the graduates, includingKijua Sanders-McMurtry, chief diversity officer and vice president for equity and inclusion,Latrina L. Denson, associate dean of students for community and inclusion, and Marcella Runell Hall, vice president for student life and dean of students.
"I hope that even with all that is happening, nationally and globally, you are able to honor your work and all that you have done to get to this moment," said Hall.
Kalea Martin '19 served as this year's alum speaker. During her time on campus, Martin served as both assistant and manager for the cultural centers on campus. She encouraged seniors not to fret about any meandering career paths.
"There's going to be a lot of highs and lows but if your accomplishments here are anything to go by, I know you have everything you need in order to excel," Martin said. "In the span of the two years since I graduated, I went all the way from getting my dream job a day after graduation to getting let go from said job — then ending up at a bakery washing dishes, which led to me getting recruited to write for a magazine I used to read when I was 17. I'm still figuring it all out myself, and that's okay, too." 
The Stoling Ceremony was first held in May 2005 to honor the "unique experiences of students of color who attend predominantly white institutions." 
As part of the in-person ceremony, a student's chosen mentor bestows a traditional Kente cloth stole or sash upon the senior. Those who attended the virtual ceremony will receive their stoles in the mail. The class of 2021 composed a 15-minute video of acknowledgements thanking a range of Mount Holyoke community members, from the anthropology department to LITS.
"This serves as an opportunity for students, along with their family and friends, to celebrate their achievements, acknowledge a mentor and to reflect on their experiences at Mount Holyoke," said Rebecca Zhang '22, the social chair for the SOCC.
Now, over 15 years later, the tradition still holds strong and has inspired additional acknowledgments, such as theFirst-Generation and Low-Income Cording Ceremony, which was first held in 2017 by the First Generation and Low Income Partnership, or FLIP.
"This occasion reminds so many of us why we chose the path of education," Sanders-McMurtry said. "Every mentor I've ever had has seen something in me that I didn't see in myself. And everyone I've had the chance to mentor has allowed me to believe that hope prevails and love restores."