Internships for Spanish majors and minors
Internships for Spanish majors and minors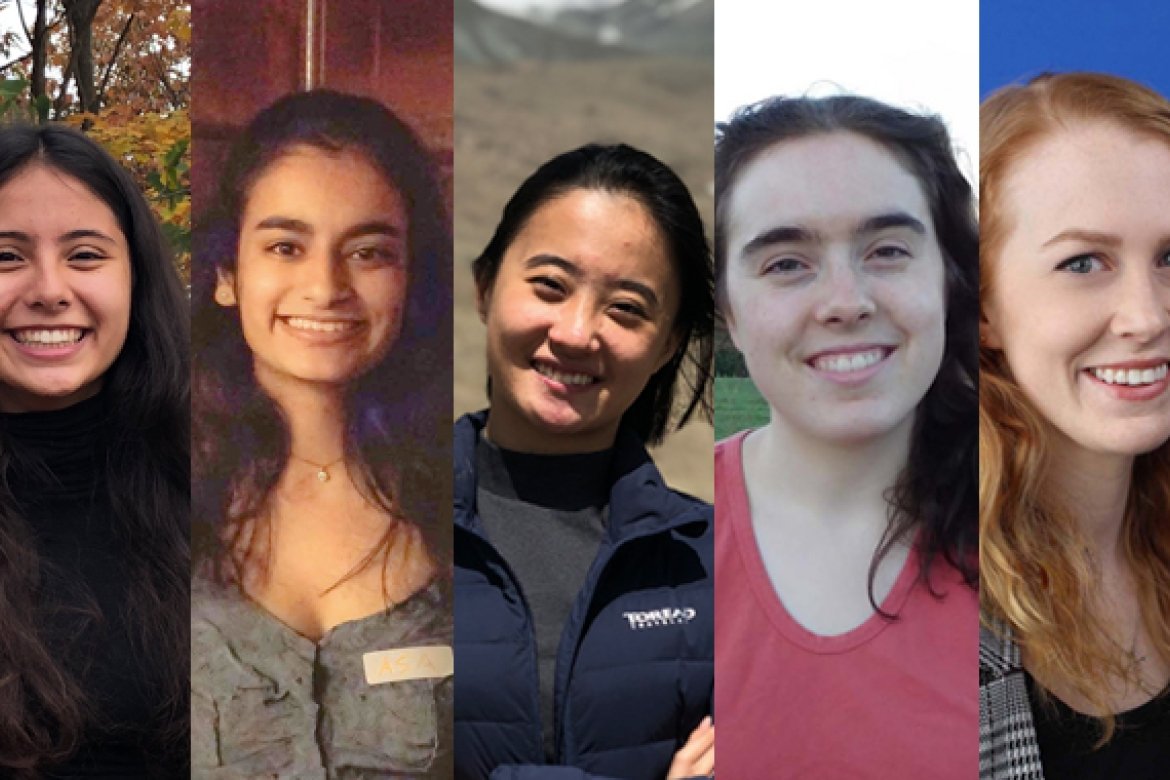 Current Mount Holyoke students who major or minor in Spanish, Latina/o or Latin American Studies gave presentations on their internships.
Recently, the Spanish, Latina/o and Latin American studies department held its fifth internship symposium for students who major or minor in Spanish, Latina/o studies or Latin American studies and complete internships. Many of the internships are in Spanish-speaking communities in the U.S. and around the world. This year, due to COVID-19, the symposium became a digital presentation of the department. 
All five students' internships were funded through The Lynk initiative at Mount Holyoke College, which guarantees funding for all students for a domestic or international summer internship. 
Christina Gonzalez '22 and Lilian Lin '21 also presented their experiences at the annual LEAP symposium in the fall. "LEAP" stands for "Learning through Application" and is an opportunity for students to demonstrate the connections between academic work at Mount Holyoke and its practical application in the world.   
Gonzalez is majoring in Spanish and had an internship combining Spanish, mathematics and education. 
"As a student interested in pursuing a career in education, I took this summer to explore international education in a non-traditional setting. While interning at Centro Educativo Pavoniano Albergue Infantil, a boys' Catholic orphanage located in Mexico, I served as an English, Spanish and Mathematics Tutor," she wrote. "I was responsible for a group of five students of different ages and grade levels to ensure that the students understood the material and to provide lessons in areas as needed. I also engaged with the students outside of academic hours by helping them fulfill daily responsibilities, joining them during breakfast and engaging with them during their free time. I learned how to bridge the language barrier gap in an academic STEM setting, how to properly teach material with limited resources and how to have difficult conversations with students." 
Rahael George '21 is a Spanish major who completed an internship at Huellas de Paz, or Podcasts for Peace.  
"Huellas de Paz is a social justice community center in Managua, Nicaragua co-founded by a Mount Holyoke alum," she wrote. "The organization aims to create a more equitable environment for youth and children through leadership development, community programming, and digital storytelling. More specifically, Huellas de Paz aims to provide opportunities for and promote creative expression, academic enrichment, and health and wellness. As a development intern I worked behind the scenes of the organization doing graphic design, writing and editing newsletters, working on crowdfunding campaigns and compiling and creating educational resources for the center. The flexibility of working as a development intern really allowed me to get a comprehensive understanding of the ins and outs of a nonprofit organization and introduced me to a variety of opportunities within the field of graphic design and education."
Lilian Lin '21 is a Spanish and international relations double major who connected local and global experience in water security promotion.  
"I spent three months interning at UN Sustainable Development Solutions Network, SDG Academy. My major job was collecting and promoting intellectual resources for sustainable development," she wrote. "At the same time I participated physically in a local NGO [non-government organization] and managed a team in investigating rural water quality at Guizhou, south of China. International cases and solutions that I learned from the SDG Academy position allowed me to conduct fieldwork and to design public health policy smoothly."
Ann Osborn '21 is majoring in neuroscience and behavior, and has a minor in Spanish. She completed an internship as a research and qualitative data analyst at Wright State University's Boonshoft School of Medicine.
"I worked remotely under the supervision and mentorship of Dr. Sydney Silverstein," she wrote. "I contributed to a research project that investigates the motivators and barriers people with opioid use disorder encounter while achieving recovery. This project uses participatory photo methodology to gain insight into the experiences of people with opioid use disorder. I worked with Silverstein and her research team to conduct a literature review, code interviews and helped to further analyze data using iterative categorization before writing up the publication. By helping with this research, I am learning a lot about addiction and recovery medicine and psychiatry, anthropology and public health research methods and the publication process. My experience has confirmed my interest in practicing medicine and working with marginalized individuals on their health."
Megan Michaels FP'21 is a Spanish and sociology double major who conducted an independent research project in foreign-trade zones in the United States. 
"I developed a research project to study special economic zones (SEZs) in the United States, called Foreign-Trade Zones (FTZs). I am interested in understanding how neoliberal development has shaped the livelihoods of workers. For this project, I conducted secondary research on the global use of SEZs. I also conducted qualitative interviews with people who are connected to FTZs. This included local economic development managers, workers from businesses in the zones, and members of organizations that advocate their use. I learned that FTZs are one of the backbones of the oil and petroleum industry in the United States, and that the labor relationship between the United States and Mexico has been deeply affected by the development of these zones. I plan to use the data I collected to write a thesis, and my research will continue throughout the semester."