Lavender Ceremony 2021
Lavender Ceremony 2021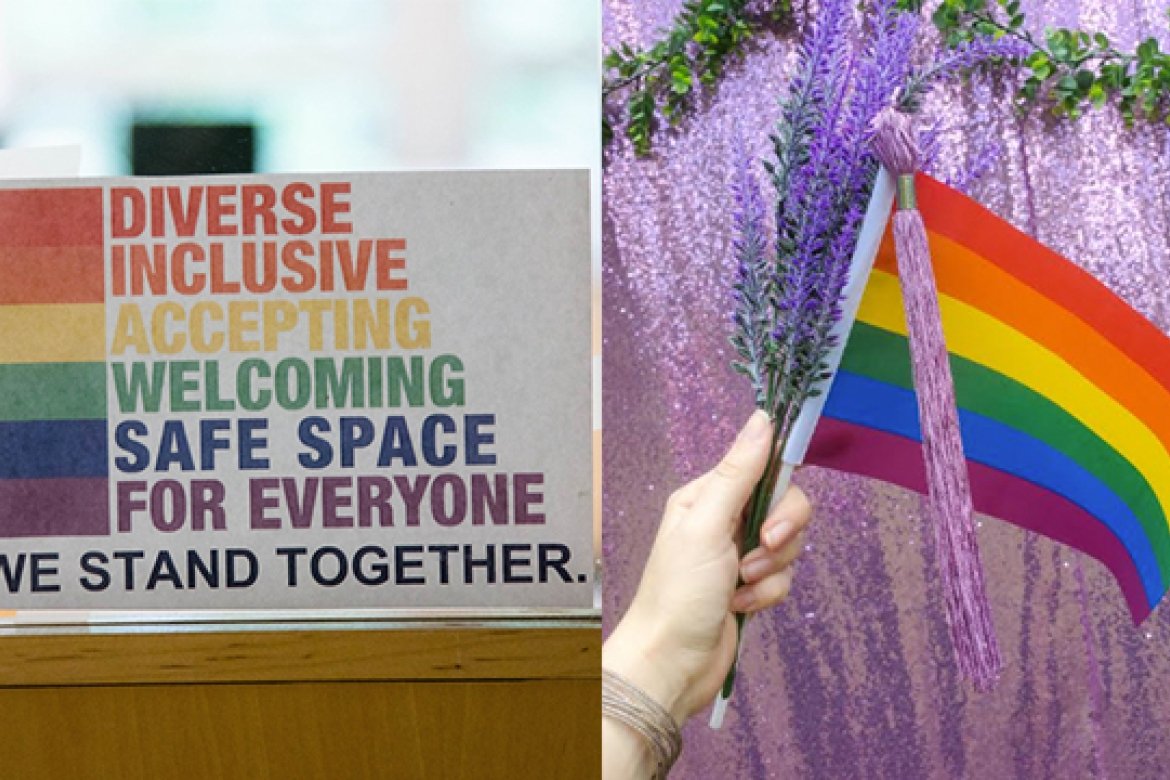 Now in its fifth year at Mount Holyoke College, the Lavender Ceremony is a celebratory rite of passage for the LGBTQ community.
By Keely Sexton
More than 130 LGBTQ seniors participated in Mount Holyoke College's multiple Lavender ceremonies this year to celebrate their graduation and all of their accomplishments in the fullness of their identities.
Mount Holyoke first adopted the Lavender Ceremony in 2017, holding its inaugural celebration in the common room of the Rockies residential hall for about 20 students. 
Each year since then, attendance has grown larger and larger — aside from the 2020 pandemic year — according to Christine Albain, area coordinator for community and inclusion in the Office of Residential Life. Albain guided the Lavender Committee student organization into existence and orchestrates the annual celebrations.
Five years after that first small celebration, the Lavender Ceremony is now held in Chapin Auditorium to accommodate all those who want to attend. This year, in addition to the in-person ceremonies, the College held two virtual ceremonies to allow remote students to attend from any part of the world. And for students who couldn't come to either the in-person or virtual ceremonies, Albain created individual celebrations.
"The Lavender Ceremony is the big event," she said, noting it is one of her favorite parts of her work at Mount Holyoke. "The feeling at Lavender is unlike everything else. You feel that strength and warmth in your chest. You feel like you are a part of something.
"It's the first moment to reflect on how far you've come."
The first LGBTQ-themed graduation ceremony was at the University of Michigan in 1995, when a lesbian mother was prevented from attending her own child's graduation on the basis of the mother's sexuality. She responded by developing her own celebration. Since then, Lavender ceremonies have come to be a part of commencement activities at institutions throughout the nation.
When W. Donald Cotter, associate professor of chemistry, spoke at Mount Holyoke's Lavender Ceremony in 2019, he reflected on the joy of community and visibility that his generation did not have access to. 
"This generation is finding and exploring new ways of being and being in community with others," Cotter said. "That openness to new ways of being and becoming oneself opens their future paths to success." 
"Their individual personhood does not have to be severed from their academic and professional selves," he said. "My generation did not have that." 
As a cisgender white gay male, Cotter knows that his identities give him privileges that many will never know. But, he said, being invited into spaces where he can support all members of the LGBTQ community in realizing their full value and potential is a privilege that the community has bestowed on him.
"When invited to be in those spaces in those moments, I am really grateful," he said. "And I am grateful for the way Mount Holyoke has committed to making itself a space where transgender, nonbinary, and other gender identities can be a part of its fabric."
For LGBTQ students, the Lavender Ceremony represents the crowning point of the undergraduate career, where they can celebrate as themselves. 
"They get to have a ceremony to be recognized in the fullness of their identity," said Albain, noting that many LGBTQ students who are not safe in revealing their inner selves feel they "have to choose between using a deadname [the person's birth name] or not being acknowledged." 
Not with the Lavender Ceremony, says Albain.
"This is the moment when they can be exactly who they are and wear what they want."