Leading Women in the Arts: Carrie Mae Weems
Leading Women in the Arts: Carrie Mae Weems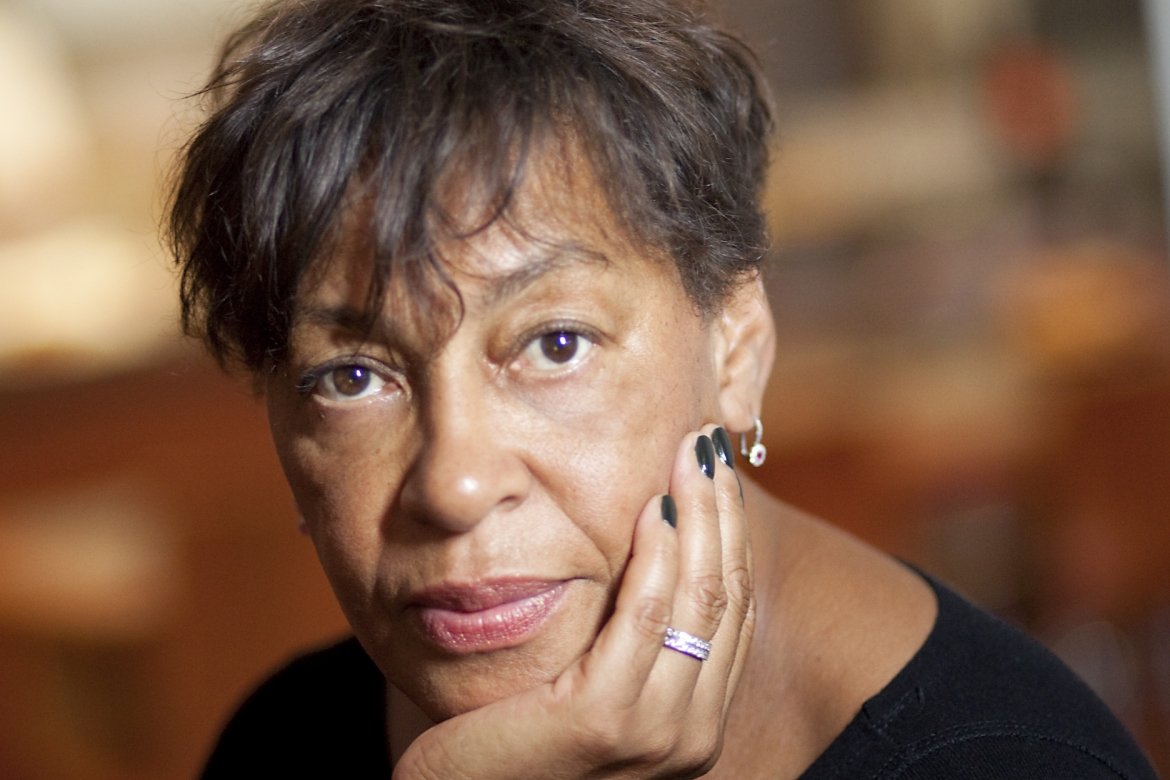 Carrie Mae Weems was the Leading Woman in the Arts in 2014. She held a public lecture titled "Art and Humanity" and took part in a Student Leadership and Careers Luncheon
Carrie Mae Weems has worked toward developing a complex body of art that has employed photographs, text, fabric, audio, digital images, installation, and video over the past twenty-five years.  Her work has led her to investigate family relationships, gender roles, the histories of racism, sexism, class, and various political systems.
Of her own work Weems has said, "Despite the variety of my explorations, throughout it all it has been my contention that my responsibility as an artist is to work, to sing for my supper, to make art, beautiful and powerful, that adds and reveals; to beautify the mess of a messy world, to heal the sick and feed the helpless; to shout bravely from the roof-tops and storm barricaded doors and voice the specifics of our historic moment." 
In a review of her series The Hampton Project in the New York Times, Holland Cotter says, "Weems has long been one of our most effective visual and verbal rhetoricians. When she tackles complex subjects in complex ways, the results are . . . deeply stirring."
Weems has participated in numerous solo and group exhibitions at major national and international museums including the Whitney Museum, the Museum of Modern Art and the Metropolitan Museum of Art. Currently, her work is the focus of a major retrospective, Carrie Mae Weems: Three Decades of Photography and Video.  The exhibition began its run at The Frist Center for Visual Arts in Nashville then travelled to Portland Art Museum, Oregon; Cleveland Museum of Art, Ohio; Cantor Center for Visual Arts, Stanford University, and is ending at the Guggenheim Museum, New York where it is currently on view through May 14. Yale University Press published the eponymous accompanying catalog.
Weems has received numerous awards, grants and fellowships including the prestigious Prix de Roma, The National Endowment of the Arts, the Alpert, the Anonymous was a Woman and the Tiffany Awards. In 2012, Weems was presented with one of the first US Department of State's Medals of Arts in recognition for her commitment to the State Department's Art in Embassies program.
In 2013 Weems was not only the recipient of the MacArthur "Genius" Grant, but she also received the Congressional Black Caucus Foundation's Lifetime Achievement Award. 
She is represented in public and private collections around the world, including the Metropolitan Museum of Art, NY; The Museum of Fine Arts, Houston; the Museum of Modern Art, NY and Museum of Contemporary Art, Los Angeles.
Weems has been represented by Jack Shainman Gallery since 2008. Her exhibitions with the gallery include Slow Fade to Black (2010), Signs Taken for Wonders (2009) curated by Isolde Brielmaier, Carrie Mae Weems: A Survey (2008) and The Whole World is Rotten (2005).