Live theater returns to Mount Holyoke
Live theater returns to Mount Holyoke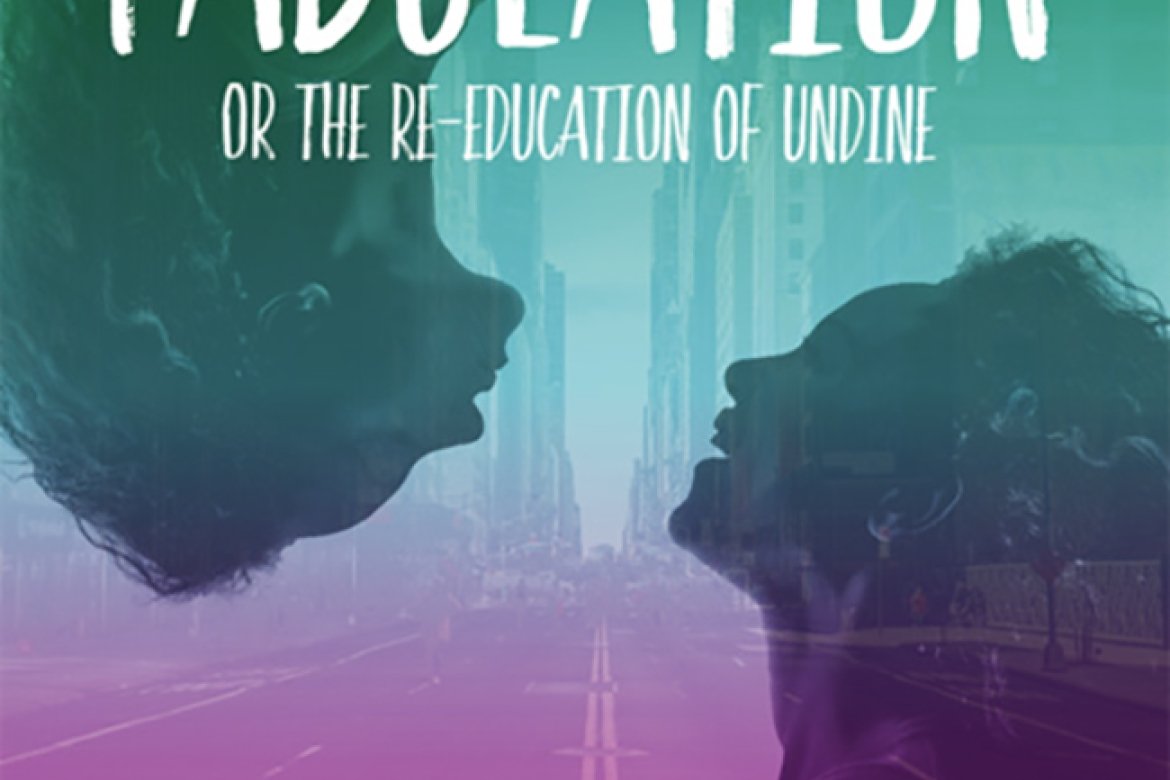 Mount Holyoke's first production of the academic year marks a return of live theater to campus.
In March 2020, Rooke Theatre, like theaters throughout the world, closed. Its stage was empty. In-person rehearsals, set design, costume-making, live audiences — those were all put on hold by a pandemic that forced nearly everything on campus, including last year's theater season, onto Zoom.
To Barbara Bunyan, longtime business manager for the theater, who spent last academic year in the nearly empty complex, "the quiet was deafening."
But now, with the start of the new school year, Rooke is again springing to life.
"Our spaces are filled now with students making costumes, building sets, hanging lights and even taking classes out on the patio," Bunyan said. "I'm looking forward to the first production, 'Fabulation, or the Re-Education of Undine.' Finally seeing an audience will be wonderful!"
The season's first production will mark not only a return of live theater to campus but also the start of a year exploring works by Black, Indigenous and people of color artists as part of the Film Media Theater department's commitment to work "with BIPOC students and all interested members of the larger community, in every aspect of our production season from casting through to the final product, to shape a department that is relevant, vibrant, inclusive and firmly antiracist." 
Performances will take place in Rooke Theatre Thursday–Saturday, Oct. 21–23, at 7:30 p.m. and Sunday, Oct. 24, at 2 p.m. Tickets ($8 for students and seniors and $10 for all others) are available on the Rooke Theatre web page. With the exception of the Saturday performance, attendance will be limited to members of the Mount Holyoke community. Campus IDs will be required. The Saturday performance will be open to Family & Friends 2021 guests who have registered and received identification/credentialing through the College's Office of Student Involvement. Attendees must wear masks.
Written by two-time Pulitzer Prize–winning playwright Lynn Nottage, "Fabulation, or the Re-Education of Undine" is a satirical riches-to-rags tale that traces the financial downfall of the hard-charging Black publicist Undine Barnes Calles as she loses wealth, status and power and must return from the heights of her Manhattan success to the working-class life and family she has left behind — and tried to forget — in Brooklyn.
For Liz Almonte '24, who will play Undine in the production which opens Thursday, Oct.  21 and runs through the 24th, Undine's downfall gives the character an opportunity to grapple with who she is and to realize the importance of her family and where she came from.
"Failure, triumph, coming to terms with emotions, coming to terms with the past and the present. To truly be successful, you have to come to terms with where you came from, where your identity comes from," Almonte said.
Almonte also welcomes the chance to return to live theater. She had not been on stage for two years. Because of the pandemic, her senior show at her high school, Abbott Lawrence Academy, located in Lawrence, Massachusetts, was cancelled. She attended Mount Holyoke virtually last year.
She also appreciates the department's new focus on inclusiveness.
"I was attracted to the play because the predominant number of Black and Brown bodies on stage was important to me," she said. "There has been nothing like that in plays I've been in before."
For director Michael Ofori, the play is important not only because it represents an opening to students who have been underrepresented in Mount Holyoke's theatrical productions but also because of its resonances with the pandemic and with the recent necessity for many people to reexperience their families in unexpected ways.
"Think about it in terms of the past 18 months," Ofori, visiting lecturer in Film Media Theater, observed. "One way or the other, we have had to deal with psychological effects the pandemic has had on us. For many, it has impacted the way we see ourselves and our relationships with our kinfolk in different ways. One thing that binds us all together as a community is that we hope to have a release from the past 18 months. Undine is on a journey to rediscover herself. The play forces her to do that the same way the pandemic has for all of us."
And, Ofori notes, playwright Lynn Nottage has also presented Undine's journey of self-discovery with a deft comedic touch.
"What better way to bring everyone together than to start laughing together?" he asked.
After this initial production, the Theater season will feature the College's first annual Student Theater Festival in December as well as further events and productions this coming spring.