MassMutual partnership propels women in data science.
MassMutual partnership propels women in data science.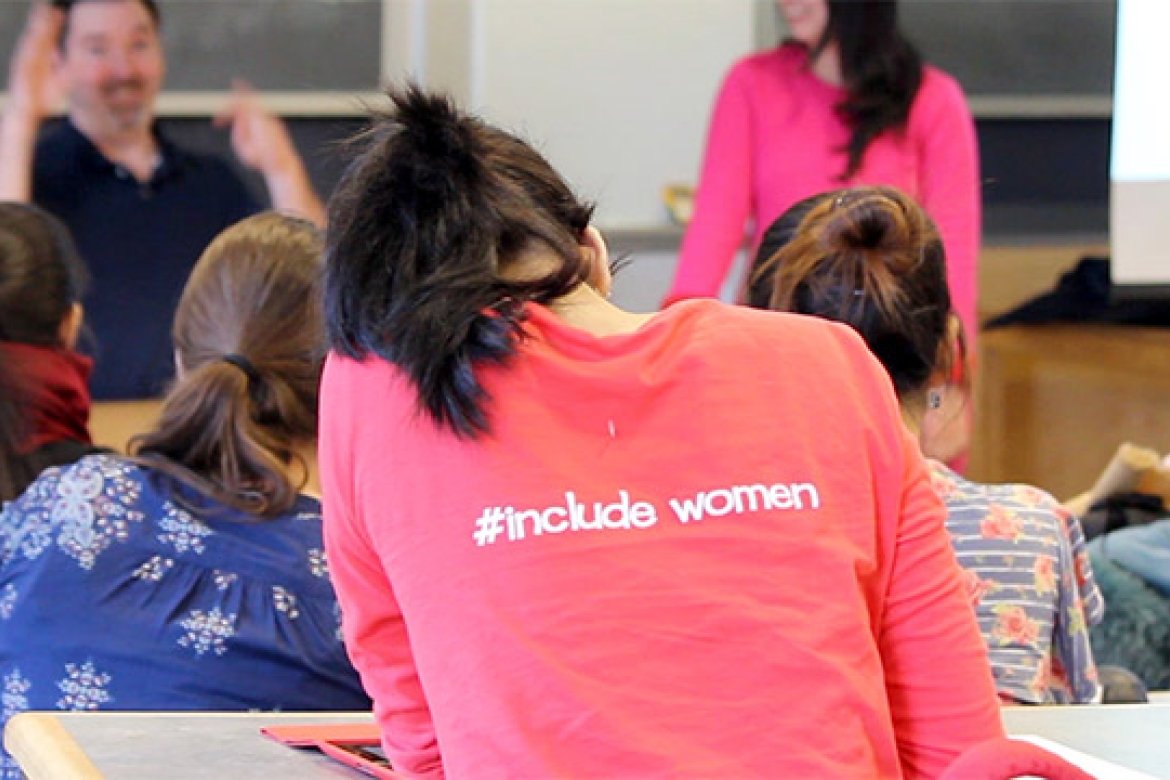 Building on an existing faculty initiative, Mount Holyoke is partnering with MassMutual and Smith to train women in the emerging field of data science.
In an effort to create a strong pipeline of qualified women professionals in the rapidly growing field of data science, Massachusetts Mutual Life Insurance Company (MassMutual) today announced that it is partnering with Mount Holyoke College and Smith College—both established leaders in educating women—to pilot a groundbreaking, higher education initiative.
The MassMutual Women in Data Science program is aimed at providing a deep undergraduate education in an increasingly in-demand specialty. It also underscores the colleges' and the company's ongoing efforts within the community in the areas of education and career pathways, as well as their commitment to diversity.
"Mount Holyoke College is committed to educating a talented and diverse group of future women leaders, and to innovation in this emerging field—a field that is all about asking the right questions, identifying patterns, generating narratives from those patterns, and responding ethically to the challenges posed by data," said Sonya Stephens, Mount Holyoke's Vice President for Academic Affairs and Dean of Faculty. "This partnership with MassMutual offers a tremendous opportunity to connect liberal learning and the Data Science initiative at the College to opportunities that exist in both the academy and the workforce."
See MassMutual News Release: http://www.prnewswire.com/news-releases/massmutual-to-partner-with-mount...
Roger Crandall, Chairman, President and CEO of MassMutual, said the initiative "speaks volumes to the importance we place on developing smart, new talent in the emerging field of data science."
"MassMutual is proud to partner with these two outstanding colleges to further the advancement of women in this exciting and important discipline," he continued.
The $2 million, four-year program will begin in the fall of 2015 and will be funded through MassMutual. This funding will provide Mount Holyoke and Smith the resources to hire five visiting faculty positions, including three based at Mount Holyoke, as well as support the development of a data science-focused curriculum. The visiting professors would teach in such areas as natural language processing, machine learning, behavioral economics, applied statistics, and various computer science specialties.
Additionally, students in either of the two colleges will be able to take courses with any of the associated professors.
"Our long-term goal is to develop a team of data scientists in the region, leveraging the already strong programs these schools have in place in math, statistics, and computer science," said Sears Merritt, PhD, Chief Data Scientist, MassMutual. "Through our partnership with Mount Holyoke, Smith, and other schools in the region, we are confident that the Pioneer Valley will be a tremendous source of young, talented data scientists."
The Women in Data Science initiative builds on MHC's efforts to create pathways for students to pursue research and the study of data science across disciplines. A group of 19 faculty members at Mount Holyoke convened last summer to discuss the possibility of creating a defined pathway to a major or minor in data science in response to both student interest and changes in the field of data science. The partnership will be incorporated into that effort.
Professors at Mount Holyoke noted that students at liberal arts colleges who are pursuing studies and research in fields such as computer science, mathematics, and statistics are increasingly seeking to connect their technical skills directly to real-world challenges and events.
"That's what data science is all about," said Daniel Sheldon, Five College Assistant Professor of Computer Science, said. "In my machine learning class, for example, student projects ranged from analysis of Shakespeare's sonnets to identification of soccer jerseys. The partnership with MassMutual will build on strengths we already have. It will allow us to expand our offerings to train students in this growing and innovative field."
Heather Pon-Barry, Clare Boothe Luce Assistant Professor of Computer Science at Mount Holyoke, noted that "some of the most exciting research directions involve collaborating across disciplines and developing computational approaches to answer questions that have arisen with the availability of new kinds of data.
"The MHC Data Science initiative will strengthen and broaden these connections and give students opportunities to learn about research beyond their home department," Pon-Barry said. "A liberal arts college like Mount Holyoke is a wonderful place for this interdisciplinary exchange because students have flexibility in their curriculum to study more than one discipline and faculty members regularly interact with faculty in other departments."
In addition to funding the professorships, MassMutual will offer scholarships at each of the colleges to talented sophomores with data science-related majors. The company also will offer conferences, summer research, and site visits so that the students may explore career interests in the field.
MassMutual already has hired a Mount Holyoke alumna.
Rudo Mudzi '14, who majored in physics and minored in mathematics at Mount Holyoke, learned about the opportunity through Professor of Statistics and Associate Dean of Faculty Janice Gifford. As part of her work at MassMutual, Mudzi conducts research, builds models, and solves problems. She and her colleagues also take classes at the Five Colleges to enhance their knowledge in data science, she said.
Her training at Mount Holyoke prepared Mudzi for the challenges she faces in the work, she said.
"From the first day of classes, Mount Holyoke professors keep you on your feet, challenging you with assignments, readings, and projects. The ride was fast but it prepared me for the real world," Mudzi said. "My job requires quite a diverse set of skills—programming, communication, research, and analytical skills—and I am proud to say Mount Holyoke prepared me. Although I was a physics major and math minor, the distribution requirements enriched my knowledge of other areas outside of my main study focus."
Interested in data science at Mount Holyoke? Learn more.