MHC presents "Bull in a China Shop"
MHC presents "Bull in a China Shop"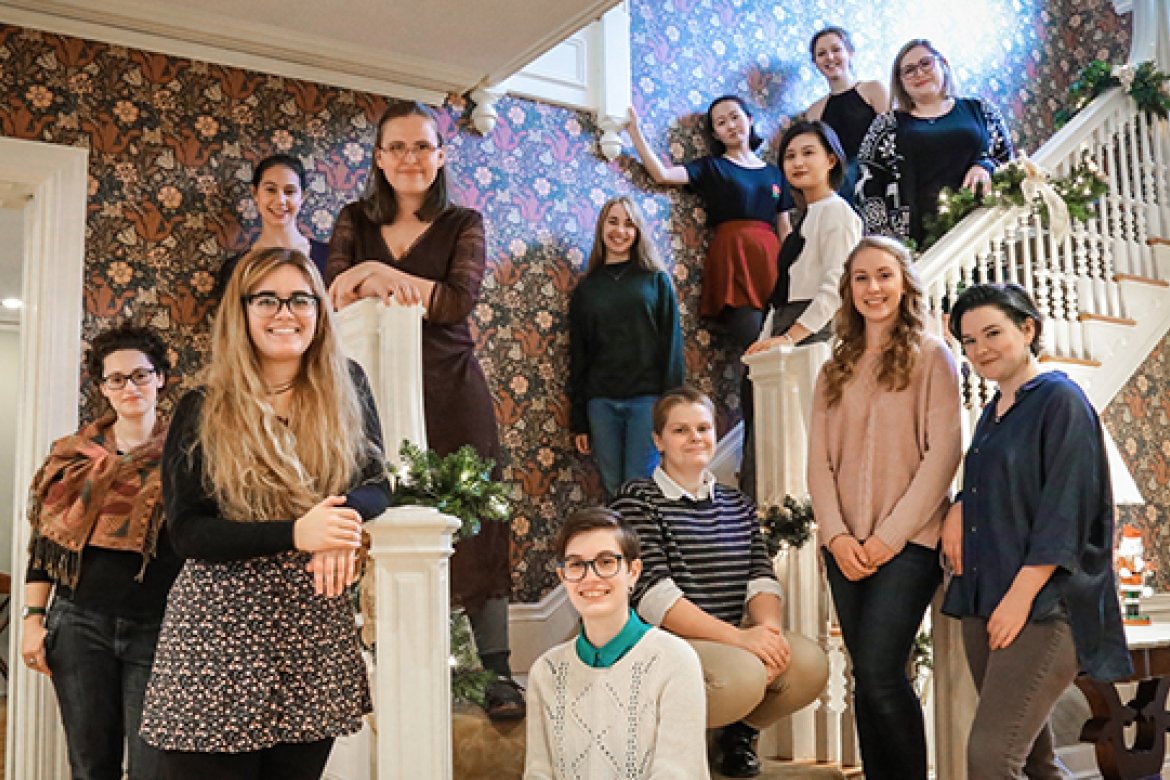 After its successful off-Broadway run, the new play comes home — to where the story all began.
By Sasha Nyary 
Fresh from its successful Off-Broadway run, "Bull in a China Shop" is coming to South Hadley. The new play explores the romance between Mary Woolley, the long-time president of Mount Holyoke College, and English professor Jeannette Marks. 
Molly Paige FP'18 is directing the all-student cast and crew of "Bull in a China Shop."
The author of the play, Bryna Turner '12, is the latest in a long line of Mount Holyoke playwrights, beginning with Marks herself. In addition to being the founder of the College's theatre arts department, Marks also established its first playwriting class. 
The College's prominent alumnae playwrights include Wendy Wasserstein '71 and Suzan Lori-Parks '85, both winners of the Pulitzer Prize for drama. 
The three write in very different styles, said Noah Tuleja, a lecturer in theatre arts and director of the Rooke Theatre. But what they have in common is a very specific female perspective, formed when they were undergraduates.
"There's something about Mount Holyoke and their time here that inspired them, or made them want to express their stories in a very specific way," Tuleja said. "You can see a connection between the three, even though they are very different. Wasserstein is old-school and Parks is very avant-garde, very non-realistic. Bryna, at least in this play, has a little bit of each of them." 
Turner will return to campus for the production to teach a master class in playwriting and participate in a talkback after the Friday night performance. 
In addition to reflecting Mount Holyoke's illustrious playwriting alumnae, "Bull in a China Shop" also speaks to Mount Holyoke's commitment to interdisciplinary education. Turner was inspired to write her play by the letters exchanged between Woolley and Marks. She was able to read those letters because they had been preserved by Archives and Special Collections, which worked with Digital Assets and Preservation Services to digitize and transcribe them. The actual transcribing has been largely accomplished by volunteer alumnae. 
In addition, Archives and Special Collections is arranging an exhibit about Woolley and Marks in the lobby of the Rooke Theatre. The Mount Holyoke College Art Museum is presenting a collection spotlight, curated by Katia Kiefaber '17, that features two portraits of Woolley commissioned by the classes of 1909 and 1931. Alumnae are returning to attend the play together. 
All the many ways the campus has come together for this production highlights the recent growth of the theatre arts department, said Tuleja. 
"There's a lot of buzz about the theatre arts program today," he said. "We have more than 50 majors, our classes fill regularly and our performances regularly sell out. We have a recent alumna who has written a very good contemporary play. It's a very exciting time."
Get excited. Learn more.