MHC's Makerspace: A launch pad to the future
MHC's Makerspace: A launch pad to the future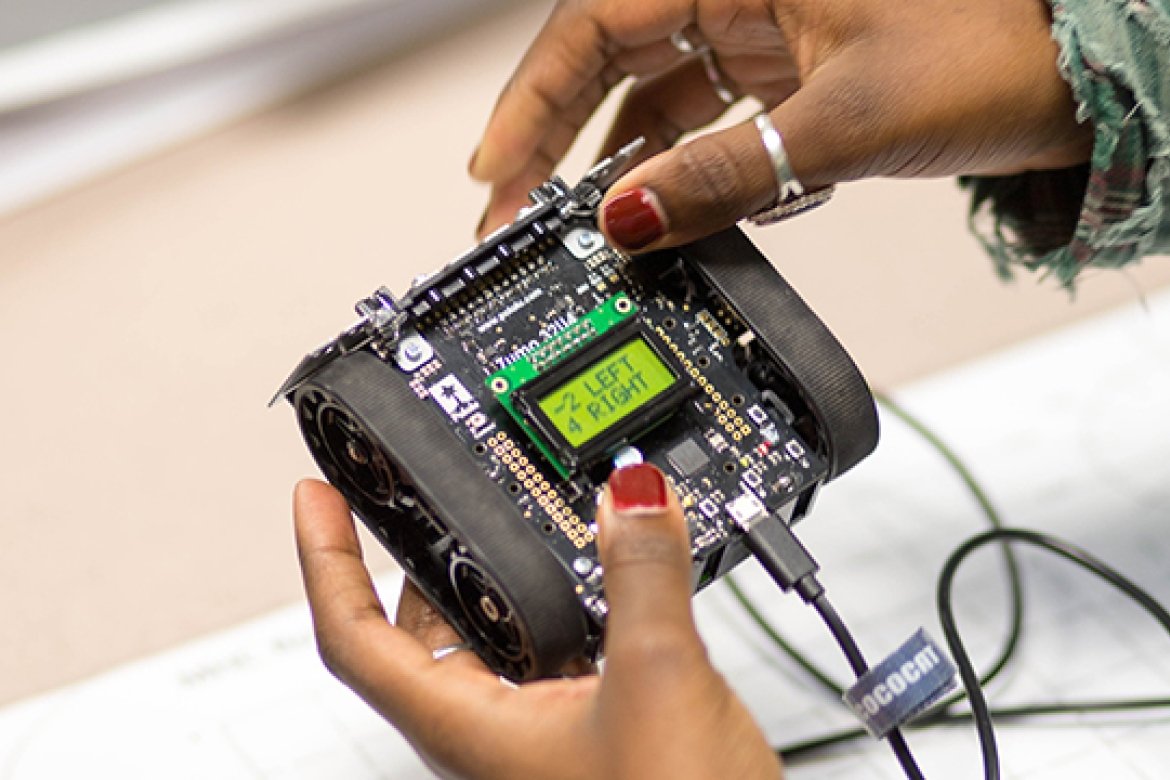 The Makerspace prepares future leaders by combining technology and the liberal arts to teach and engage students studying every academic discipline.
Bitten by the theater bug at an early age, Katie Kelso '20 wasn't "super-enthusiastic" about Mount Holyoke College's math and science requirement when she arrived on campus. 
"I wanted to be a scenic painter," she said. 
But then Kelso was introduced to the College's Makerspace during a workshop for her Fashion Style and Design class, a first-year seminar offered by the theatre arts department. She used the laser cutter to make a light box with a stone texture. 
She was hooked. This semester, she is taking a computer science class "just for fun," and is even experimenting on her own, making small, laser-cut bicycles with gears that are turned by tiny pedals. 
"The Makerspace's hands-on learning has caused me to think about things in a different way," said Kelso, who now works there part-time. "You can make the ideas in your head a reality. Now I can design things and bring them to life." 
Makerspace 101 
The Makerspace is a room in the Art Building where the Mount Holyoke community is invited to gather to create, invent and learn. Chockful of equipment, including the laser cutter, a vacuum former, two 3-D printers, sewing machines, soldering tools and computers, it invites students of all subjects and academic disciplines to engage with technology in new ways. 
While programming in the facility includes popular workshops on building Halloween costumes and creating chocolate molds for Valentine's Day, the Makerspace is also used extensively for academic purposes. Several classes meet there every semester, including Printmaking/Digital Hybrid (art studio) and iDesign Studio (computer science). 
Many other classes drop in during the semester to utilize tools that enhance their curricula and explore how technology impacts every single part of modern life, including costume design, architecture, art studio — even international relations. 
Use of the Makerspace has grown so much in the three years since it opened that the College is actively exploring options to expand it. 
From costumes to drones 
That growth is because the Makerspace is a launch pad into the future, said Jon Western, vice president for academic affairs and dean of faculty. 
"The Makerspace gives us an arena in which to explore and let students discover for themselves what the possibilities are," Western said. "Our students are eager to go beyond the computer screen and engage in what's behind it. As fast as we build the space up, students and professors are coming in and using it." 
Western is also the Carol Hoffmann Collins '63 Professor of International Relations, and when he was teaching his American Foreign Policy class about the use, power and ethics of drone technology, he took his students to the Makerspace to build drone rovers and drive them around Kendade Atrium. 
As part of her senior thesis, Erin Mullin '17 made a prosthetic hand by downloading a template using open-source files and creating it on a 3-D printer. 
Students in Peter Klemperer's iDesign Studio (computer science) and Elizabeth Pangburn's Costuming II (theatre arts) collaborated on making electronic theatrical costumes that can communicate with one another onstage: The pattern of lights embedded in each costume responded to ambient lights as well as other costumes, creating rippling waves of light across the stage. 
Technology in a liberal arts context 
"We're training the global leaders of the 21st century," said Nick Baker, a library liaison who helps faculty use and integrate technology and library resources in their teaching. "Our students are going to be engaging with questions of technology and its relationship to society every day for the rest of their lives — as we all are." 
The Makerspace serves that purpose by demystifying technology, Baker noted. 
"Students need and expect us to have spaces where they can be creative, where they can be doing innovative things," he said. "Understanding how technology works — and how to use it — allows them to delve much deeper into the questions they ask and the debates they have." 
The Makerspace encourages not only a greater depth of learning, but also greater breadth, said Amelia Johnson '20, an art studio major who is using these resources to explore the intersection of art and technology. 
"We learn to go in new directions," she said, noting that she learned how to code at the Makerspace and is considering adding computer science as a second major. 
The beauty of the Makerspace is that it embraces every academic discipline and all students – even those who are not initially drawn to technological fields, said Klemperer. The assistant professor in computer science is also one of the College's Innovation Hires, new faculty who shape innovative, collaborative and interdisciplinary directions in the curriculum. 
"We want to create positive associations that affect how the students feel about technology and themselves," he said. "The hands-on experience is critical, and it's transformative."