MHC's new technology brings music to all
MHC's new technology brings music to all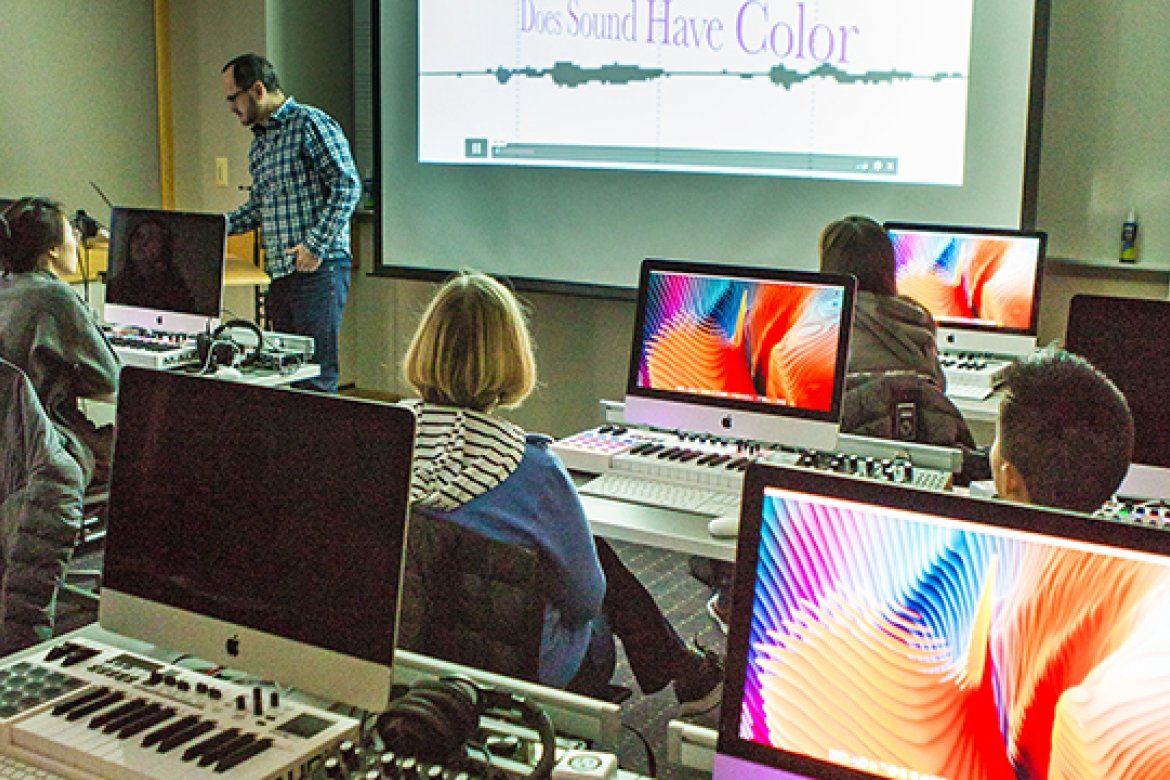 Thomas Ciufo built a music technology lab to teach students of all musical backgrounds new ways of exploring and creating sound.
By Keely Savoie
Over the summer, Thomas Ciufo, Mount Holyoke College assistant professor of music, had an exciting project: to build digital music laboratories where students could explore the nexus between music and technology, where they could create, mix, and edit their own pieces, translating their life experiences into soundscapes for all to hear.
Ciufo, whose position in digital music and music entrepreneurship is supported by the Andrew W. Mellon Foundation, wanted to make creating music accessible to anyone with an interest regardless of their background, as a part of Mount Holyoke's focus on Digital Arts.
The goal was simple: to replicate a home music studio on a classroom scale and let students of all experience levels experiment with sound as an artistic medium. Partial funding for the new music labs came from the Sherman Fairchild Foundation, which awarded the College a grant for its MEDIAL Project, which stands for "MHC Empowering Discovery, Innovation and Artistic Learning."
Building the labs was a collaborative enterprise, between Ciufo, the music department, the Office of the Dean of Faculty and the Library and Information Technology Services (LITS) team.
On the December afternoon of final presentations in his Music and Technology class, Ciufo invited his students to listen to and discuss each other's projects. In one piece, voices in Mandarin and English were layered into a musical tapestry of increasing complexity — as thread upon thread of music and language were woven in to create a sonic version of a short story, listeners heard for the first time a composition that reflected the student's personal narrative.
Ciufo brings a multi-dimensional perspective to his teaching— from his work as a practicing sound artist and composer to his experience in audio engineering, computer-mediated improvisational performance, and interactive instrument design. He recently discussed his music courses and upcoming innovations in the digital landscape of musical production at Mount Holyoke.
Can any student of any major or background take your classes? Could someone walk in without any prior musical experience and walk out with an understanding of how to create a piece?
Yes! The two classes I taught this semester were both open to students of any major, with no prerequisites. So the introductory music and technology class is an open class where anybody can come in and take it and experience these creative opportunities to make music and sonic art.
Music technology has to be hands-on. It just doesn't make any sense otherwise. The way the music tech lab is designed, every student has their own self-contained work station. When classes aren't in session, the lab is open to for students to come in and work independently.
In the music tech classes, students can actually turn physical knobs and work hands-on in a tangible way with a synthesizer, which creates sounds that are unobtainable from acoustic instruments. They also use digital audio workstation software, which has individual synthesizer plug-ins that function as virtual digital instruments. So they get to work with both of these and compare the strengths and weaknesses of the two.
On an academic level, we read and discuss articles related to the history, theory and aesthetics of electronic music. We listen to other work in the field, and then we make creative projects. All the classes are student-centered and project-based. Then we share that work through online sharing environments and we also listen to it together in class and offer feedback.
Among your students whose backgrounds were not chiefly in music, did you note any shift in their thinking as a result of your classes?
While it's hard to attribute a student's individual trajectory to a single course, many who have taken my class say they've noted a change in the way they perceive and think about sound.
A considerable number of them express a heightened interest in music or creative practices in general and some go on to combine music with other areas of study. I also see an increase in confidence and self-sufficiency. A lot of students assume they can't do it or they assume it's too complicated. But in the intro class, students get to have a direct creative experience, and they realize they can do it. They get to think in new ways and explore and experiment, which is the foundation of experiential learning.
Some of them realize that they might want to do a music major or a music minor, or keep active in creating music in some capacity. A key goal of the introductory class is to help them be self-sufficient enough that they could keep doing this at home or set up a small studio of their own.
It's all very exciting to me as a teacher, to help students connect to a new way of exploring creativity and self expression while also discovering the sounds around them.
Can you take me through your process? How do you take a student who may have no musical experience whatsoever and introduce the whole concept of sound as art?
Many students do have some musical experience, but it may not be formal training in performance or composition. So, depending on the class, we may start by using portable sound recorders and start listening to the sounds around us and making recordings and then listen to and manipulate those recordings. In that way, any lack of experience with an acoustic instrument is mitigated. That's often an entry point: How do we listen? What are the sounds around us? How can we creatively explore those sounds and even make creative sonic art pieces out of those raw materials?
Then we may do something different, like work on mixing and production for a pop song that's already been recorded, something I've recorded previously. I give them the raw files for a song to work on mixing and production techniques. We usually will spend at least some time working with music sequencing and synthesis, which is another way of working in the digital music area. Sequencing usually involves particular software that can record musical information and also host virtual synthesizers. By either playing in or manually entering information into the computer, we can create pieces. We can compose digital music.
The final projects are even more open. How can we find a personal pathway into creating something that perhaps draws on all those experiences earlier in the semester, all those technical and creative resources? All along, we're listening to other people's music, other creative sonic artworks that will inform our thinking and expand our range of what's possible.
What makes teaching digital music at Mount Holyoke exceptional to you?
Mount Holyoke is a great fit for me. I'm incredibly excited to be here. I'm excited to be at a women's college, especially since I teach in a field that is heavily gender-imbalanced. I'm very excited to be in a liberal arts environment, where students are thinking in interesting ways across disciplines and across fields of study. Pretty much all the teaching that I do is interdisciplinary in one way or another, including my work with the Makerspace.
My approach to music technology and sonic art really thrives in an interdisciplinary liberal arts environment. This semester I had students from environmental studies, students who are writing and studying literature, computer scientists, a visual artist, a wonderful Frances Perkins student, and many students still finding their way toward a major. The range was really wide, which makes for a very engaging and collaborative learning environment.
A very strong synergy is starting to come together and coalesce at Mount Holyoke. It's about experiential learning, and creating welcoming and open spaces for students to learn, explore, innovate and create in new ways. It's more than any one individual initiative. The combination of the interdisciplinary faculty hires, the MEDIAL grant and the Makerspace — all of these are coming together in a very exciting way and creating some truly amazing opportunities for our students.
Make music with us. Apply.