"At Mount Holyoke, work creates wealth"
"At Mount Holyoke, work creates wealth"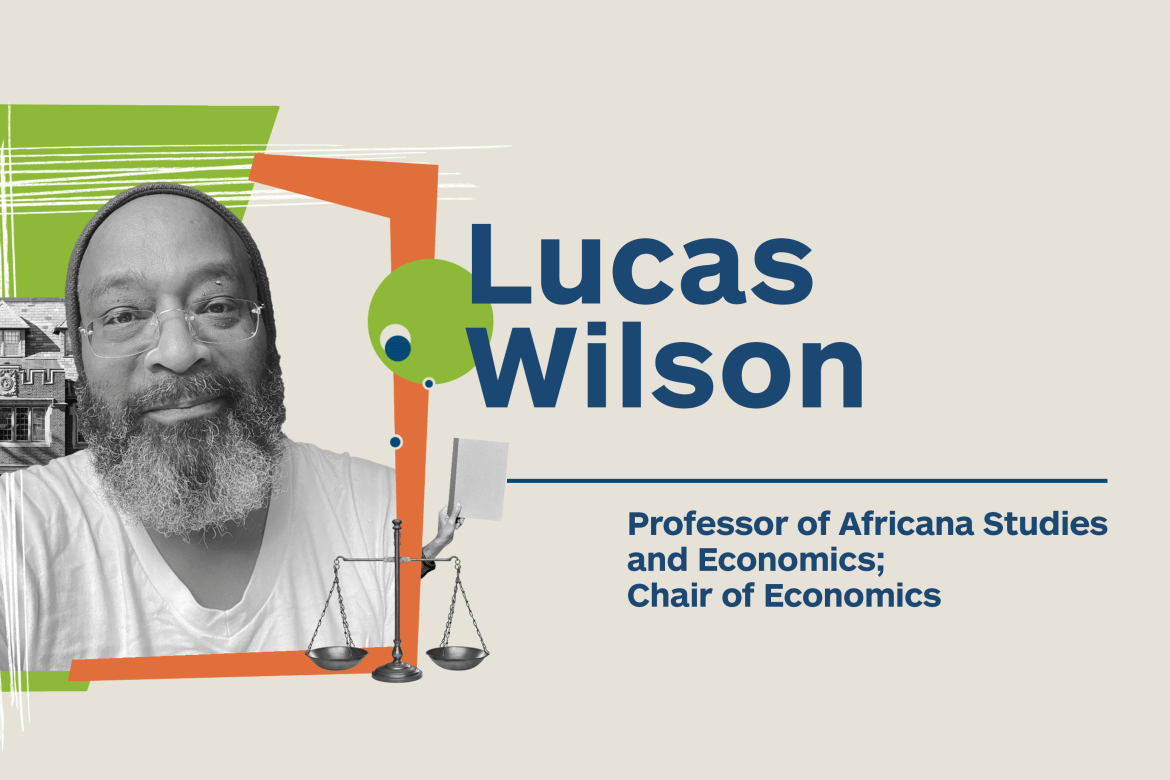 "We transform people who come to us with ability and determination. ... My principal goal is to learn who it is I'm teaching and figure out what they care about, what interests them as a passion, and how I can be supportive of them to follow that passion."
To better immerse them in the subject matter of his courses, Lucas Wilson sends Mount Holyoke College students to jail. 
A Marxian economist who teaches cultural studies and critical race theory courses, Wilson pursued his lifelong interest in prison education and restorative justice midway through his career in academia. 
Beginning in 2005, Wilson attended trainings on the topics at Graterford Prison in Pennsylvania and San Quentin State Prison in California. Field work at Hampden County Correctional Facility for Women in Chicopee, Mass., then became integral coursework for his Mount Holyoke students.
"In our Inside-Out course, half of my students are Mount Holyoke students and the other half are women in prison," says Wilson. "We meet at the jail and have a class together about critical race theory and mass incarceration, and the symbiotic relationship between poor communities of color and the criminal legal system in the United States."
Wilson credits donor support over the years with allowing him the flexibility and time to pursue such interests and foster such innovative programs related to his curricula. Nancy Nordhoff '54 was one such donor, whose support directly went to growing the College's efforts to better attract, educate and retain women from underrepresented backgrounds in the early 2000s. 
"Ms. Nordhoff's support made a huge difference in MHC students and faculty coming to grips with stereotype threat," Wilson says. 
Wilson, whose pedagogical approach is guided by the Marxist historian Robin Kelley's mantra, "Love, study, and struggle," says that founder Mary Lyon's vision to educate upwardly mobile women from a disproportionately high number of working- and middle-class families always appealed to him.  
"At Mount Holyoke, work creates wealth," Wilson says. "This school was not established to educate rich, white people. We transform people who come to us with ability and determination. We've always had an exceptionally high number of students on financial aid. That, to me, is evidence of Mary Lyon's tradition."
Wilson recognizes Mount Holyoke alums and friends for empowering him to grow as a scholar and educator over the years.
"My principal goal is to learn who it is I'm teaching and figure out what they care about, what interests them as a passion, and how I can be supportive of them to follow that passion. Donor support is what allows me to do what I do in the classroom and in directed individual study with my students."