Move-in extravaganza
Move-in extravaganza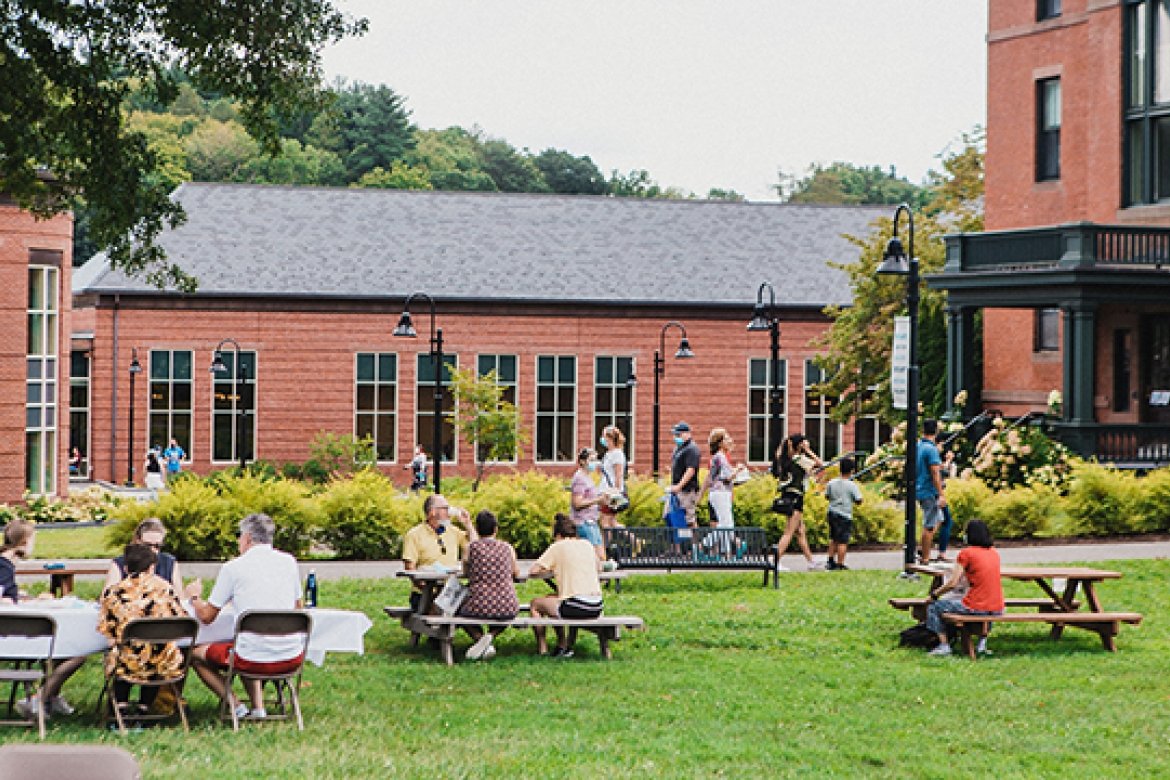 Mount Holyoke College welcomes students back to the long-awaited return to fully in-person classes and community.
By Keely Sexton
As Mount Holyoke College welcomed not one, but two new classes to campus, it was a move-in week like no other. 
The students came from near and far, representing 40 states and 42 countries, from Alabama to Wisconsin, from Algeria to Vietnam. They arrived sporting bedazzled face masks and patent leather Doc Martens, platform sneakers and track suits, carefully chosen and pressed first-day-of-school outfits and rumpled hometown T-shirts. They spilled out of overfull sedans bursting with boxes, out of SUVs stuffed to the roof and out of pick-up trucks piled high. For some, it was the last leg in a long journey around the world; for others, a short car trip from their hometown. For everyone, it was a destination that had long held a place in their hearts: Mount Holyoke College.
In addition to the Class of 2025, Mount Holyoke College campus embraced all in-person students 17 months after the COVID-19 pandemic changed the face of the world. Many would-be sophomores had deferred a year, opting to wait out the pandemic until on-campus living returned in full. 
In all, more than 900 students are expected to come to the Mount Holyoke campus for the first time this fall, almost double the usual number.
"Mount Holyoke is really all about community. This year we hope that our juniors and seniors will play an even bigger role in helping our newcomers get to know the campus — and vice versa — through the Big/Little Program," said Rachel Alldis, associate dean of students and director of residential life.
President Sonya Stephens welcomed the new and returning students, who gathered in the Gettell Amphitheater to celebrate their arrival to campus. 
"You're not late, but can I just say, it's been FOR-EV-ER!" she said as she greeted the assembled students and their supporters. "It's long overdue for you to be here together, to find your people, to discover and connect with each other across differences and with affinity groups and student organizations in this very special and committed place."
As new and returning students descended upon the summer-green campus, volunteer teams were hard at work behind the scenes, organizing agendas, delivering equipment, giving directions and handing out keys.
Iyana Jackson '22, a neuroscience and behavior major from Houston, Texas, positioned herself to greet students as they came into the Abbey residence hall, where, along with the adjacent Buckland Hall, she serves as the residential fellow.
"I'm excited to see my friends again — and my advisor, Ken Colodner," she said. Jackson, along with other seniors, is happily looking forward to the traditions that characterize Mount Holyoke life. "It's going to be great!" she said.
Jenelle Radzim '25 is one of those that Stephens had been missing: originally, Radzim had planned on starting at Mount Holyoke in the fall of 2020 but decided to defer a year to have an in-person experience. She was waiting to meet up with a new friend whom she had met at an orientation event. Soon after meeting, the two realized that they were taking the same first-year seminar class, The Imitation of Nature. 
"I really love what I've seen so far," she said. "It seems like a really diverse and inclusive community."
Those who had already spent time on campus were excited to come back to familiar favorites — friends and food — and also to explore the College in new ways. Annalee Carroll '23, of Appleton, Maine, took up running during her time away from campus as a part of her self-care.
"I'm really looking forward to running around the lake trails," she said.
For all students, both new and returning, from nearby or from around the world, one thing was the same: they had all come to the first stop on their journey into adulthood, surrounded by excited classmates and eager professors, by friends and found family.
"We want you to find your Mount Holyoke, and we want you to find your home with us on campus," said Vice President for Student Affairs Marcella Runell Hall. "We are so glad you are here — let's have a tremendous year together!"