In 1969, Joan Jonas '58 created one of her first performance pieces. Now with her guidance, Mount Holyoke students perform it.
Last summer, the Mount Holyoke College Art Museum opened its first exhibition of the work of Joan Jonas '58, the internationally acclaimed artist who has blended video, sound, movement, performance, sculpture and drawing into her art for more than 50 years.
Jonas was the first alumna to be named one of the College's Leading Women in the Arts, and she came to campus in October 2018 to participate in a short-term residency and deliver the Pruitt Fund Public Lecture.
Now in a historic, one-night only event for Mount Holyoke, Jonas is presenting a reconfigured staging of her groundbreaking performances, "Mirror Piece I" (1969) and "Mirror Piece II" (1970). Nefeli Skarmea, a curator and movement director based in London and Geneva, has been collaborating with Jonas in re-staging these works.
"We are so thrilled that Joan has agreed to return to campus to work with the lucky Mount Holyoke students who have signed up to participate," said Tricia Y. Paik, Florence Finch Abbott Director of the Mount Holyoke College Art Museum. "This event is certainly a once-in-a-lifetime opportunity for our students, both the performers and those in the audience. It will be a memorable and historic evening."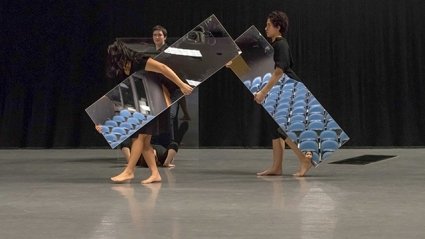 The 15 performers represent a range of artistic interests as well as disciplines across the liberal arts, from neuroscience and art history to French and film studies.
Not all of them had danced before.
"When one of my professors told me about this opportunity, I wanted to be a part of it," said Annie Schenck '19, who is double-majoring in art history and math. "I liked the work of Joan Jonas in the Mount Holyoke College Art Museum, so the prospect of being part of the performance piece intrigued me. It was a brand new experience, as I have never danced before, but it has been fun and rewarding to see the piece come together."
The opportunity to be a part of the College's artistic legacy was also a strong draw for the students.
"The actual piece is so artistically significant, but what also matters to me is knowing that I am, in a way, connected to this piece simply through the family of the Mount Holyoke alumnae community," said Casey Roepke '21, a politics major. "I am so grateful to be a part of this."
The students are performing in this new version of Jonas' early work that established her as a leading figure in the field of performance art. "Mirror Piece I" and "Mirror Piece II" explored the power of the gaze and notions of perception and representation.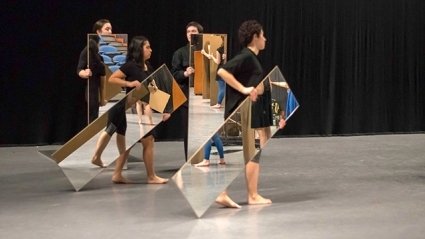 The original staging of "Mirror Piece I" was held at New York University's Loeb Student Center. "Mirror Piece II" was staged at New York's Temple Emanu–El. Later stagings included performances at the Guggenheim Museum in New York City, the Kulturhuset Stadsteatern in  Stockholm, Sweden, and the Tate Modern in London.
The event is also cosponsored by the InterArts Council and the Office of the Dean of Faculty. The performance is slated for Thursday, Jan. 31, at 7:30 p.m. in the Studio Theater in the Kendall Sports & Dance Complex.
The event is open to the public but is currently sold out. Ticket holders who have reserved seats are asked to pick up their tickets before 7:15 p.m. at the box office, at which time any unclaimed tickets will be released.
The Art Museum's exhibition, "Promise of the Infinite: Joan Jonas and the Mirror," is on display until June 16, 2019. 
What will you create? Schedule a visit.