A passion for neuroscience
A passion for neuroscience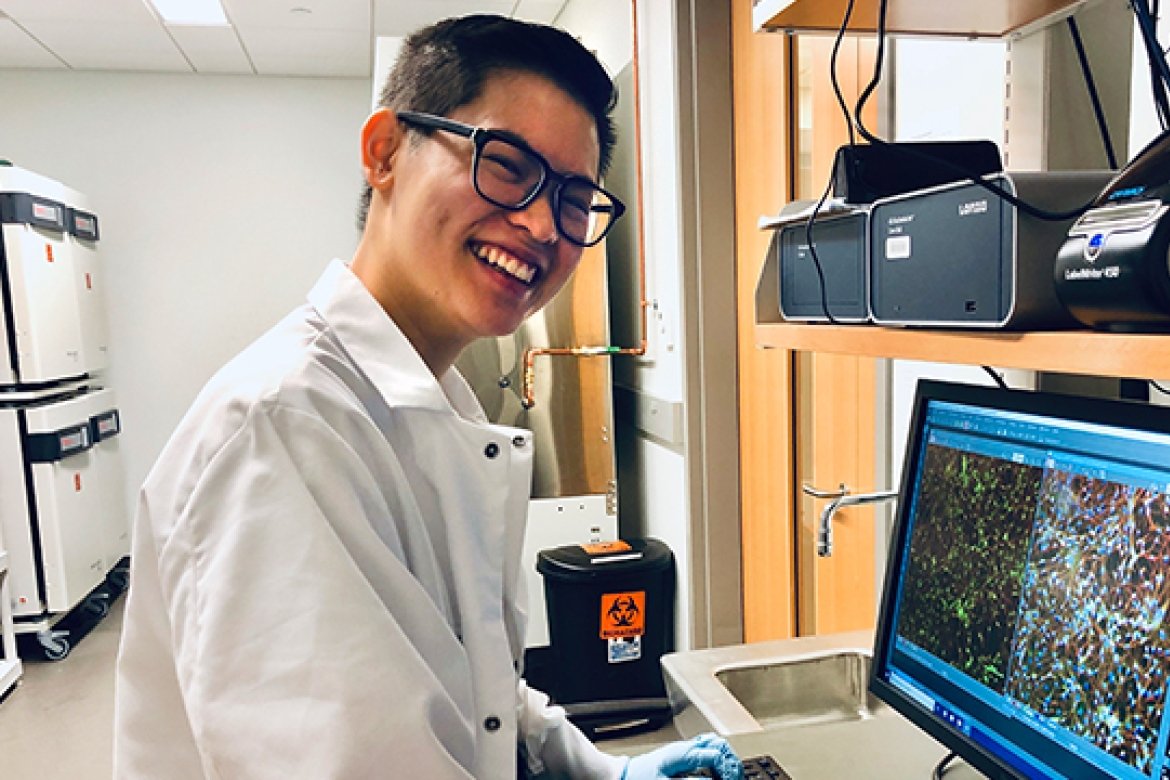 Researching the genetic basis of neuropsychiatric disorders at a UMass Amherst lab and loving every moment.
Emily Kellogg '20 gazed intently over several trays of microcentrifuge tubes she'd placed on a lab bench. She wore a white lab coat with a "UMass Amherst" label, blue disposable gloves and an ID hanging around her neck.
Using a pipette, she combined purified RNA from induced astrocytes — glial brain cells — that had been growing in culture for 10 days with a solution. After painstakingly pipetting a dozen samples, she centrifuged the vials to make sure the entire solution was at the bottom of the tubes.
"I'm running a PCR — a polymerase chain reaction — test to analyze the expression of certain genes that are markers of astrocytes," she said, pipetting the spun samples into a reaction plate and placing them in a PCR machine.
The work was exacting, precise and sometimes tedious, and Kellogg was loving it all.
"I really love learning science," she said simply. "I feel passionate about it. It's just so interesting. We usually function on a very large scale, compared to our cells. I like learning about something that's new and that also applies to me, because I have some of these cells in my body."
Kellogg, a senior at Mount Holyoke College, is working in the lab of ChangHui Pak, an assistant professor in the biochemistry and molecular biology department at nearby University of Massachusetts Amherst.
Pak's lab focuses on synapses, which function like junction boxes of the brain, facilitating communication between cells. By understanding the molecular and cellular mechanisms crucial to normal development, Pak can also identify how those processes can go awry, resulting in neuropsychiatric diseases such as intellectual disability, autism spectrum disorders and schizophrenia.
Kellogg came to Mount Holyoke from Olympia, Washington, wanting to study neuroscience and behavior, which is her major, along with a minor in computer science. She was looking for small class sizes, a tight-knit community where she could find close friends, and undergraduate research opportunities. 
Through it all, she remains fascinated by the brain. "It's just such a huge enigma to me," Kellogg said. "We don't know a lot about it. We've learned so much and we're still learning more, and that's the exciting part as well. I like the idea of continuously learning more about something."
While this is her first internship, she felt prepared for her summer work, thanks to the classes she has taken thus far at Mount Holyoke. These include Introduction to Neuroscience and Behavior, Human Physiology, and Molecular Genetics and Cell Biology. Not only did she gain a deeper understanding of the human brain through her courses, she also picked up practical experience and confidence in the labs, doing dissections, running PCRs and working with fluorescence microscopy.
Kellogg's internship is Lynk-funded and she landed it by emailing Mount Holyoke professors for advice, one of whom directed her to the Pak lab. She crafted her email outreach with the guidance of her former advisor, Amy Camp, an assistant professor in the biology department.
"She gave me a lot of advice on who to talk to, how to approach professors, that kind of thing," Kellogg said. "Shout out to Amy!"
After she graduates, Kellogg wants to find a position as a research technician in a lab — the Pioneer Valley offers research opportunities through the Five Colleges — and explore going to graduate school.
"When I first started as an undergrad, I thought, of course I'm going to go to grad school right away," she said. "But now I'm going to take a year to apply the skills that I've learned. I just want to keep learning."