Piecing together history, one flyer at a time
Piecing together history, one flyer at a time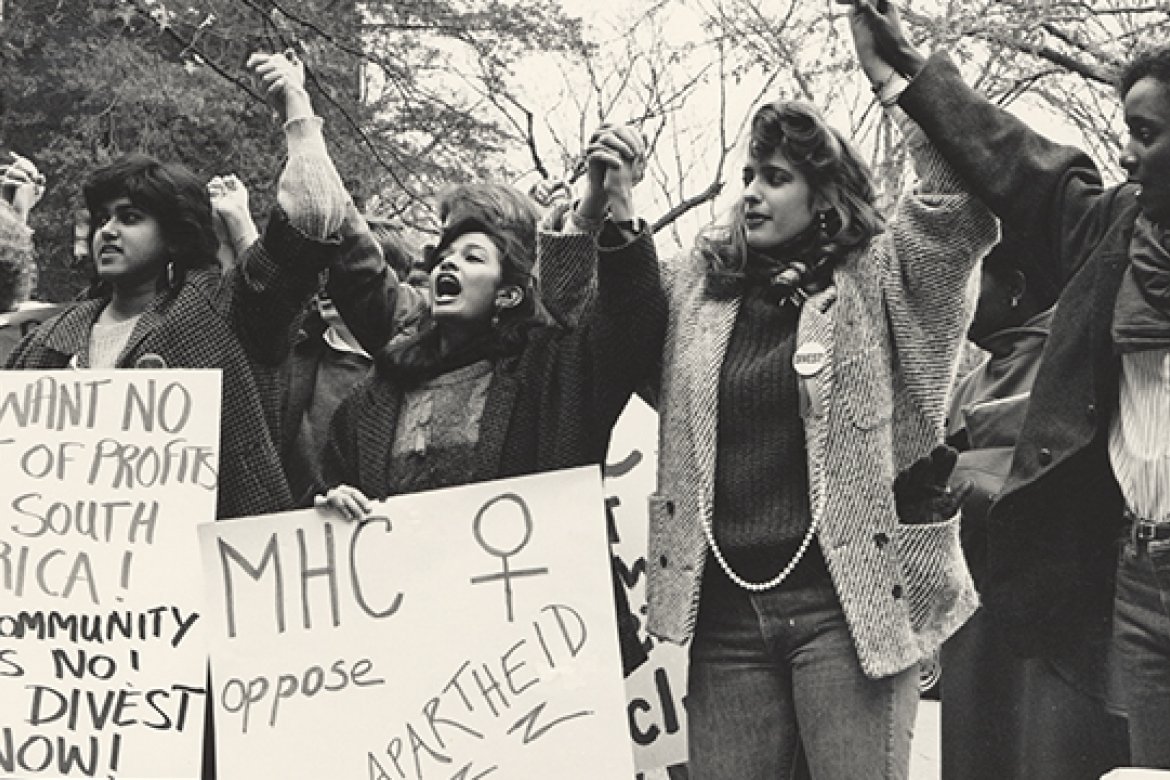 Exploring student activism through the archives and special collections offers unique views of both Mount Holyoke and the study of history.
As a history major, Chloe Jensen '20 was curious about what life was like for Mount Holyoke students during the tumultuous decades when the LGBTQ movement was born and came of age — the 1970s, '80s and '90s.
This time period at first seemed remote and inscrutable. But when she took a summer internship at Archives and Special Collections and began opening boxes and looking through files, past students and their experiences began to come alive for her.
"Working with the archives is much more than dates and facts," Jensen said. "I didn't see these people, talk to them or meet them. I looked at primary sources, flyers and newspaper articles. From there I could piece together what this life was like. And that's almost the perfect ideal when you're a history student."
Jensen was exploring possible topics to present as part of an exhibit on the history of student activism at the College. She was one of four summer interns — the others were Mae Humphreville '19, Leo Rachman '20 and Jorie Thuon '19 — who curated the exhibit, "Demonstration, Exposition, Exhibition: A View of Mount Holyoke Student Activism."
When and Where
Located in nine cases scattered around Williston Library — in the Archives offices, the Mews and Stimpson Room — the exhibit will be up through January 2019.
In addition to Jensen's LGBTQ research, the themes highlight the development of a black studies program, apartheid and divestment in the 1980s, curricular changes, reproductive rights, and contemporary debates surrounding transgender students.
The specific subject to highlight was up to each intern, said Leslie Fields, head of Archives and Special Collections. Search through the archival collections, she told them. See what jumps out at you.
"This student-curated exhibit demonstrates the power of using actual newspapers, flyers, buttons or posters from the campus collections," Fields said. "It showcases our strong emphasis on object-based learning and the unique kind of research that Mount Holyoke supports so well."
Selections of this exhibit can be viewed online in a version of the exhibit that was created by Sophie Hanson '20, a student assistant in Digital Assets and Preservation Services. The online version, which launched in November, assures the exhibit will continue to have a web presence after the materials in the cases are returned to the collection.
Summer internships in Archives and Special Collections are made possible in part by the generous support of Jennie Berkson '76 and Kathy Schofield '70.
How do you want to learn? Schedule a tour.