A place for Latinx scholars
A place for Latinx scholars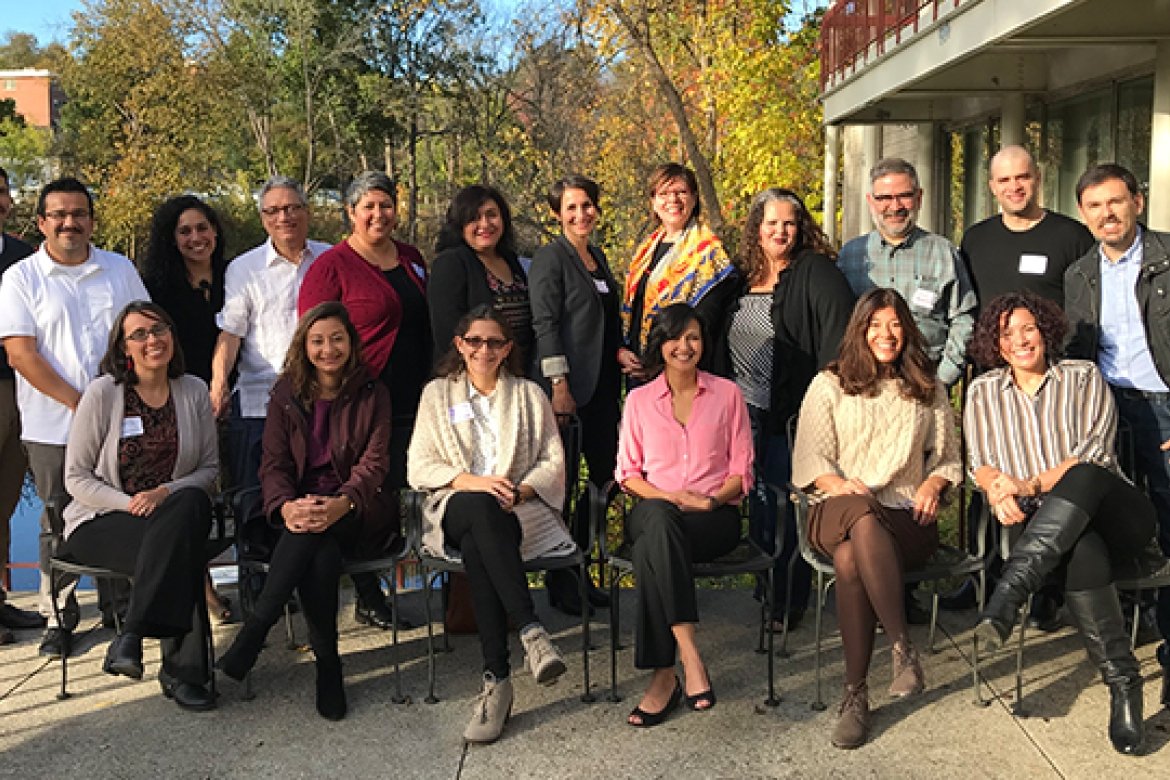 The New England Consortium for Latina/o Studies gives Mount Holyoke professors a chance to collaborate, share best practices and offer mentorship.
When the New England Consortium for Latina/o Studies meets at Mount Holyoke College on April 20, there will be a full day of formal agenda sessions, including Mayan diasporic performance, leadership development and teaching Latina/o visual culture. 
Founded at Mount Holyoke in 2011, the consortium, which is also known by its acronym, NECLS, brings together scholars of Latina/o studies from 16 colleges and universities across the Northeast. One of its primary aims is to foster a dialogue with the larger communities in which its institutions reside. Mount Holyoke has been generous in its support from the start — and the faculty has reaped the benefits. 
Alberto Sandoval-Sánchez, now professor emeritus of Spanish, Latina/o and Latin American studies, co-founded the group with colleagues from Williams College and the University of Massachusetts Amherst. 
"As Latina/o studies scholars in New England, we were all looking for a place where we could not just talk about teaching, but also network and mentor," he said. "A place for fellowship among our peers." 
Drawing on their contacts at other New England institutions, the three formed the consortium. Today the group holds daylong symposiums each spring and fall, migrating among institutions. Between meetings, members stay in touch via email, listserv and a Facebook page. 
Members have had book proposals accepted, co-authored peer-reviewed journal articles, collaborated on conference presentations, authored books, won tenure and been promoted. But all value their collegiality as the group's biggest advantage. 
Also in the department and in the consortium are David Hernández, assistant professor and Assistant Professor Vanessa Rosa. 
Hernández came to Mount Holyoke from California and joined the consortium soon after his arrival. 
"As a scholar of Latina/o studies, I found the Northeast very different from California or the Southwest. Regionally, every area of the country is unique in its 'latinidad,' including New England. As a group, we bring this complexity together." 
Hernández has edited articles and served as a mentor. But more important to him, particularly during his tenure year, has been the group's moral and professional support. "It's a stressful time," he said. "The group is a tremendous help for me — and for others." 
Rosa, who came to Mount Holyoke in 2015 as a postdoctoral fellow, also joined soon after she arrived. Like her colleagues, she has formed relationships through the group with peers from across New England. 
A sociologist by training, Rosa specializes in urban studies with an emphasis on issues of equity among racially marginalized groups. Last spring, she presented a paper at the consortium on Puerto Rican women activists in public housing. 
But while the consortium's formal activities have been helpful, said Rosa, "the moments that stand out have been conversations I've had with friends while we talked between workshops. During one 20-minute conversation I got the best advice I've ever received on interviewing for a job." 
She has formed what she called "a mosaic of mentorships" through the consortium, she said. They make the group not only "one of the best things about being a scholar in New England," but ultimately a boon to her students. 
Fit into the mosaic. Learn more.