President honors staff for outstanding service.
President honors staff for outstanding service.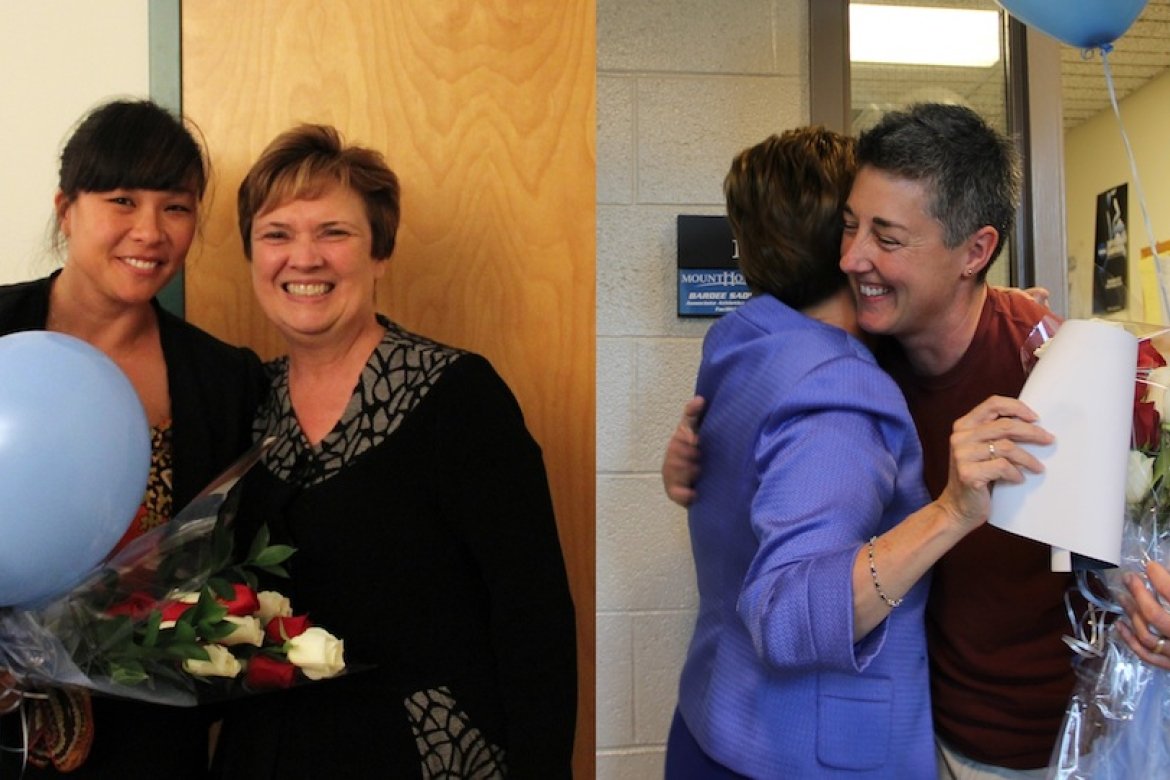 President Lynn Pasquerella presented the President's Award for Outstanding Service to Erica DeBlase of the Counseling Service and Bardee Sadlier of athletics.
By Emily Harrison Weir and Alheri Egor-Egbe '17
President Lynn Pasquerella surprised two Mount Holyoke College employees this week by presenting them with the President's Award for Outstanding Service.
Erica DeBlase, a Counseling Service clinician, and Barbara "Bardee" Sadlier, associate director of athletics for facilities, were in meetings when the president arrived bearing flowers, balloons, and other gifts for the winners.
Neither expected a visit, but surprised looks turned to smiles as each realized what was happening.
"I am shocked and honored to receive this award," said DeBlase. "I am invested in the success of students and consider it an honor and a privilege to work here."
Sadlier displayed her characteristic sense of humor when asked for a speech. "Thanks," she said. When Pasquerella said that the speech had to be longer, Sadlier extended it to "Thank you." Later, though, she was more expansive.
"It's quite an honor, and it's very special," Sadlier said. "All the work that I do, I couldn't do without everybody else."
The award has been presented for the past four years to employees "whose contributions enhance our community and reflect our institutional core values of integrity, creativity, service, and excellence," according to the Employee Service Awards Committee, which selects recipients. In addition to the surprise visit by the president, the honor carries a cash award.
• Erica DeBlase is a licensed independent clinical social worker who provides individual counseling services to students. She has reinvigorated the Counseling Service's outreach efforts to students who might not otherwise seek those services.
"Erica works tirelessly to provide for the psychological needs of our student community," said Beth Feeney, director of the Counseling Service. "She strives to make our community one that embraces all people and one that actively celebrates our differences while optimizing the opportunities we have to learn and grow together."
DeBlase started a campus chapter of Active Minds, which aims to reduce the stigma surrounding mental-health issues, and has organized suicide prevention awareness weeks at MHC.
DeBlase is active in the broader campus community as well through her work with the Multicultural Community and College Life Committee. She also serves on the President's Commission on Diversity and Inclusion.
• Bardee Sadlier is in charge of all aspects of the Kendall Sports and Dance Complex—inside and out.
Her award citation noted that Sadlier "is especially gifted not only in planning and organizing events but also in creating a warm and welcoming environment at the Kendall Fitness Center, the kind of dynamic and positive community that is at the heart of Mount Holyoke College's ideals. Her sense of humor, inclusive approach toward others, and work ethic are largely behind her success."
"Bardee is such a caring colleague; she's always got your back," added Lori Hendricks, director of athletics. "When I think about all the different people on campus she helps—students, student athletes, faculty, staff, community members—it's extraordinary."
Sadlier handles routine events and last-minute emergencies with equal aplomb and professionalism, according to coworkers. Also, she served recently as chair of Staff Council, leading the group with a combination of inclusiveness and efficiency.