Public servants in a public health crisis
Public servants in a public health crisis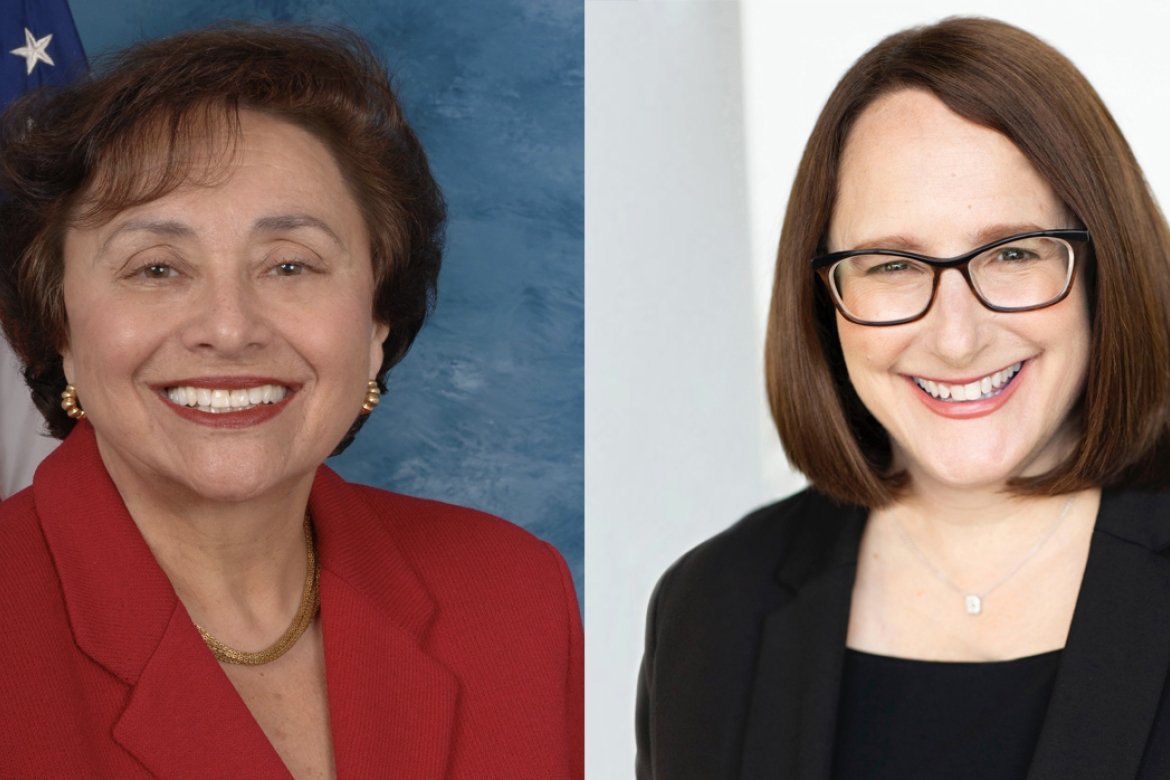 Mount Holyoke College helped prepare them to lead, say congresswoman Nita Lowey '59 and Deborah Frank Feinen '89, mayor of Champaign, Illinois.
By Jeremy Gantz
In a normal world, U.S. Rep. Nita Lowey '59 would be making frequent trips between Capitol Hill and her district just north of New York City. But like everyone else, Lowey has been spending quite a bit of time at home of late. 
"I'm working on the phone from 8 in the morning to 7 or 8 o'clock at night," she said. "It's a very, very busy time."
Lowey, a Democrat who was first elected in 1988, leads the powerfulHouse Committee of Appropriations, the first woman to hold the position. The committee takes the lead on passing bills to fund the federal government. Since the pandemic began, it has played a key role in Congress's rapid-fire relief efforts to help all levels of government across the country respond.
"Over the past 30 years I've been a player in the response to various disasters and emergencies," Lowey said. "But this is very, very different from anything I've experienced  because of my work as chair of the appropriations committee."
She's proud of the four bipartisan bills she helped shepherd through Congress since business closures and shelter-at-home orders went into effect. The legislation has provided historic levels of aid, including trillions of dollars for families, communities and businesses.
But members of Congress do more than write and pass bills — they work directly with their constituents to understand and respond to people's needs. 
"We've seen hundreds of calls and emails — direct service requests," Lowey said. She and her staff are working, for example, to help her district's residents access business relief funds and unemployment insurance benefits.
"It's a tremendous responsibility being in New York," the country's major COVID-19 epicenter, she said. 
But her job is about more than dealing with individual cases, she emphasized. "I have to make sure that Congress can continue delivering federal resources to save lives and bring an end to this pandemic."
A basic ethic has guided her during the pandemic, an ethic she learned from her parents and at the various schools she attended, including Mount Holyoke College.
"We have a responsibility," she said. "If you see a problem, you have a responsibility to act on it."
Deborah Frank Feinen '89, the mayor of Champaign, Illinois, is also helping to lead government responses to the pandemic. 
Her city of 87,000 has not been severely affected by the coronavirus from a health perspective — as of April 30, there were 135 cases and six deaths in Champaign County, which includes the city.
But "every time there is a death in your community, you want to prevent it," Feinen said. "There is always a sense of responsibility to your community."
Champaign may not be a national hotspot like downstate New York, but the leadership challenges facing Feinen, whose role is officially part-time, and other city officials have still been significant. 
"I'm spending more time as mayor right now," she said, noting that she is also a full-time practicing attorney. 
Video conference meetings keep her in contact with city staff throughout the day. She also works closely with county-level officials, who coordinate public health activities across the public health district that encompasses her city.
Prior planning exercises between the city and county are now paying off, she said. 
"We've done a lot of disaster training together. We're used to working together, and that's really been a benefit for all of us. What we're doing is working."
The city acted early. Feinen issued a disaster declaration relative to the virus in early March, before any Champaign resident had tested positive, giving her and the city manager the authority to take action to stem infections. 
That decision put Feinen in the spotlight, however, after fringe media outlets ran stories noting language in the declaration that would allow her to ban gun and alcohol sales and seize property. Such drastic actions were never planned — the order just invoked language from an Illinois statute governing emergency orders — but a media firestorm ensued.
"It was shocking how that got misrepresented," Feinen said. At the same time, though, support among Champaign residents remained strong. "People here trusted in government because they know us," she said.
The leadership lesson she walked away with? Be more cognizant of the social media world we all live in. 
"Something you do in a midsize Midwestern town can go across the world in a matter of 24 hours, even though you feel you're doing what is right for your community," Feinen said.
She credited her Mount Holyoke experience with giving her the confidence to lead, and run for mayor five years ago. "I never questioned whether I'm smart or capable enough. I know that I have the ability to do it — and that came from Mount Holyoke."