Restoration Ecology Program springs ahead
Restoration Ecology Program springs ahead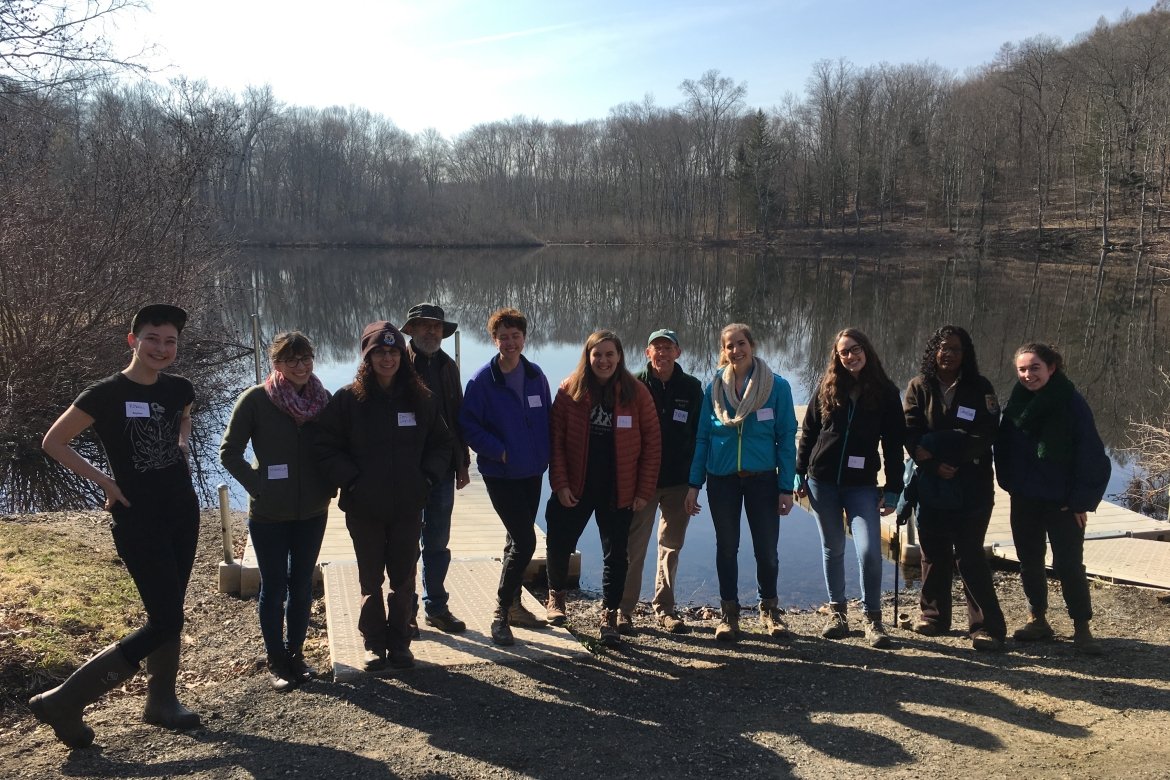 Mount Holyoke's Restoration Ecology Program tackles environmental challenges and seeds the field's future by engaging students in local high schools.
By Keely Savoie
For the third year running, about 100 students from Springfield Renaissance School piled off buses and poured onto Mount Holyoke College's campus this spring. Green shoots were just beginning to peek through the leaf litter on the ground and early buds were starting to appear on trees after winter's long dormancy. Project Stream, the Restoration Ecology Program's flagship restoration site, was coming back to life.
In the early shoots just emerging, the hard work of past and current students was already apparent. Just four years ago, the Project Stream site had been choked by invasive vegetation, and its nutrient-rich topsoil was washed away periodically by uncontrolled flooding over badly eroded river beds. The stream itself, from which the project took its name, carried unfiltered pollutants straight into campus lakes, feeding algal blooms and damaging the delicate native flora and fauna.
But thanks to the College's Restoration Ecology program, the streambed has been rerouted, invasive species have been extracted and replaced with native plantings, and the soil and water quality have rebounded, improving the habitat all around them. An accessible boardwalk encircles part of the site, with signage to guide visitors through the project.
The high school students were guided onto the site and through eight stations that took them in for a closer look. For the entire day, students from Springfield Renaissance high school underwent an intensive immersion program in ecology.
"It's exciting to see students incorporating the science, practice and social dimensions of restoration ecology into a real-world site, and that Project Stream is already meeting its goals," said Kate Ballantine, founder and director of the Restoration Ecology Program. "One of these goals is education and outreach, and our field trips for local school groups have been a fantastic way to engage students from both Mount Holyoke and neighboring schools through near-peer mentoring and outdoor fieldwork"
The students identified native and invasive plant species, took soil and water samples, hunted for elusive macroinvertebrates and learned about the work of restoring ecosystems. While immersed in the process of discovery, they also gathered ideas for work to do on their own restoration ecology site, Abbey Stream, which runs through the high school's campus.
Their teacher, Casey Hall, who accompanies the classes each April, called it "the highlight of the year" for her and her students. Hall noted that after each trip, the students come back to class brimming with excitement and ideas to put to work for them in their own backyard.
Over lunch, the students interacted with current Mount Holyoke students from the Community-Based Learning program's College Access Team and had a discussion about attending a college like Mount Holyoke, which, to many, seemed to be an out-of-reach prospect.
"We really want to demystify college for these students who might have never considered it as a realistic possibility," explained Ballantine, who is also an assistant professor of environmental studies.
School field trips such as the annual Springfield Renaissance School field trip are just one part of the comprehensive community programming that aims to engage the community with the work of restoration ecology.
Each summer, the Restoration Ecology Program also hosts the Restoration Ecology Summer Scholars Program for area high school girls. The summer scholars program is the brainchild of alumna Jovanna Robinson-Hidas '16, who will be returning to the Mount Holyoke campus as one of the coordinators of the program. The program was recently cited by Teen Life as one of the country's top STEM summer camps for girls.
The week-long earn-as-you-learn summer intensive program is generously underwritten by PeoplesBank. Participants — rising 10th-, 11th-, and 12th-grade girls — earn a cash stipend for their participation in this week-long introduction to the basics of restoration ecology. Applications are accepted until May 22.
 "At PeoplesBank we are committed to our community, and funding the restoration ecology summer scholars program is a real, tangible way that we can walk the walk," said Matthew Bannister, first vice president for marketing and innovation at PeoplesBank. "By sponsoring this work, we are not only helping to restore the environment today, but also helping teach our young people how to be good stewards of our community in the future."
The week-long course gives participants an engaging hands-on experience into the many facets of restoration ecology, from scientific research to collaboration and community engagement. 
"It's a comprehensive look at how all these different aspects work together — and it's a lot of fun," said Ballantine.
Restore your dreams. Learn more.