Second year in a row of record applications
Second year in a row of record applications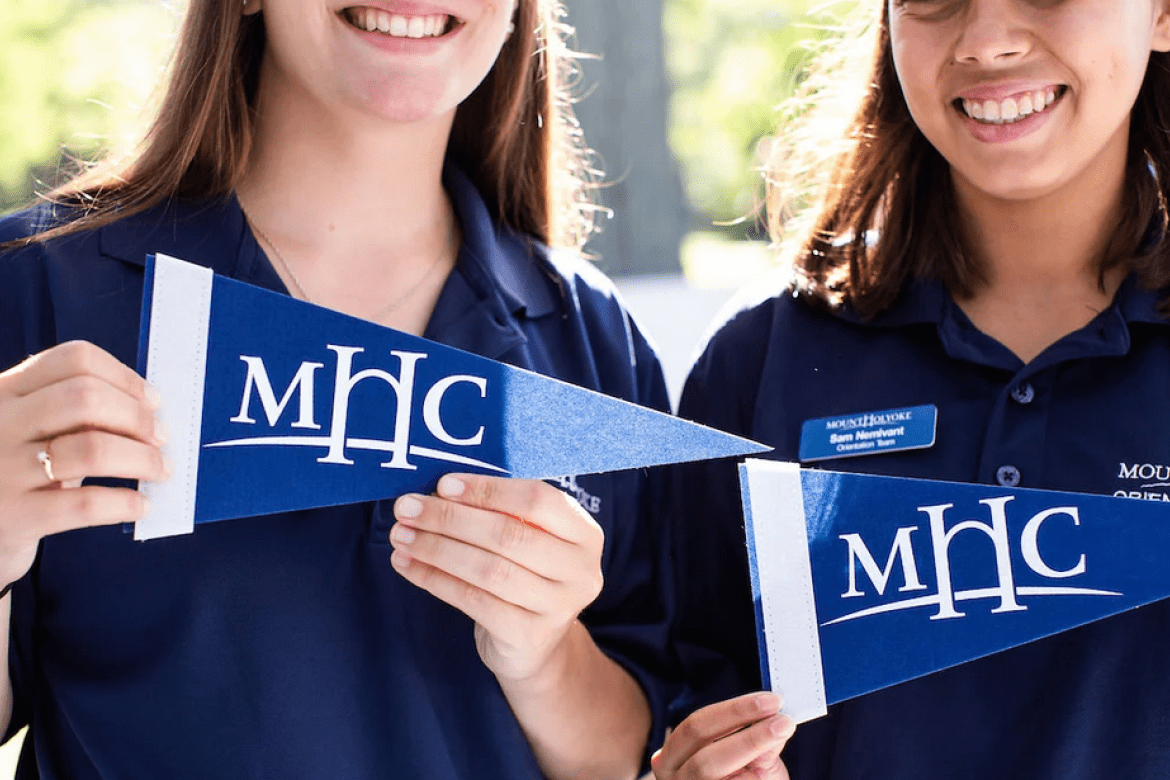 Mount Holyoke College received nearly 5,000 applications for admission this year — an all-time record number.
In mid-2020, as the rest of the world was shutting down, Tori Ross's college search was just ramping up. A rising high school junior at the time, she took the quiet during the start of the pandemic to begin her quest for where she'd head after graduation. She soon narrowed her search to women's colleges that are gender diverse, eventually homing in on Mount Holyoke College — a school that matched the academic rigor and supportive environment she was looking for.
"I was searching for a place that would bring out all the best qualities in me and would make me become the person I want to become," said Ross. "I found that at Mount Holyoke."
When Ross applied for 2022 admission, she joined nearly 5,000 other applicants who seemingly had the same high opinion of Mount Holyoke College — a new application record.
Dean of Admission Leykia Nulan noted that the College has had two unusual years in a row: In 2021, Mount Holyoke received just under 4,000 applications for 550 spots in the first-year class, a number that surpassed the previous application record set in 2019 by about 14%. She said that she and her colleagues were pleased by the intense interest in the school; in the specter of COVID-19, Mount Holyoke had dramatically curtailed many of its usual outreach efforts to students. For example, in-person interviews and tours were nonexistent. Admissions officers made no visits to high schools, college fairs and community organizations that serve high school students. There were no in-person information sessions or panel discussions at the College.
"It was a challenge for us, but we adapted," Nulan said.
Many of those adaptations persisted throughout the 2022 application season, she added, with a few shifts and additions. For example, while some admissions officers traveled to their designated territories in the fall of 2021, the majority continued to conduct virtual information sessions from the office. The College maintained virtual tours and self-guided tours on campus until in-person tours resumed in the summer of 2021. Mount Holyoke also offered a variety of online panel discussions for prospective students to learn more about the school's unique features and offerings.
"We've had to scramble to do more with less — there is no virtual staff to handle virtual things," Nulan said. "But offering all these online resources allowed many more students to participate in admission events more easily."
Access to these resources boosted the number of domestic applicants by nearly 1,000 compared to last year, an increase of 24%, Nulan said. Application numbers are up across demographics, including in regions that already had high numbers of applicants such as Massachusetts and Connecticut, and the variety of online resources appears to have been a draw for prospective students outside these areas. For example, application numbers rose significantly for students from California, Florida, Georgia and many other states.
The number of international applicants also rose by nearly 300 compared to last year, she added, a reflection of the effort that admissions officers put into connecting with students outside the United States. Nulan said that her staff have regularly worked outside traditional business hours to meet with students in different time zones, in order to meet their needs.
One student attracted by these efforts was Ama Abrokwa, who plans to travel in the fall from Oguaa, a town in the central region of Ghana, to join the class of 2026. Abrokwa took virtual tours, attended online information sessions, watched YouTube videos and spoke with current students on LinkedIn and Instagram before she chose to apply.
"I fell in love with Mount Holyoke," she said.
Student ambassadors have also had to work overtime, said Sabryna Coppola, who's been a student ambassador for the admissions office since their sophomore year. "It's a labor of love," they said. "We wouldn't do this if we didn't care or weren't genuinely excited to meet all of these students and bring them into this space and share the wonderful place we've found but also helped shape."
Coppola and their fellow student ambassadors have not only contributed to virtual tours and interviewed prospective students but have also hosted profiles on UniBuddy, a platform that allows prospective students to learn about current students and to also contact them directly to ask questions. The chat feature has given them the opportunity to message with prospective students in order to answer queries about being a politics and philosophy major, what being in an a cappella group is like and the gender diversity at Mount Holyoke.
Ross said that the extended time she took for her college search paid off in a big way, aided significantly by the extensive resources the admissions office offered, even as the pandemic continues.
"It was astonishing to me how easy the college search ended up being," she said. "There was always something about Mount Holyoke that just felt right."