Student becomes teacher
Student becomes teacher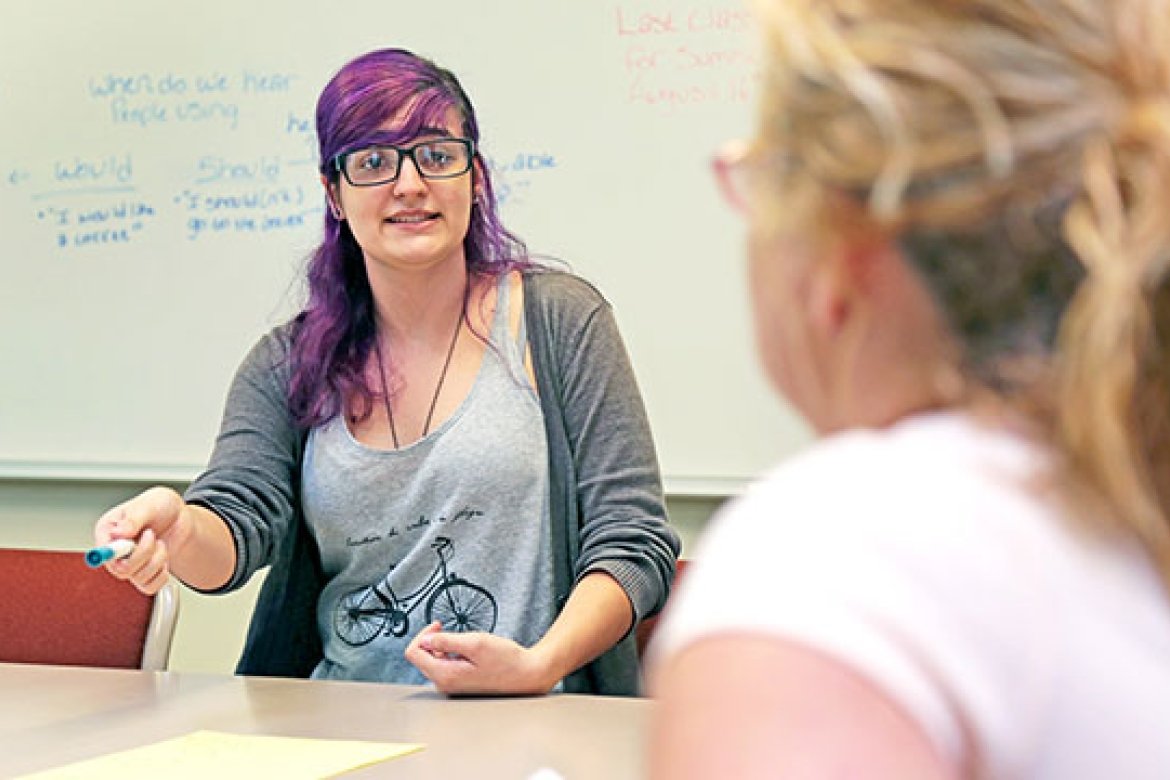 Nicole Pelletier '18 is sharpening her teaching skills by conducting a free English as a second language class for Mount Holyoke College staff.
By Keely Savoie
Nicole Pelletier '18 grew up hearing the sounds of her Quebecois mother's French, and her father's Sicilian dialect.
Those early experiences imbued her with a lifelong interest in learning languages. So when Pelletier learned about a course for teaching English as a second language, it felt like a natural extension of her story.
"My early exposure to multiple languages really inspired me to immerse myself in and learn about as many cultures as possible," she said. "I have a deep passion for language learning as a means to connect with other people."
Pelletier enrolled in the five-week course offered through the Professional and Graduate Education (PaGE) program this summer. The course included the opportunity to practice teaching skills by giving lessons to nonnative College staff volunteers who were seeking to improve their English.
"We had students who spoke Spanish, Polish, and Portuguese," Pelletier said. "Being able to teach them how to express themselves in English was very gratifying."
At end of the course, Pelletier knew she wanted to continue teaching. With the encouragement of Roberto Mugnani, director of program development for the PaGE program, and Mark Shea, who was the instructor of the course and is the coordinator of the English for Speakers of Other Languages (ESOL) program, she created a free 40-minute weekly class for staff.
"The whole idea was to help them be able to express themselves freely," Pelletier explained. "As they have progressed I have begun joking and laughing with them in a way that feels really natural—that's how I know they have learned a lot."
Pelletier, who is a dual major in East Asian studies and art history, intends to apply for a six-week English teaching internship in Japan for the summer of 2017. Until then, she will continue teaching the class throughout the academic year.
Bring your dream closer. Visit.