A student, a teacher, two pianos — and Zoom
A student, a teacher, two pianos — and Zoom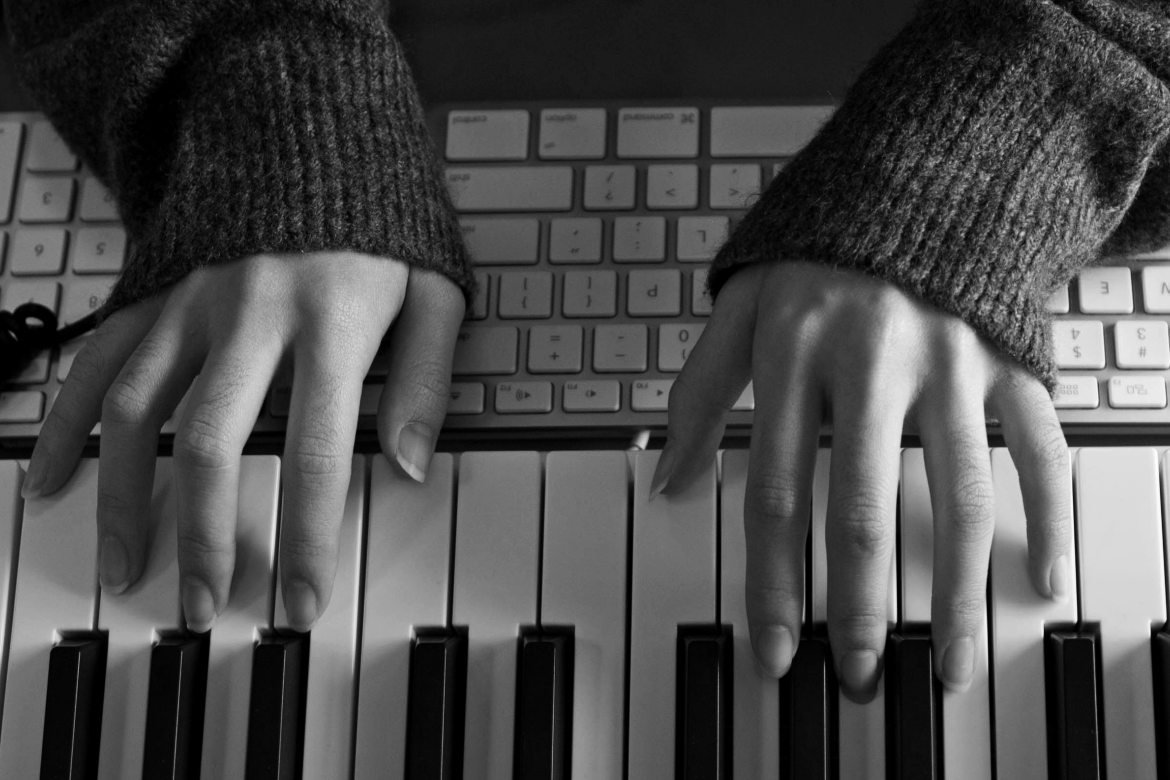 Taking piano lessons virtually isn't ideal but it's pretty close, says the music department's Mark Gionfriddo and Susan Wang '23, of Mount Holyoke College.
By Sasha Nyary
Not even remote Zoom classes and a 12-hour time difference could dissuade Yuxuan (Susan) Wang '23, a sophomore math major at Mount Holyoke College, from her piano lesson. 
Wang had just started her lessons last spring when the College closed in-person classes and she had returned to her home in Shijiazhuang, outside of Beijing, China. 
She had been studying with Mark Gionfriddo, a man of many titles: director of Jazz Ensembles, instructor of music and coordinator of piano instruction.
"I am in China, and he is in the United States — eastern United States," Wang said. "This is basically half of the world away. The good thing is that I still learn the same kind of scales or the things I wanted to learn as remotely as I was learning in person. I can still get the pieces, right then and there. I can still get feedback, right then and there. This is really amazing!"  
Wang's class schedule changes with each module so the lesson time changes  — sometimes it's at Wang's dinner time and Gionfriddo is just waking up. Sometimes it flips. When Gionfriddo was the one getting up early for the lesson, he used it as a way to generate Monday motivation.  
"Luckily for me our lessons were on Monday mornings, which is trash day for me," said Gionfriddo. "So I got up at five o'clock and took out my trash and recycling. Then I turned the TV on and watched MSNBC until six o'clock with a cup of coffee. And then we did the lesson." 
On the other side of the world, Wang was nearing the end of her day. Her parents usually weren't home from work yet. So while Gionfriddo was taking out his trash, she was practicing on the keyboard in her living room. While he was having coffee, she was eating dinner. They would meet up at 7 p.m. for their lesson — a particular favorite is "Minuet" by Leopold Mozart.  
At the end of the 50 minutes, Wang would take a break before signing into her Mount Holyoke classes and Gionfriddo would start his day. 
"I am a new piano player," Wang said. "I started learning piano in the spring semester of my first year. I'm not new to music — I sang in vocal groups in high school — but I never learned the theory. So in my first semester I took Basic Musicianship, which teaches music theory, staff, notes, scales, keys. And I thought I should learn some keyboard. I feel happy playing. I feel the passion of learning it." 
Wang now plays well enough to accompany herself while singing simple songs.
"Playing the piano makes me feel like I have connected one of my skills of music to another," Wang said. "I'm not totally developing a whole new skill, I'm connecting it with an old one that I had before. Now I'm making music with my fingers rather than my vocal cords. It gives me a lot of relief, especially when we're in this kind of environment and we can't really see people." 
For his part, Gionfriddo has been impressed with his piano students — he has six, both near and far. "They seem to be very, very driven," he said. "It's a one-on-one on Zoom and they have to show progress. I'm finding that they're working hard, at least as hard as they were when we were together in person." 
Still, he looks forward to being back in person with everyone.
"If we were in person, we'd be in my office and I'd be sitting right next to the piano. I'd be able to advise better because I could see a lot better. Or I'll sit down and demonstrate." 
Still, he can demonstrate how the piece should sound and give virtual instruction.
"We're making the best out of it that we can — and the best side of it is actually, very artistic and very cool," Gionfriddo said. "But there's nothing like a live performance with applause."