Students at World Conservation Congress
Students at World Conservation Congress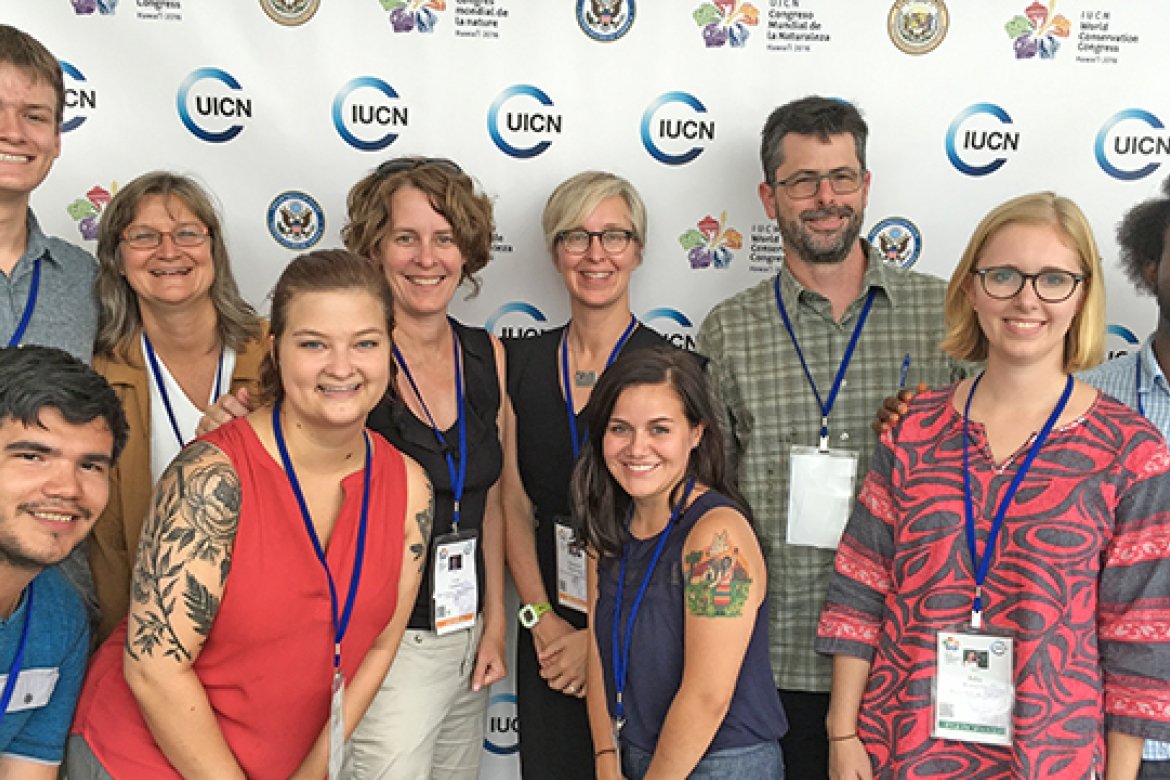 Political ecologist Catherine Corson took her three student interns to the World Conservation Conference in Hawaii to study global environmental politics.
By Sasha Nyary
This fall, Catherine Corson, director of the Miller Worley Center for the Environment at Mount Holyoke College and Miller Worley Associate Professor of environmental studies, led a group of three students to Hawaii for the World Conservation Congress (WCC). The event was hosted by the International Union for the Conservation of Nature.
At the WCC—the world's largest conservation conference—more than 9,000 conservationists, government officials, politicians, businesses, activists, and indigenous and community groups joined researchers from 190 countries to discuss global biodiversity conservation policy. The two-weeklong event is held every four years.
As the attendees debated critical issues in global biodiversity conservation, Corson's three Mount Holyoke research assistants, Julia Worcester '17, Isabel Flores-Ganley '17, and Sabine Rogers '18, were studying them very closely. The students were part of a National Science Foundation–funded research project that formed a team of researchers from multiple universities, countries, and disciplines. The goal of the project? To use an innovative methodology—collaborative event ethnography—to study how different actors influence global environmental negotiations.
Every morning at 7:00 am, the students would plot out their collective schedule and then spend the day observing the conference. Every night, they'd return to the hotel to review their data and discuss their findings with the team.
By the end of the conference, the team had gathered reams of ethnographic data about the language and strategies used by attendees. They had also uncovered how conference norms, meeting structures, forms of accepted knowledge, and ways of measuring success shape how actors interact, influence, and negotiate. The students are now in the process of analyzing this data.
Their findings, Corson believes, can offer solutions to seemingly intractable environmental crises and global inequality. How? By revealing why certain actors are better able than others to catalyze paradigm shifts in international conservation.
"My student interns bring invaluable new observations and perspectives," said Corson, who is a political ecologist.
"Professor Corson is a wonderful mentor to students," said Worcester, who is considering studying climate change law or getting a master's degree in environmental management. "Many undergraduates don't get these kinds of opportunities. She treats us like peers and we are very much part of the analysis cycle. Two of us are planning to write a paper with her."
Worcester is the old hand in the lab, having worked for Corson since she was a sophomore. An environmental studies major and Asian studies minor, she spent the fall 2015 semester conducting research in Bhutan. She is writing a senior thesis exploring the country's relationship to capitalism, property rights, and community forestry.
Flores-Ganley is a gender studies major who used funding from the College's curriculum-to-career Lynk initiative to spend her summer studying indigenous rights on Easter Island with a graduate student from Duke University.
So she was well-prepared to attend the many sessions that were led by indigenous peoples or that focused on the conservation rights of indigenous peoples.
"It was inspiring to see the various ways in which environmental and human rights are mobilized," Flores-Ganley said. "Now I'm interested in doing environmental justice work after graduation, probably going to law school."
The newest member of the team, Rogers, a double major in French and environmental studies with a Nexus concentration in development studies, joined Corson's lab over the summer after taking a class in political ecology with her. Her experience studying fisheries and overfishing off the coast of Senegal gave her a strong background at the conference.
"Sabine has a collegial manner and sharp intellect," Corson said. "She has quickly become an invaluable member of the team," including using her French skills to transcribe interviews.
Next semester, Rogers will take environmental studies at the Mount Holyoke Program in Montpellier, France. She's exploring the possibility of staying in Europe into the summer on an internship with an international environmental organization.
"These goals have very much been inspired by what I learned at the conference about how environmental policy is negotiated at an international scale, and how it plays out in regional and local contexts," Rogers said.
Corson's past student interns studied activists' strategies at the 2012 United Nations Conference on Sustainable Development in Rio de Janeiro. They coauthored an article with their findings and have gone to work on issues from clean technology to healthcare consulting—and in organizations such as the New Economy Coalition and the United Nations Environment Programme.
"My interns represent a generation of students who are not afraid to tackle the world's most serious challenges, such as climate change," Corson said. "They do so with poise, grace, perseverance, courage, and determination. I am proud to work with them."
Raise your game. Apply now.