Teaching teachers
Teaching teachers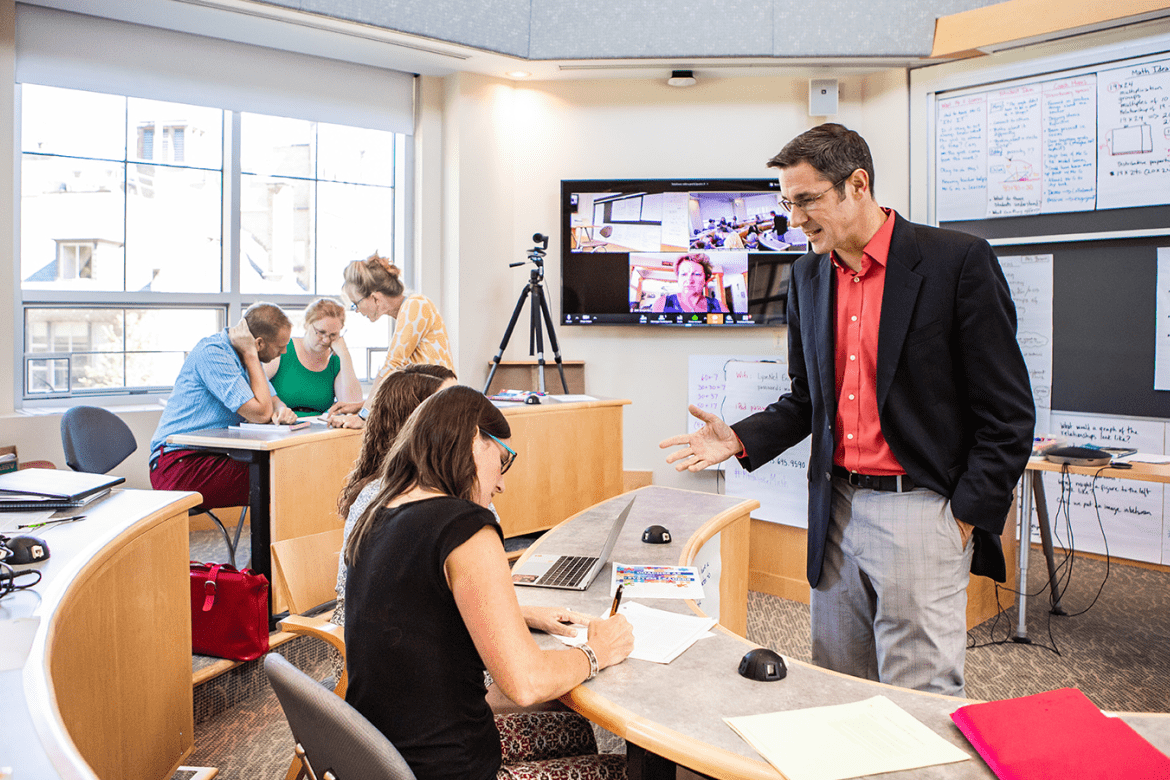 For the fourth time in five years, Mount Holyoke's graduate teaching program boasts a winner of a coveted national grant.
Laura Berman (MATM '23) has been named the recipient of the 2021 Program of Mathematics Study & Active Professionalism Grant from the National Council of Teachers of Mathematics, the world's largest mathematics education organization, which advocates for quality mathematics instruction and learning for all students. 
Berman is the fourth Mount Holyoke student in five years to receive the honor, which provides financial support for teachers seeking an advanced degree who want to deepen their understanding, appreciation and pedagogical approach to the subject. 
The application process was detailed and required a lot of attention, Berman said. The experience was smoother thanks to the support and influence of mathematics leadership program director Mike Flynn and academic advisor Sarah Bent. 
As a full-time classroom teacher, Berman realized she could only focus on a limited number of students at a time. She decided to transition to becoming an academic support specialist when she realized she could expand her reach and could help the adults who teach and reinforce math learning. 
"I really wanted to focus my career on working with teachers and parents," said Berman. "I think that's a more efficient way to have a bigger impact on children. 
"What's really hard for teachers is that the way we learned math as children is not the way that we teach math now. That's also really hard for parents. They don't see their children learning the same way they learned in school." 
When Berman applied for the grant, she got advice, encouragement and introductions to previous recipients from advisor Sarah Bent, assistant director of mathematical leadership programs. Bent was thrilled to learn of Berman's selection.
"The award can significantly reduce financial burdens for teachers seeking to improve mathematics instruction for school-aged children," Bent wrote. "The money can go toward coursework, a laptop, support for childcare costs, etc."
Berman also got guidance for applying from past recipients, including Carrie DeNote (MATM '20), who is a district math coach and the president of the Florida Council of Teachers of Mathematics.
Berman said her goal is to eliminate the phrase, "I'm just bad at math!" 
"[I want] to be better equipped to support children's mathematical growth through teacher mentorship and parent education," she said.
"I am someone who hated math as a child, as a college student and as a beginning teacher. I always struggled in math, and it wasn't until I was a few years into my career that I realized it was because I was not taught in a way that made sense to me. My mission is to help children and adults find meaning and beauty in mathematics."