Tracking invasive species
Tracking invasive species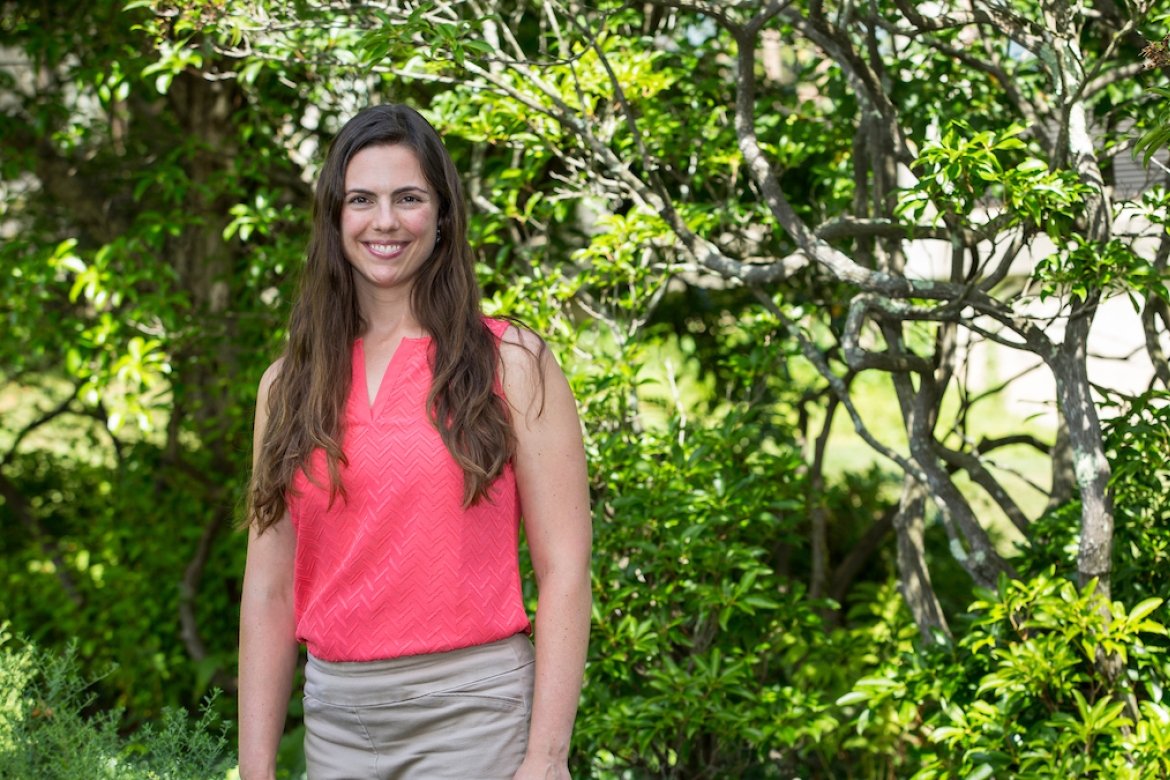 Jenica Allen, manager of Mount Holyoke's Campus Living Lab, was given the George Mercer Award from the Ecological Society of America.
Jenica M. Allen, manager of the Campus Living Lab at Mount Holyoke College, has received the George Mercer Award, the longest-running award of the Ecological Society of America. 
The Mercer Award recognizes an outstanding, recently published, ecological research paper by young scientists. Allen shares the award with the paper's other co-authors.
"This year's award recipients have shown remarkable leadership and creativity," said Kathleen Weathers, the society's president. "I congratulate the award winners and thank them for their significant contributions to building both ecological knowledge and the community of ecologists."
The Mercer Award paper, "Disentangling the abundance–impact relationship for invasive species," reviewed 1,258 studies to analyze how ecosystems are affected by invading species. It was borne of an international collaboration of a dozen researchers with different areas of expertise who came together to understand and predict the effect of non-native species on local ecological balance. It was the first meta-analysis to win the Mercer Award.
The work, Allen explained, is necessary to understand when invasive species need to be more stringently monitored and controlled. 
In addition to her work with theCampus Living Laboratory through the Miller Worley Center for the Environment, Allen is a member of the leadership team of the Northeast Regional Invasive Species and Climate Change Management Network, which works with both land managers and researchers to reduce the compounding effects of invasive species and climate change. As a quantitative ecologist, Allen uses mathematics and statistics to understand species relationships on a large scale. 
With the network, Allen has helped produce watchlists of particularly pernicious invasive species for land managers. 
"The basic question is, how do we prevent invasions or ensure early detection and rapid response?" said Allen. "Hundreds of species could be on that list. In order to make strong recommendations we need to know what to monitor for. How do we narrow it down so that land managers can use it?"
Allen was thrilled to receive the Mercer Award, which is given to early and mid-career scientists under the age of 40.
"This research group had this awesome synergy of people with all areas of practice, from field biologists to spatial analysts to statisticians," she said. "The meshing of expertise and interests created an amazing foundation of knowledge and experience from which to draw."
The Ecological Society of America, which funds the George Mercer Award, is a nonprofit, nonpartisan organization of professional ecologists. Allen and the other award recipients will be honored during an awards ceremony at the society's virtual annual meeting in August.