"Transformational growth"
"Transformational growth"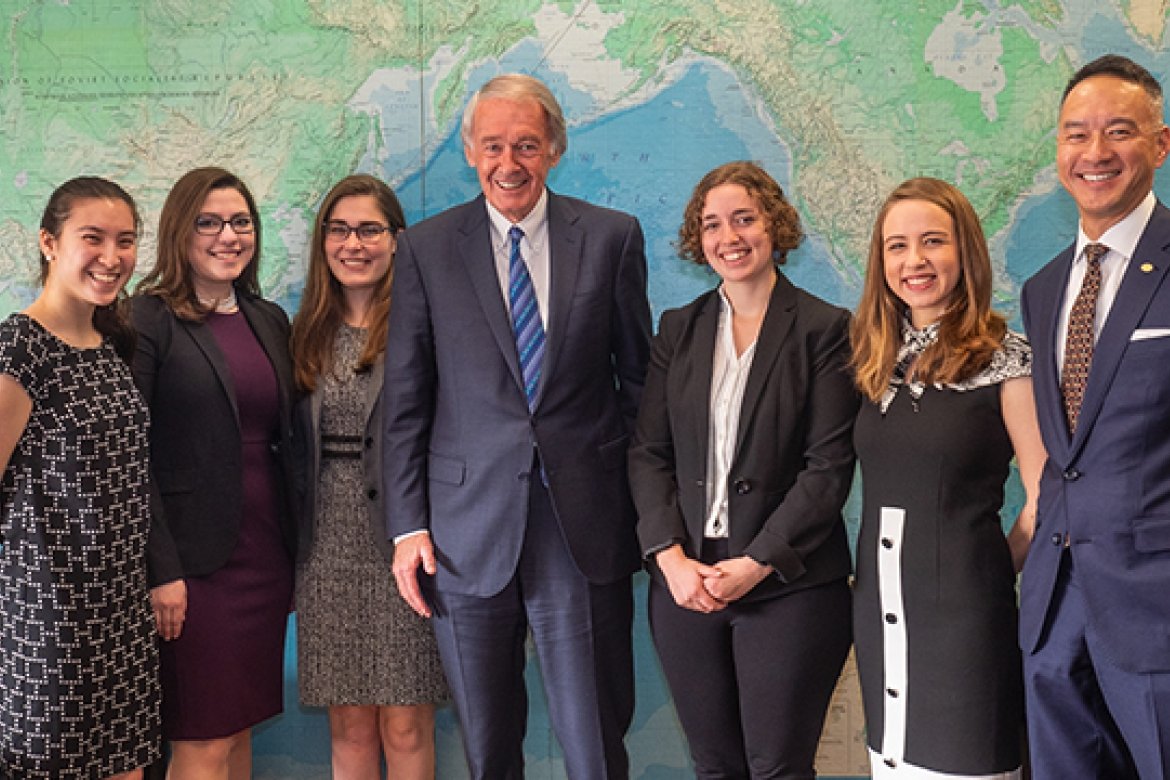 Meeting with Sen. Ed Markey is a typical assignment for the students in Mount Holyoke's MHC Semester in D.C. program.
When Olivia Vejcik '20, a junior at Mount Holyoke College majoring in politics, had a meeting with Sen. Ed Markey, she knew right where to go.
Vejcik had already attended several hearings in the Dirksen Senate Office Building in Washington, D.C., because she is participating in College's MHC Semester in D.C. this spring. So she was able to confidently lead her four classmates in the program to their meeting with the senator from Massachusetts.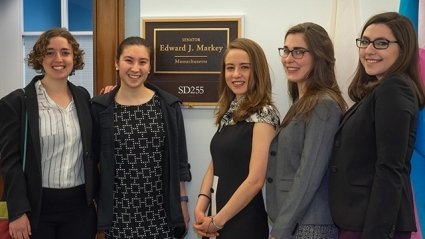 It's this type of comfort and familiarity in the nation's capital that impresses the program's director, Calvin Chen, associate professor of politics. Sponsored by the Weissman Center for Leadership, the competitive MHC Semester in D.C. provides the opportunity for students to live in the capital while they work and study public policy and government.
"Our program provides students with an unparalleled opportunity to become even more skilled and versatile than they already are," said Chen. "They have experienced transformational growth. They are so savvy and resilient and clearly becoming the leaders they are destined to be."
Sen. Markey took time to meet with the group when he was in between a committee hearing and a speech he delivered on the Senate floor opposing the nomination of David Bernhardt as the next Secretary of the Interior.
Maya Hoffman '20, who is double majoring in politics and French, was struck by the importance of compromise between Republicans and Democrats and between senators and representatives to make progress in America.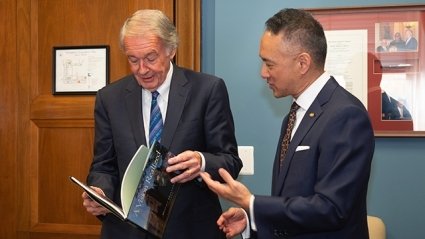 "The largest takeaway I had from this part of the conversation was how crucial it is to find common ground with everyone I engage with," said Hoffman, who is working with Naomi Barry-Perez '96, director of the Civil Rights Center at the U.S. Department of Labor — located in the Frances Perkins (Mount Holyoke class of 1902) Building. "If I have productive conversations, I can effect positive change."
"I was impressed with his optimism," said Izabella Czejdo '20, an international relations major who is interning at Landmine and Cluster Munitions Monitor. "He's a very optimistic person, even given the challenges in politics today."
Chen set up this opportunity with Markey because of his unwavering commitment to stopping climate change through such initiatives as the Green New Deal. "Senator Markey has been at the forefront of critical debates and has worked tirelessly to find solutions to challenges that our students care deeply about," Chen noted.
Those interests are reflected in the students' internships this semester. Vejcik is working with Simon and Company, an intergovernmental affairs firm that helps local governments get federal representation. Politics major Sarah Bloomgarden '20 is interning at the Brady Center for the Prevention of Gun Violence. Brigit Wolf '20, also a politics major, is working with the American Enterprise Institute.
Two of the students are staying for the summer to work at other jobs: Vejcik will intern for Sen. Tammy Duckworth of Illinois and Wolf will be working at The Phillips Collection, a Washington art museum.