Trip links students to leadership careers.
Trip links students to leadership careers.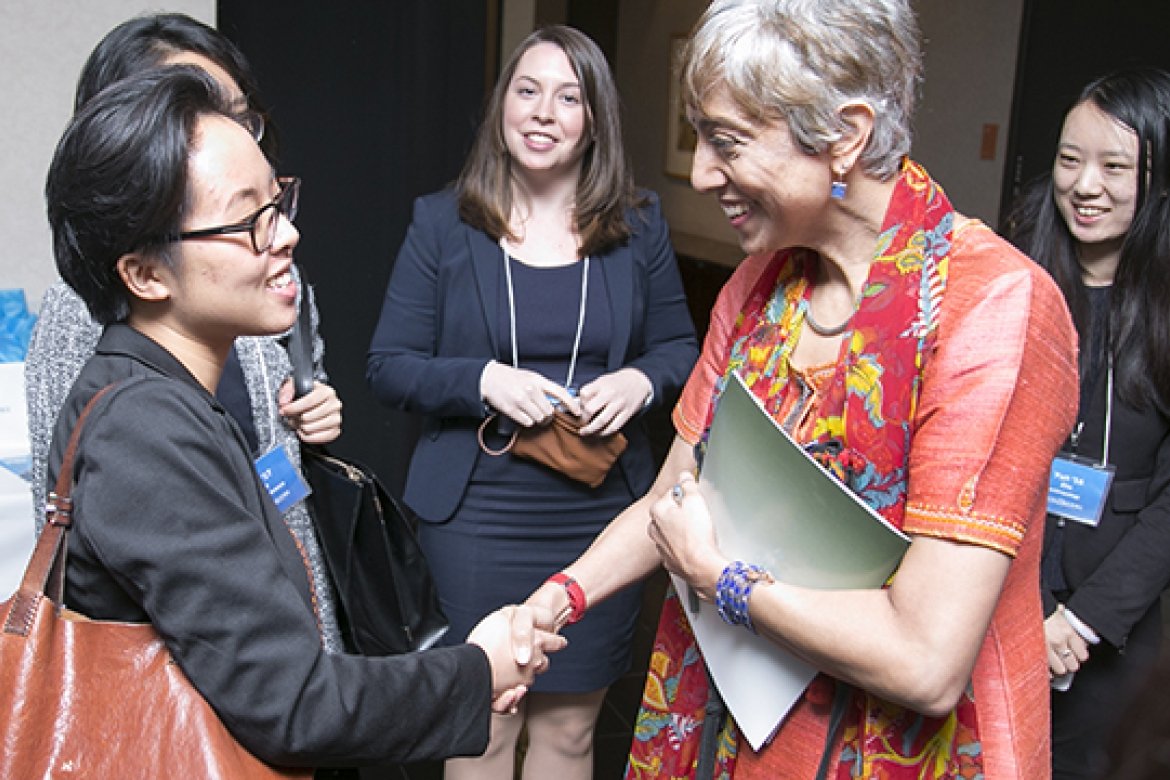 Students interested in public service visited the Ford Foundation in New York City to connect with alumnae leaders in the field.
By Keely Savoie
When they boarded a New York City-bound bus in the early morning light with business cards in hand, 24 Mount Holyoke College students took one of their biggest steps yet in launching their careers in public service.
They were headed to the Ford Foundation, where they would hear from prominent alumnae about the paths they took to reach their positions and create personal connections with the broader Mount Holyoke alumnae network.
The trip was supported in part by the Weissman Center for Leadership, which three years ago launched its public service program to train and inspire students to enter fields typically underrepresented by women in government, politics, and policy.
Kavita Ramdas '85, senior advisor on global strategy to the Ford Foundation president, hosted the visit and delivered the keynote speech, followed by two panel sessions featuring alumnae leaders from a variety of public service fields.
"One of the most important things in the Mount Holyoke community is the connection of the contemporary student experience to what it means to be part of the Mount Holyoke network," said Sonya Stephens, vice president for academic affairs and dean of faculty, who will begin her three-year term as acting president of the College on July 1.
Ramdas recounted her own pathway, starting in Delhi, India, to Mount Holyoke to becoming one of the foremost leaders on international issues ranging from philanthropy to international development and the rights of women and girls.
Before she arrived at Mount Holyoke, Ramdas told the audience, she had suffered personal challenges that prompted her to discontinue her education at the University of Delhi. At 19, she said, she felt she had no path forward. But when she inquired about Mount Holyoke, then-Dean of International Affairs Mary Jacob helped her to take the necessary exams and connected her to a scholarship that enabled her come to Mount Holyoke. That experience forever changed Ramdas's life.
"In part it was the philanthropy that I experienced at Mount Holyoke that made it possible for me to be standing here today," she said. "That philanthropy—that love of humanity, that love of Mount Holyoke College, that love of Kavita—allowed me the space and time to become fully myself."
Thanks to an endowed scholarship fund, Ramdas was able to afford to remain in the United States after graduation and take a job with a nonprofit organization that set her on the trajectory to becoming a philanthropic leader with a focus on women's and human rights. A keystone of her work, she said, was that concept that philanthropy and public service were two sides of the same coin—a coin that could be used again and again in service of freedom, equality, and justice.
"The opportunity for us to learn and grow and expand our own understanding of what it means to be a servant-leader is truly something that we learn from the opportunity to be in service," she said. "That early memory of that love of humanity is something I was able to take forward."
The alumnae panel sessions, which followed Ramdas's speech, built on her call to be confident and strong as they enter their chosen careers.
The speakers included:
Elena Garofalo '08, development officer at Women's Refugee Commission

Jane Landry-Reyes '87, public interest attorney representing indigenous clients

Fawzia Naqvi '87, vice president of the Soros Economic Development Fund

Diane Struzzi '93, director of communications for New York City's anti-corruption agency, the Department of Investigation

Cortney Worrall '90, senior regional director for the northeast office of the National Parks Conservation Association

Yasmeen Hassan '91, global executive director of Equality Now.
The panelists spoke candidly about their own tracks, many of which did not follow a straight-line course, but instead took twists and turns as they found their ways.
"I think there is no such thing as failure unless you fail to learn from it," said Naqvi, noting that relying on advice from mentors and finding opportunities through networks helped her learn, grow, and move forward.
Harriet Weissman '58, who along with her husband, Paul, created the Weissman Center for Leadership in 1999, was gratified to meet current students and see the connections they were forming with alumnae between panel sessions.
"To have the opportunity to meet these scholars and hear their hopes and dreams and what their Mount Holyoke education has done for them—it just makes our hearts feel full," she said.
The event concluded with an alumnae networking reception, where current students mingled with alumnae.
Analisa Balares '99, CEO and founder of Womensphere, delivered the reception speech, where she discussed the urgent need for more innovators and leaders in the world.
"Once you graduate from here, you know that you will have the Mount Holyoke community behind you," she said. "Alliances and community are key."
Balares called upon the students to rise to the needs of the world, buoyed by their education, passion, and Mount Holyoke network.
"The world needs more problem solvers. The world needs more great leaders. The world needs more innovators and social entrepreneurs," she said. "At Mount Holyoke College, you're being prepared to be that."
Students came away from the event richer in both knowledge and connections.
"I happened to meet some of the coolest women doing exactly what I want to do and I couldn't be more grateful," said Saltanat Ansari '18, an international relations major. "Not only did I learn so much from the insights of these individuals but it was also such a validating and reassuring experience in so many other ways."
In addition to the Weissman Center for Leadership, the trip was supported by the Office of the President, the Office of the Dean of Faculty, the Office of Advancement, the Alumnae Association of Mount Holyoke College, the Career Development Center, the Department of Politics, the Department of International Relations, and the McCulloch Center for Global Initiatives. 
Connect to your dreams. Begin here.