A welcome return to an in-person Convocation
A welcome return to an in-person Convocation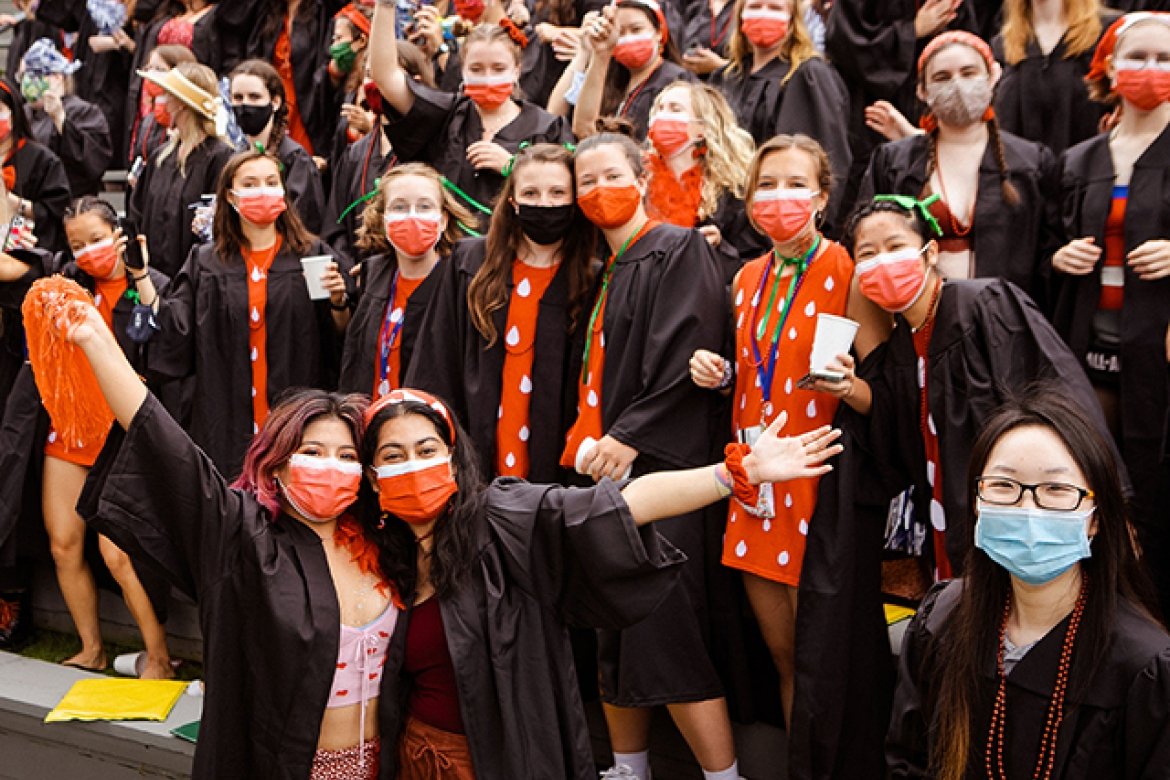 Cheers rang out across the Mount Holyoke College campus during the first in-person Convocation since the beginning of the pandemic.
On August 29, 2021 cheers rang out from the Gettell Amphitheater and Pageant Green during the first in-person Convocation since the beginning of the COVID-19 pandemic. 
This year's Convocation was a joyous return to the enthusiasm and exuberance that normally happens at the inaugural event of the academic year. Students shouted in support of their classmates, waved pom-poms, performed the wave and dressed in their class colors. Seniors wore regalia topped with red hats, berets and boas in honor of the red pegasi. 
Accommodations were made to the ceremony in light of safety concerns around the delta variant. In addition to complying with a vaccination mandate, all attendees wore masks, with students wearing masks in their class colors. The attendees' seating was split between the Gettell Amphitheater and Pageant Green to better facilitate physical distancing. 
The Convocation speakers were united in their joy to see students back on campus in force and in stressing the twin values of resilience and hope. 
Rhynette Northcross Hurd '71, member of the Board of Trustees, welcomed the community. "That word, 'welcome,' is especially significant, don't you think?" she said. She noted that the word comes from the Old English phrase for a "wished-for guest." 
"The class colors … form a beautiful rainbow," she said from the podium. "The colors make a statement. We are like the miraculous arc of color that comes when the sun shines after a storm." 
President Sonya Stephens centered her message around maintaining connections, even during this pandemic. She was recently given the book "Braiding Sweetgrass" by Robin Wall Kimmerer, a member of the Citizen Potawatomi Nation. The author's great achievement, Stephens said, "is to show us that all of these emotions derive from love and 'compel us to do something, to love more.' Elsewhere, she has said that 'when we're looking at things we cherish falling apart, when inequities and injustices are so apparent, people are looking for another way that we can be living. We need interdependence rather than independence, and Indigenous knowledge has a message of valuing connection, especially to the humble.'"
Amber Douglas, Dean of the College, talked about her first days at Mount Holyoke. "I was kind of terrified," she said, upon walking into her first seminar. But, she recounted, she was greeted by a group of seniors who were welcoming and smiling and had great questions. 
"At Mount Holyoke, you are going to meet some of the best people in the world," she said. "That commitment to doing better, to showing up and trying to figure it out in community with one another, that is special about this place. 
"For me, Mount Holyoke is about connections. Your task is to find your people. You're going to need to build your team," Douglas said. "Make those connections. Try."
Lydia Malone FP'13 addressed the student body "on behalf of the more than 1,000 staff and faculty at Mount Holyoke College. ... Here's some advice that I didn't follow when I was a student: slow it down. Enjoy it all," she said. "I want you to try those new and scary things. … Do not, in the words of Mount Holyoke's favorite movie ["Dirty Dancing"], put yourself in a corner.
"We will be here to cheer you on and pick you up every step of the way," she said. 
Lasya Priya Rao Jarugumilli '23, incoming president of the Student Government Association, was the last to speak before breaking for a picnic lunch on Skinner Green. 
"Seeing all your shining faces, dazzling outfits and lifted spirits fills me with so much gratitude and hope for the upcoming year," she said. "That's what makes the Mount Holyoke experience — the conversations. You can learn so much — kindness, faith, vulnerability, perseverance and, my favorite, radical hope."