Wirth-Cauchon named CIO and head of LITS.
Wirth-Cauchon named CIO and head of LITS.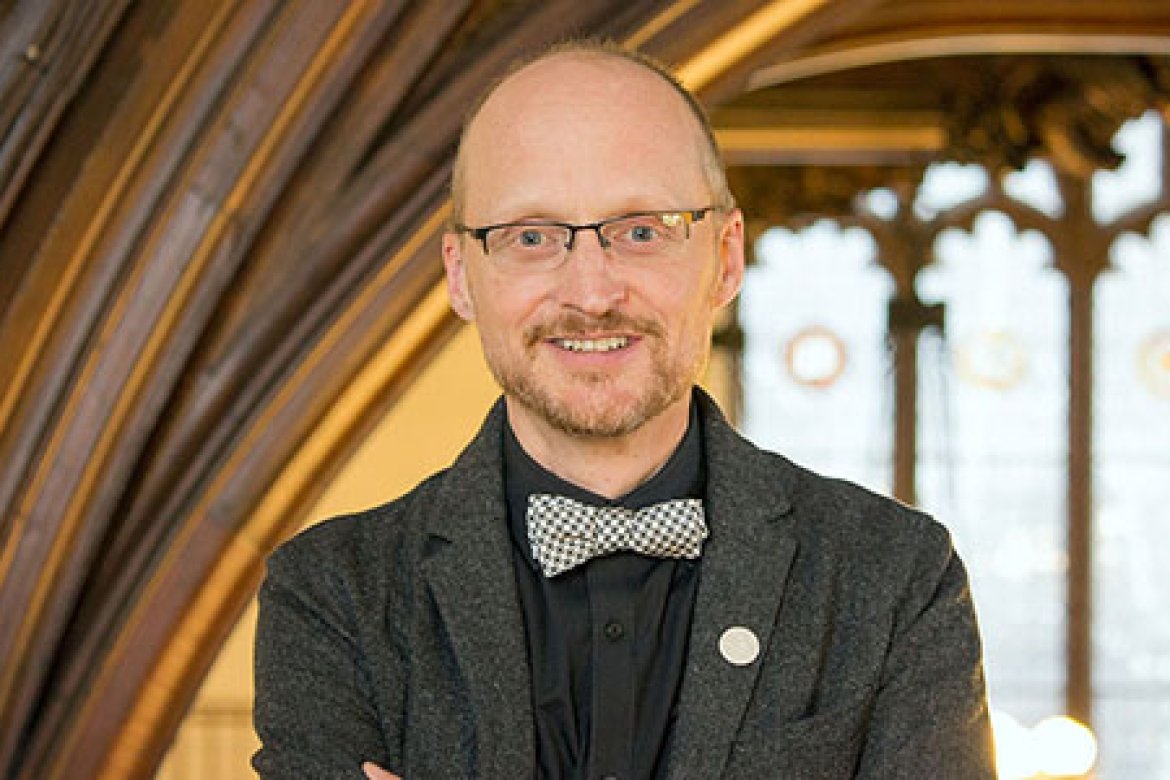 Alex Wirth-Cauchon has been named chief information officer and executive director of Mount Holyoke's Library, Information, and Technology Services.
Alex Wirth-Cauchon, Ph.D., an innovative leader with more than 25 years of experience in integrated library and information technology services and teaching, has been named chief information officer and executive director of Library, Information, and Technology Services (LITS) at Mount Holyoke College, President Lynn Pasquerella has announced.
Wirth-Cauchon, who has served in the interim CIO and executive director role at the College since June 2013, emerged as the frontrunner after an extensive national search led by a search committee whose members included students, faculty, administrators, and representatives from the Five College Consortium. The lengthy interview process included presentations to several campus constituencies. He will transition to his new role immediately, reporting to Vice President of Academic Affairs and Dean of Faculty Sonya Stephens.
"I am grateful to the members of the search committee for their outstanding service and extensive review of a broad range of candidates," Pasquerella said. "I could not be more happy with their recommendation. Alex brings a wealth of experience in management and a commitment to innovation that will be invaluable as we engage in the next phase of strategic planning and position the College for the future." 
Mount Holyoke was a leader in 1996, when the College blended its library and information technology services, Stephens noted. "That model has expanded over the years to promote more collaborative partnerships on campus and beyond, including through Mount Holyoke's membership in the Five College Consortium. Alex brings not only a depth of institutional knowledge but also a collaborative spirit and a passion for innovation, as the College works to both expand and refine its use of technology across the campus."
Wirth-Cauchon joined the College in 2009 as director of research and instructional support. During his time as interim CIO and executive director, he has overseen major planned capital projects such as replacement of the wireless network in the residence halls and the successful launch of the new College website in June 2014. He also has been involved in implementing elements of the Lynk experience, Mount Holyoke's curriculum to career initiative, and in implementing the new graduation requirements, as well as integrating a major new enterprise content management system in support of the Office of Admission.
Wirth-Cauchon also was involved in the College's most recent strategic planning process and has served on a variety of committees focusing on new markets, work-life balance, and intergroup dialogue.
Previously, he held positions as a participant relations manager at the National Institute for Technology in Liberal Education and as an associate director at the Midwest Instructional Technology Center. He also served as the A. W. Mellon Instructional Multimedia Technology Specialist at Grinnell College and held teaching positions in sociology at Grinnell and Drake University in Iowa and at Framingham State University in Massachusetts.
A sociologist by training, Wirth-Cauchon graduated from The Honors College of Western Michigan University, where he received a bachelor's in sociology in 1982. He earned his Ph.D. in sociology with a focus on contemporary social and feminist theory from Boston College in 1996.
"I am deeply committed to the mission and promise of small liberal arts colleges, to women's education, and to merged and blended information services organizations that Mount Holyoke College represents," he said. "Libraries are not only about preserving the past and print, and technology is not only about a change in the future. Libraries are at the forefront of driving new models of sharing and research, and technology is necessary for preserving and accessing our history. The challenge in higher education is to create environments where libraries and IT can collaborate deeply and that can best happen in a blended environment."
A top priority of the College and LITS will be to create ways to make learning more "individualized, personalized, and experiential" for students, from the time they make the decision about applying to Mount Holyoke to graduation and the launch of their careers.
"We are building the next generation of institutional leaders, and I really believe we can do more when we collaborate deeply together," he said. "If we all bring our range of perspectives to bear, we will find better solutions. Mount Holyoke is known for great teaching, and it needs to be at the forefront of choosing the moments to use technology or not to use it and to actively engage in other ways."
Wirth-Cauchon lives in South Hadley and Des Moines, Iowa, where his wife is a sociology professor at Drake University. They have a grown daughter, a son-in-law, and a granddaughter.