Jeannette Marks Cultural Center
Jeannette Marks Cultural Center
The Jeannette Marks House (the Marks), located at 5 Faculty Lane, provides a safe space and community center for LGBTQIA+ students, staff, and faculty. The Marks House opened in 1999 as the Lesbian, Bisexual, and Transgender Community Center. Members of the community use the center to meet, hold events and take advantage of resources such as the queer-friendly library. The house was renamed after Jeannette Marks, a Mount Holyoke professor and partner of former president Mary Woolley.
Affiliated student organizations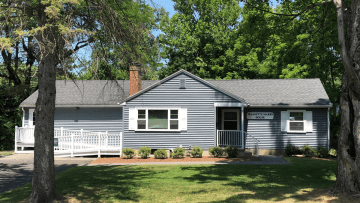 The history of the Jeannette Marks Cultural Center
Cultural space for nonheterosexual students became a reality in 1999 with the opening of the Lesbian, Bisexual and Transgendered Community Center on 5 Faculty Lane, across from Dickinson. After working with members of the administration, students were granted space and selected 5 Faculty Lane from several available buildings. Renovations to the house, including changes to make it wheelchair accessible and conversion of the garage into a multipurpose meeting area, were completed over the summer. In total, the trustees allocated $60,000 for the creation of this space, including $15,000 for the purchase of furniture.
Contact us
The Jeannette Marks Cultural Center
The Jeannette Marks Center, commonly known as "the Marks House,"provides support, resources and programming for LGBTQIA+ students and allies.
5 Faculty Lane East (across from Dickinson Hall)