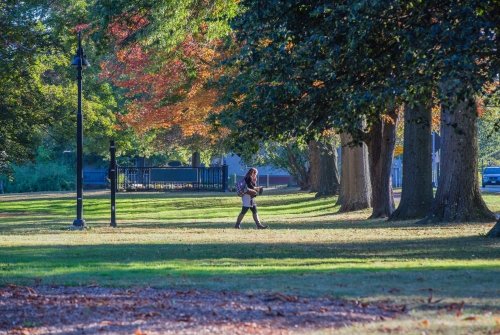 Transfer Admission
Transfer Admission
If you're exploring new pathways to success on your educational journey, you're welcome at Mount Holyoke. Here, you'll find challenging academics that empower you to discover your full potential and a community that will celebrate you for who you are. Our close-knit campus, strong traditions, and dedicated resources for transfer students mean that you'll quickly feel at home here.
Am I eligible to apply as a transfer?
Approximately 50 transfer students come to us each year from community colleges (we are proud members of the Transfer Scholars Network), public and international universities, and private colleges. We know that transfer students have different concerns than first-year students. Prior to matriculation, we'll work directly with you to evaluate credits and make preliminary scheduling choices. During orientation, you'll find programming designed especially for you, and that transfer support is continued — both formally and informally — throughout your time at the College.
If you've graduated high school and earned at least 16 credits at another institution, you are eligible to apply as a transfer. In general, academic credit is granted for liberal arts courses completed with grades of C- or better and most AP and IB courses with exam grades of 4–5 and 5–7, respectively. Read more about transferring credits. Please note, transfer students who are over the age of 25, who are veterans or who have a dependent other than a spouse must apply as Frances Perkins scholars.
How we read applications
We value proven academic excellence and pay close attention to your performance in college-level coursework. But who you are as a person matters in our review, too. We're excited by transfer applicants who value some of the same things we do, including wide-ranging curiosity, a commitment to open-mindedness and a desire to make a positive impact — whether on a personal, community or global level.
A few things to know as you prepare to apply:
You can apply for either spring or fall transfer consideration.
You should submit your application and supporting materials by posted deadlines.
You'll need to submit official transcripts from all secondary and postsecondary institutions attended — we cannot accept unofficial transcripts.
If you plan to apply for need-based financial aid, be sure to submit those documents at the same time you submit your admission application.
Application Materials
Apply now using the Common Application for Transfers.
Official high school transcript (if your transcript is not in English, notarized translations are required alongside original documents).
Recommendations:

If currently enrolled in coursework, two academic recommendations are required.
If not currently enrolled, two professional or personal recommendations are required, though academic evaluations are also welcome.

Mount Holyoke writing supplement (optional, but highly encouraged).
Mid-Year report for those currently enrolled in college.
Interview (optional, but strongly encouraged).
Art supplement (optional).
English proficiency requirements for nonnative English speakers.
International Financial Declaration (required for non-U.S. citizens).
Connect
Have more questions about transferring to Mount Holyoke? Reach out—we'd love to hear from you!