Taking Your First MHC Spanish Course
Taking Your First MHC Spanish Course
The placement exam must be taken within two months prior to registration.
If you have taken Spanish and/or have experience interacting in Spanish (with family, and/or friends, members of their community, through study abroad, etc.) you MUST take the placement test and questionnaire.

If you have taken one or more AP Spanish courses, you MUST register for Spanish 209 or Spanish 212.
First-year students: If you have taken AP Spanish courses and/or have taken the Spanish AP exam, please register for Spanish 209 or Spanish 212 even if you have not received your score yet. You will need to contact the course instructor to receive permission to register.

If you require disability accommodations for placement exams you must register with Mount Holyoke Access Ability Services. For information contact accessability-services@mtholyoke.edu or 413-538-2634.
Spanish placement exam instructions
Go to the Mount Holyoke College Placement Exam.

Register with your @mtholyoke.edu email address and MHC ID and create your own password. Without your MHC email, you will not be able to register in my.mtholyoke for your Spanish Class.

Remember to take the questionnaire as well as the placement test.
Results
The results of your test will be sent automatically to the Spanish department and will be made available to you immediately to your @mtholyoke.edu email. Your score will guide you in pre-selecting the appropriate course in which to enroll. Once we review both your placement test results and the language questionnaire, we may require a level change.
Scoring
200 and below = Spanish 101
between 201 and 400 = Spanish 199
between 401 and 600 = Spanish 201
625 and above = Spanish 209 or 212. (Email the Language Program Director, Esther Castro Cuenca or the Chair of the Department, Nieves Romero-Díaz to select the appropriate course above 201.)
Once enrolled in a MHC Spanish course:
On the second day of class you will take a brief in-class test that the instructor will use to make a final recommendation on the appropriate placement level. No grade will be assigned to this test.
Students are strongly encouraged to take their language courses in close succession, without lapses between one level and the next.
Exemption for Spanish Placement
Only students with both native or near-native fluency and formal training in courses equivalent to our advanced courses can be exempted from the language requirement.
High placement scores without formal training in Spanish do not warrant exemption.
International students are not automatically exempt from the language requirement.
Students may contact Amber Douglas, Dean of Studies with questions on qualifying for exemption (call x 3294 for an appointment).
Contact us
The Department of Spanish, Latinx, Latin American Studies helps students understand the past, current state, and emerging realities of the cultures of Latin America, Spain, the Caribbean, and the Latina/o heritage populations within the United States.
105 Ciruti Language Center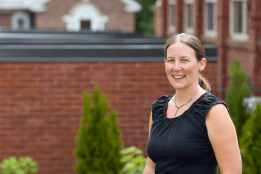 Academic Department Coordinator