Donna Van Handle
Senior Lecturer Emeritus in German Studies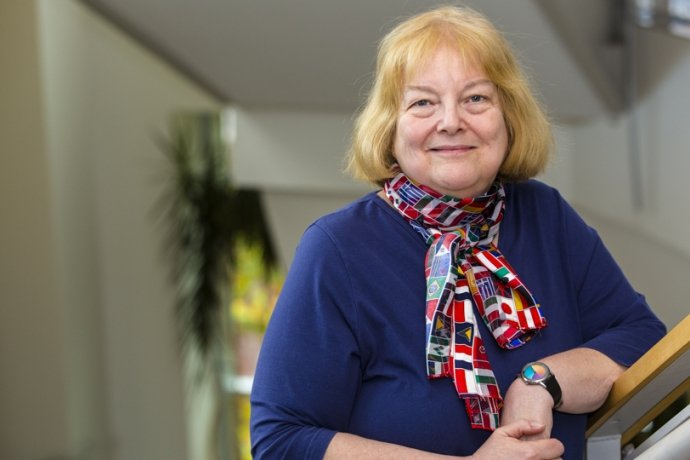 "There is no doubt that the Internet is an extremely valuable educational tool, especially for language instructors," says Donna Van Handle, who has been developing Web sites to accompany her courses since 1995. "Course web sites not only provide students with access to the syllabus, but also to exercises, activities, and other resources that allow students to encounter German language and culture in context, something that is normally only possible when they have the opportunity to spend an extended period of time in a country where the language is spoken."  As an acknowledgement of her commitment to using technology in her teaching, she received the Houghton Mifflin Award for Excellence in Foreign Language Instruction Using Technology in 2005.
As part of her research in using Internet resources as instructional tools, Van Handle has co-authored and taught Learning About and Using the Internet in German Instruction, an online graduate-level course for teachers offered through the University of Nebraska at Lincoln. The target audience for this course is practicing teachers of German throughout the world. She has also used MHC's videoconferencing facilities. In her course Creation and Production of a German Play, she held several videoconferences with classes in Germany during which German students critiqued and offered feedback in German on an original play that her Mount Holyoke students had written. From 1988-2012, she also organized and supervised the Deutsches Theaterfest, a drama competition for K-16 students of German from the Northeast, held annually at Mount Holyoke College.
Since students have different learning challenges and learning styles (visual, aural, physical, verbal, logical, social, solitary), Van Handle follows the principles of Universal Instructional Design (UID) when designing and teaching her classes. UID considers the needs of all learners, including those who have documented disabilities, in the belief that everyone can benefit from such an approach. In each of her classes students have 24/7 access to online course materials in different formats (video, audio, text, etc.) and featuring different approaches to the material in order to accommodate various learning styles and/or disabilities while preserving academic rigor.
Van Handle has also been recognized by the German government for her work. In 2007 she was awarded the prestigiousBundesverdienstkreuz am Bande (Federal Order of Merit) by the president of the Federal Republic of Germany, and was namedOutstanding German Educator by the American Association of Teachers of German (AATG). Van Handle served as vice president and president of the AATG from 2000-2003 and was namedGerman Educator of the Year by the Massachusetts Foreign Language Association in 2001.  In 2000 and 2010 she also received Fulbright Grants to participate in the Fulbright German Studies Seminar in Germany.
Areas of Expertise
Cross-cultural education and learning, contemporary German Landeskunde and literature (especially literature of the former German Democratic Republic); second language acquisition; use of technology in language teaching and research
Education
Ph.D., M.A., University of Massachusetts
A.B., Mount Holyoke College