Ten Mount Holyoke faculty members retire
Ten Mount Holyoke faculty members retire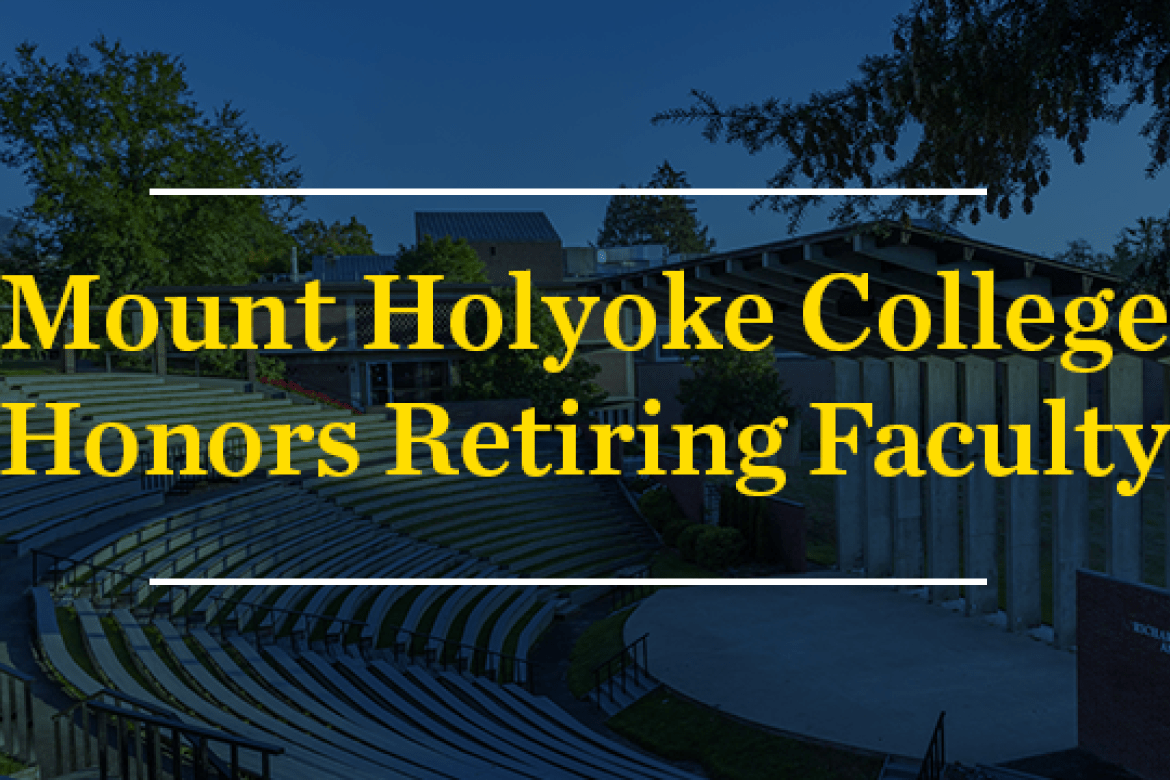 Ten esteemed Mount Holyoke College faculty members have retired.
Ten longtime stalwarts of the Mount Holyoke faculty will not be teaching on campus this fall, having elected, after decades of outstanding service, to retire. The ten faculty members, from across the disciplines, brought teaching and scholarly excellence to this community, as well as, in several cases, administrative excellence.
The ten are Leah Glasser, senior lecturer in English; Giuliana Davidoff, Robert L. Rooke professor of mathematics; Michael Davis, professor of art history; Bettina Bergmann, Helene Phillips Herzig '49 professor of art history; Donna Van Handle '74, senior lecturer in German studies; Lowell Gudmundson, professor of Latin American studies and history; Christopher Rivers, professor of French; Robert Eisenstein, Five College senior lecturer in music; Lynda Morgan, professor of history; and Mark Peterson, professor of physics and mathematics on the Alumnae Association.
"In innumerable and unique ways, all of these individuals helped shape Mount Holyoke," said Dorothy E. Mosby, interim dean of faculty and vice president for academic affairs. "All of them had an impact on the way we teach, what we teach and what our students would go on to do after graduation. Leah, Giuliana, Michael, Bettina, Donna, Lowell, Chris, Bob, Lynda and Mark will continue to be a part of the Mount Holyoke community, and their retirement is an occasion to reflect on their achievements and contributions so far and to congratulate them on this career milestone."
Here is an overview of the achievements of the retirees:
Leah Glasser, senior lecturer in English: A scholar of 19th-century American women writers and the author of a celebrated biography of New England fiction writer Mary Wilkins Freeman, Glasser touched generations of students through expertise in literature and creative writing, compassionate mentoring and a tireless focus on her students in her four decades at Mount Holyoke. Excelling as both a teacher and administrator, Glasser occupied many leadership positions in the administration, including dean of first-year studies, dean for the senior class and dean of studies. In addition, she served as a faculty mentor for the Posse Foundation cohort from 2011 to 2015. Among the countless students who found Glasser's teaching transformative is Pulitzer and MacArthur Prizes winning playwright Suzan Lori-Parks '85.
Giuliana Davidoff, Robert L. Rooke professor of mathematics: The quintessential Mount Holyoke professor, combining intellectual acumen, curiosity and a passion for teaching and for her students, Davidoff ranged across the mathematics curriculum over the past 37 years — from 100-level distribution courses and introductory calculus courses to intermediate and advanced-level core and elective courses. Davidoff specializes in number theory, in particular in automorphic forms and their applications to such objects as Ramanujan graphs and in the arithmetic of quadratic and cubic number fields. She is the coauthor of a number of influential papers and texts; among the latter are "Elementary Number Theory, Group Theory, and Ramanujan Graphs," "The Geometry of Numbers" and "Laboratories in Mathematical Experimentation: A Bridge to Higher Mathematics."
Michael Davis, professor of art history and architectural studies: An inspired teacher, scholar and researcher, Davis studied the construction histories of cathedrals of Paris, Clermont-Ferrand and Limoges. He pioneered combining traditional architectural approaches with modern surveying methods, employing digital programs to recreate medieval Parisian buildings. He used support from the National Endowment for the Humanities to acquire exhaustive measurements of two French Gothic structures — the church of Saint-Urbain in Troyes and the abbey of Saint-Ouen in Rouen, France. After compiling those measurements into ground plans, Davis used computer-aided design to uncover geometric relationships, religiously significant design elements and architectural plans previously hidden to art historians. He was also the founder of the popular Architectural Studies program. He came to the College in 1982.
Bettina Bergmann, Helene Phillips Herzig '49 professor of art history: A leading expert on Roman art, much sought after as a lecturer and visiting professor and the author of many path-breaking articles, Bergmann is known as a bold thinker and a consummate scholar. One prominent focus of Bergmann's work was on how Romans decorated their houses. In these efforts, Bergmann employed three-dimensional models and computer simulations to explore the visual and intellectual world — as well as the frescoes and gardens — of the ancient Romans. She has also reconstructed several of the houses buried at Pompeii as well as luxury villas elsewhere in Italy. The last 10 years of her teaching involved intensive collaboration with the Mount Holyoke College Art Museum, focusing on the early history of collecting by the museum and on unresearched ancient objects, including those from the Silk Road, with the goal of creating a global gallery of ancient art.
Donna Van Handle '74, senior lecturer in German studies: In her 38 years at Mount Holyoke, Van Handle has occupied central roles both in teaching German and in providing guidance and leadership to the College's international students. Starting in 1983 as lecturer in German studies, she became senior lecturer in 2001. From 2004 to 2019, she also served as dean of international students. The author of many articles and books and widely recognized for her investigation of effective pedagogies and the use of technology in the teaching of German, Van Handle was from 1988 to 2013 the organizer of the Deutsches Theaterfest, a dramatic festival for students of German held on the Mount Holyoke campus and sponsored by the Goethe Institute. She has been recognized by the German government, and won other recognitions as well, for her excellence in teaching.
Lowell Gudmundson, professor of Latin American studies and history: At Mount Holyoke since 1991, Gudmundson is an accomplished scholar focusing on changing perspectives on economic, cultural and social issues, as well as issues of race and identity within Latin America. His research has won support from the Ford and Tinker Foundations, the Social Science Research Council and both the National Endowment for the Humanities and the Fulbright Program. His books, in both Spanish and English editions, include "Costa Rica After Coffee: The Co-op Era in History and Memory," "Blacks and Blackness in Central America" and "Coffee, Society, and Power in Latin America." Gudmundson has held editorial board appointments with major journals in the field, such as "The Americas," the "Revista de Historia" and the "Hispanic American Historical Review."
Christopher Rivers, professor of French: With wide-ranging interests spanning from boxing champions Jack Johnson and Georges Carpentier to physiognomic themes in 18th- and 19th-century French novels and the Marian apparitions in Lourdes, Rivers joined Mount Holyoke in 1990. His many books and articles include "Face Value: Physiognomical Thought and the Legible Body in Marivaux, Lavater, Balzac, Gautier, and Zola," and a translation of "My Life and Battles," by Jack Johnson. Often hailed as an extraordinary teacher, Rivers taught both language and literature courses that explored topics from literary translation and novels about prostitution to contemporary French culture and media. In addition to his research and teaching, Rivers was dean of international affairs from 1997 to 2000. During his time as dean, Rivers established Mount Holyoke's now long-standing and highly successful junior year abroad program in Montpellier, France.
Robert Eisenstein, Five College senior lecturer in music: An accomplished musician, conductor and scholar of early music, Eisenstein directed the Five College Early Music Program and conducted the Early Music Collegium and Euridice Ensemble, a 17th- and 18th-century chamber ensemble. He taught music history and directed the Madrigal Singers at the University of Massachusetts and performs regularly on the viola da gamba with colleagues and in his capacity as a founding member and programming director of the Folger Consort in Washington, D.C. A multi-instrumentalist who also plays the baroque violin and the medieval fiddle, Eisenstein has performed with the New York Renaissance Band, Cappella Nova, the New York Consort of Viols, the Washington Bach Consort and the National Symphony.
Lynda Morgan, professor of history: With a keen interest in issues surrounding slavery, its ramifications and its legacy in the United States, Morgan's work, centering on 19th century African American history, provides unique perspectives on United States history. In particular, she has sought, through an understanding of the Civil War, slavery, emancipation and the Reconstruction era, to attain a fuller view of 20th and 21st century political, economic and social events and trends, as well as a clearer grasp of the place of the United States in relation to global history. Her most recent book, "Known for My Work: African American Ethics from Slavery to Freedom," examines attitudes within the African American community toward slavery, economic exploitation, emancipation and the role of labor in a just democracy.
Mark Peterson, professor of physics and mathematics on the Alumnae Association: With specializations in fluid dynamics, biophysics and the history of science, Peterson's work often explores the intersection of science and the humanities. He has written on the scientific speculations of Dante, programmed a pioneering computer program for introductory Chinese language courses and explored the influence of Renaissance artists on the development of modern science in his celebrated 2011 book "Galileo's Muse, Renaissance Mathematics and the Arts." Much of Peterson's scientific research has been in modeling microhydrodynamics in biophysical settings. His interests in the integration of mathematics and the humanities in a liberal arts education and in promoting summer research experiences in mathematics for undergraduates have been supported by grants from the National Science Foundation and National Endowment for the Humanities.