Adeline Mueller
she/her
Associate Professor of Music
on leave fall 2022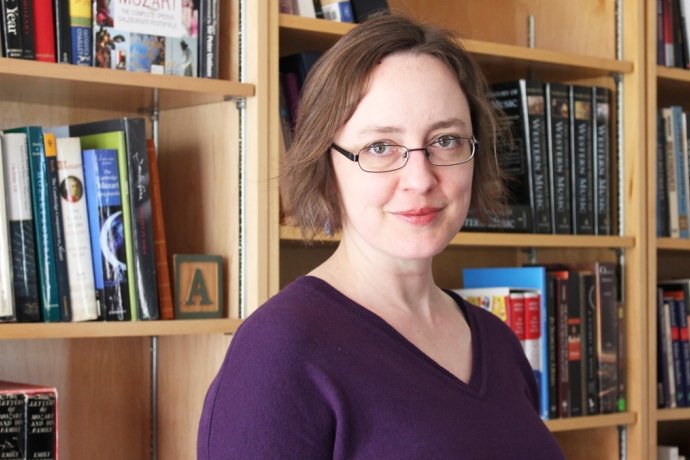 Adeline Mueller is a music historian specializing in Mozart and eighteenth-century opera, ballet, and art song, particularly in German-speaking Europe. Her research interests include music and childhood, marginalized composers, early musical ethnography, and silent film music. She has published articles on Mozart in the journals Eighteenth-Century Music (2013) and Opera Quarterly (2013), and guest edited an issue of Opera Quarterly (2012) on Mozart's Singspiel The Magic Flute. Mueller also contributed chapters to the edited volumes Mozart in Context (Cambridge, 2019), The Works of Monsieur Noverre Translated from the French: Noverre, His Circle, and the English Lettres sur la danse (Pendragon, 2015), and Wagner and Cinema (Indiana, 2010).
Mueller's book, Mozart and the Mediation of Childhood, examines Mozart's role in the social and cultural construction of childhood during the Austrian Enlightenment, using evidence from his early career, his compositions for the young, early biographies, and posthumous (including spurious) music prints. She is also contributing a chapter to the forthcoming Cambridge Companion to The Magic Flute (2022).
Mueller has presented papers at such conferences as the American Musicological Society, the Mozart Society of America, and the American and British Societies for Eighteenth-Century Studies. Previous academic appointments include Brown University (Visiting Assistant Professor, 2014-15) and New College, University of Oxford (Weston Junior Research Fellow in Music, 2011-14).
In her research and in courses such as History of Western Music, Shakespeare and Music, Music and Childhood, Women and Music: Sounding Community, and Race in the American Musical, Mueller and her students consider how music circulates among performers, consumers, and audiences, especially through print, and on musical practices as sites of social reflection and experimentation.
Education
Ph.D., University of California, Berkeley
M.A., University of Sussex