David W. Sanford
Elizabeth T. Kennan Professor of Music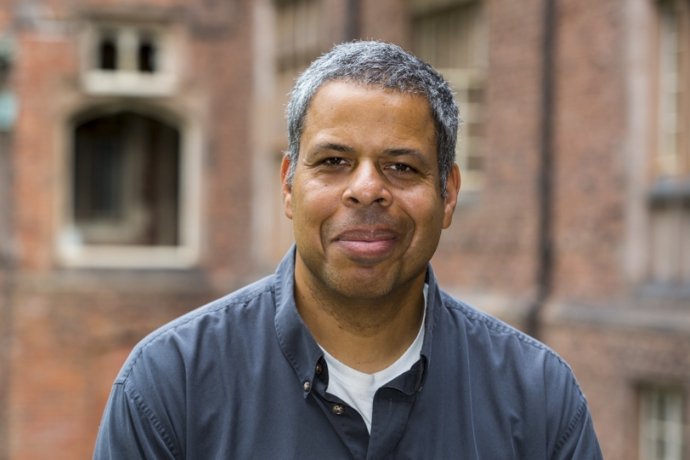 David Sanford credits a variety of influences with igniting his musicianship. "I started on trombone when I was about ten and liked big band music early. I wanted to be a jazz musician. Charles Mingus inspired me to be a composer later on." Sanford was also influenced by rhythm and blues/funk groups like Parliament, the Isley Brothers, and Sly and the Family Stone and, later, by orchestral and more mainstream popular music. After completing undergraduate music studies at the University of Northern Colorado, he earned a master's degree in theory and composition from the New England Conservatory of Music and an M.F.A. and Ph.D. at Princeton University.
Sanford has won many awards and honors, including a BMI Student Composer Award, a Koussevitzky Commission and a Guggenheim Fellowship, which enabled him to take a year off to focus exclusively on composing during graduate school. Recently, Sanford won the Samuel Barber Rome Prize Fellowship, allowing him to stay at the American Academy in Rome for 11 months with a group of 25 to 30 scholars in other areas of the humanities. One of the referees for his work wrote: "David Sanford is the real thing, a composer in the American tradition of brash, open-eared exploration: no material is too exalted or too debased for him to transform into his living art."
Sanford's works have been performed by the Chamber Society of Lincoln Center, the San Francisco Contemporary Music Players, the Chicago Symphony Chamber Players, the Detroit Symphony Orchestra, the Harlem Festival Orchestra, cellist Matt Haimovitz, the Corvini e Iodice Roma Jazz Ensemble, the Meridian Arts Ensemble, Speculum Musicae, the Empyrean Ensemble at UC Davis, Mount Holyoke faculty members Linda Laderach, Adrianne Greenbaum, and Larry Schipull, and dozens of other groups and performers. In addition, he has conducted performances of his own works at Monadnock Music, New England Conservatory, the Knitting Factory, and the Five Colleges New Music Festival, and leads his own big band, the Pittsburgh Collective.
At Mount Holyoke, Sanford teaches theory (ear training, class harmony, and advanced seminar), composition, twentieth-century music history, jazz history, music in film, and music of the 1970s.
Areas of Expertise
Music theory and composition; history of jazz
Education
Ph.D., M.F.A., Princeton University
M.M., New England Conservatory
B.M., University of Northern Colorado